Shola Shoretire was one of Manchester United's standout players at academy level this season.
The teenager's impressive season saw him make his first team debut in February, as one of the club's seven youngest players of all time.
Following on from our lookback at Joe Hugill's first season in United's academy, it's time to cast our eye over Shoretire's campaign.
What was his situation heading into the season?
Shoretire was a name some United fans knew even if they had not seen him play. This came after he was selected by Nicky Butt at just 14 in a UEFA Youth League game in 2018.
He had continued to show his potential at the end of the 2019/20 season by starring in United's FA Youth Cup run to the semi-finals.
United's coaches saw enough to elevate him immediately into the under-23s for the start of this season.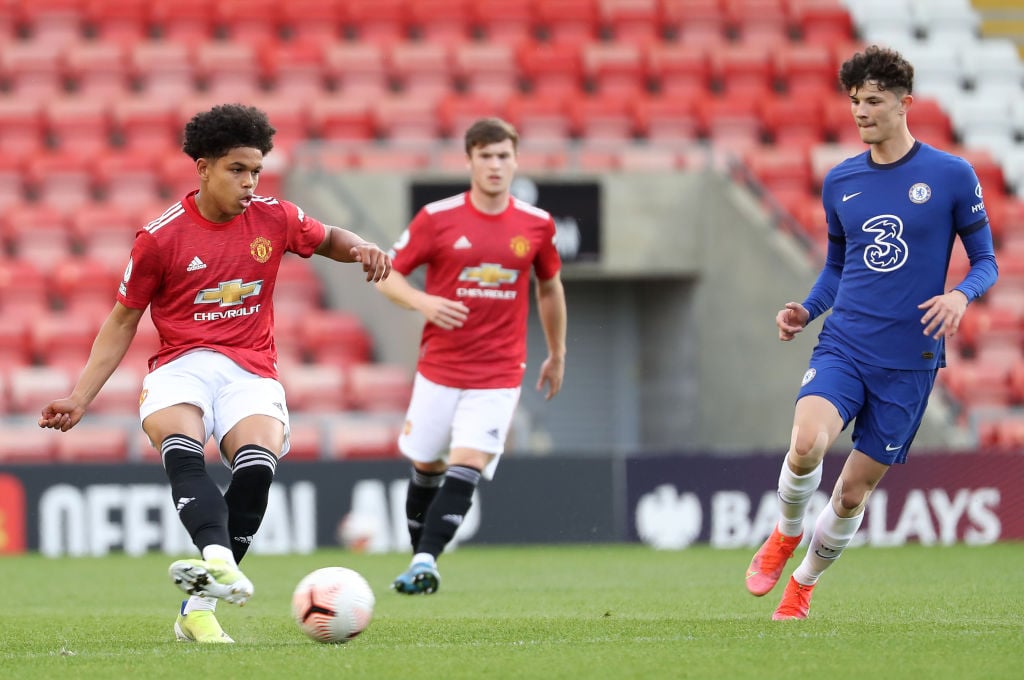 How did 2020/21 go?
The season will go down as a huge success for Shoretire. He demonstrated the coaches were right to put him in the under-23s.
It was not easy at first. The early part of the season was testing for Shoretire, as United's young group struggled to adjust to under-23 football.
Shoretire was just 16 at the time and it took him a few games to adjust. The coaches stuck by him and were rewarded.
The teenager learned where he could drop deep and find spaces, timing his runs into the box smartly. He forged impressive link-ups with his teammates, and hit it off with Amad when they played together.
By the end of the season Shoretire had as many goals as striker Joe Hugill, and just one less than Anthony Elanga, and was second highest for assists behind only Hannibal.
Shoretire's form led to a call-up to train with the first team in late December and through 2021, culminating with his debut in February.
The 17-year-old played in both the Premier League and Europa League, clocking up 24 first team minutes across three substitute appearances.
Season highlight?
Shoretire's first goal of the season for the under-23s against Brighton gave him the confidence he needed to kick on. A much better goal came a week later.
The teenager headed in a cross from Facundo Pellistri against Tottenham, before also providing an assist in the same game.
The real highlight though came in a dramatic 6-4 victory over Blackburn in early February, in which Amad provided all three assists. The duo clicked instantly and this could be a partnership which pays off for the first team one day.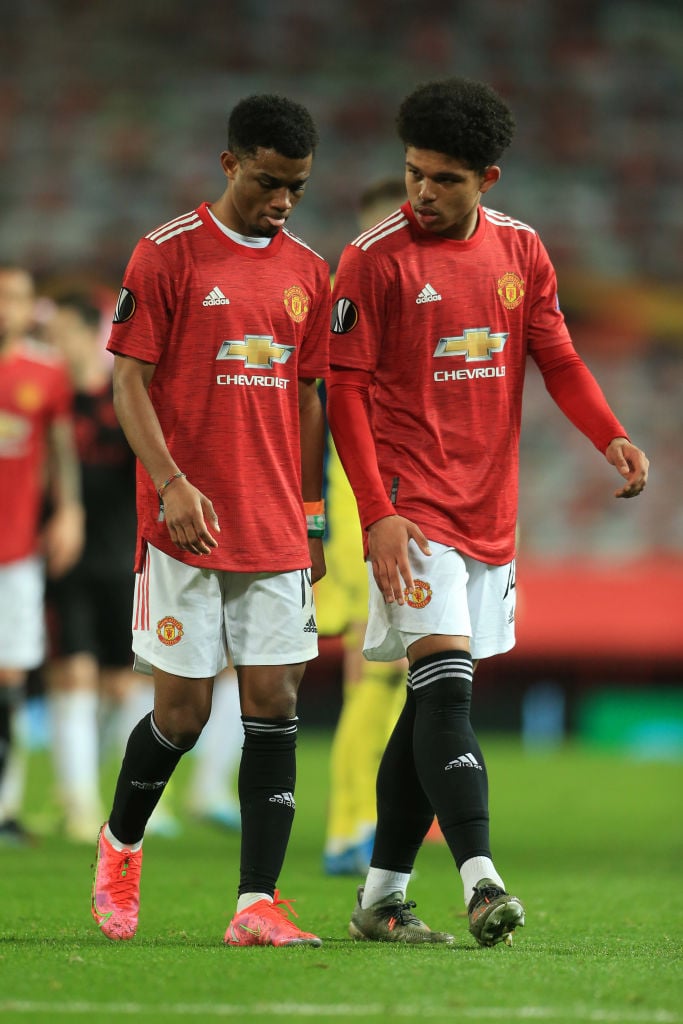 Shoretire also netted two braces in back to back games against Chelsea and Derby to finish the season strongly.
Despite all these moments, you can't really look beyond his first team debut and subsequent appearances for highlights.
He ended the campaign against Wolves for the first team alongside Hannibal, and the future looks bright.
Season lowpoint?
There were not too many lowpoints for Shoretire, but a couple stick out. He was sent off in an early season defeat against Liverpool for shoving an opponent after a teammate was hacked down.
While this showed good character, and that he was not intimidated by older opponents, Shoretire had to learn to keep a cooler head.
The second lowpoint also came against Liverpool in the FA Youth Cup defeat. He had a late chance to equalise in stoppage time and took too many touches before losing possession. It is a valuable lesson for him at this stage not to have everything go his way.
What were the standout numbers?
Shoretire scored 10 goals and provided six assists, outstanding figures for a 17-year-old playing under-23 football.
There were questions over whether Shoretire stepping up was the right move or if he should have stayed with the under-18s an extra year. Any doubts in the coaches minds were answered emphatically.
If he had been able to link up with Amad on a weekly basis his numbers could have exploded further. Shoretire scored five goals and provided two assists in the three games Amad played.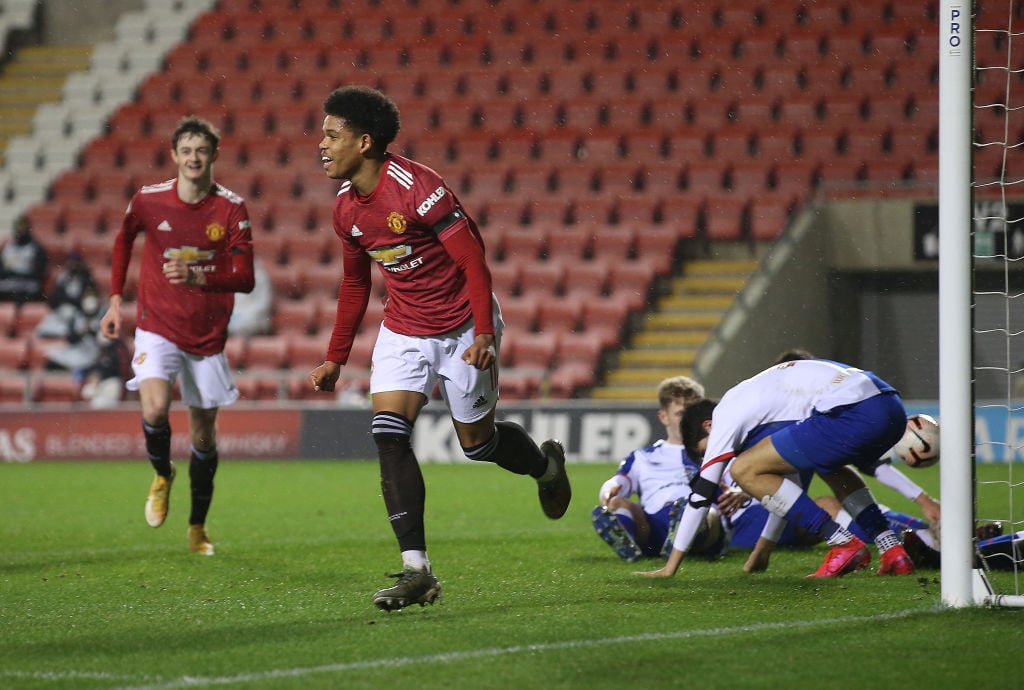 Next step in 2021/22?
This is an interesting one because at 17, there should be no need to rush Shoretire. At the same time, United have always sought to push him through his early career because he is a special talent.
A loan abroad could be an interesting idea but at present it does not seem to be on the agenda.
Shoretire will likely have a season of more of the same, under-23 and a mix of first team chances. More first team chances will come if he seizes the ones he gets.
United releasing Juan Mata could be big for Shoretire as it would open up an attacking spot in the first team squad.
Have something to tell us about this article?
Let us know