Manchester United are one of the world's most renowned football clubs and have an expert coaching staff beside manager Erik ten Hag. But who features among the Dutchman's crew?
Manager: Erik ten Hag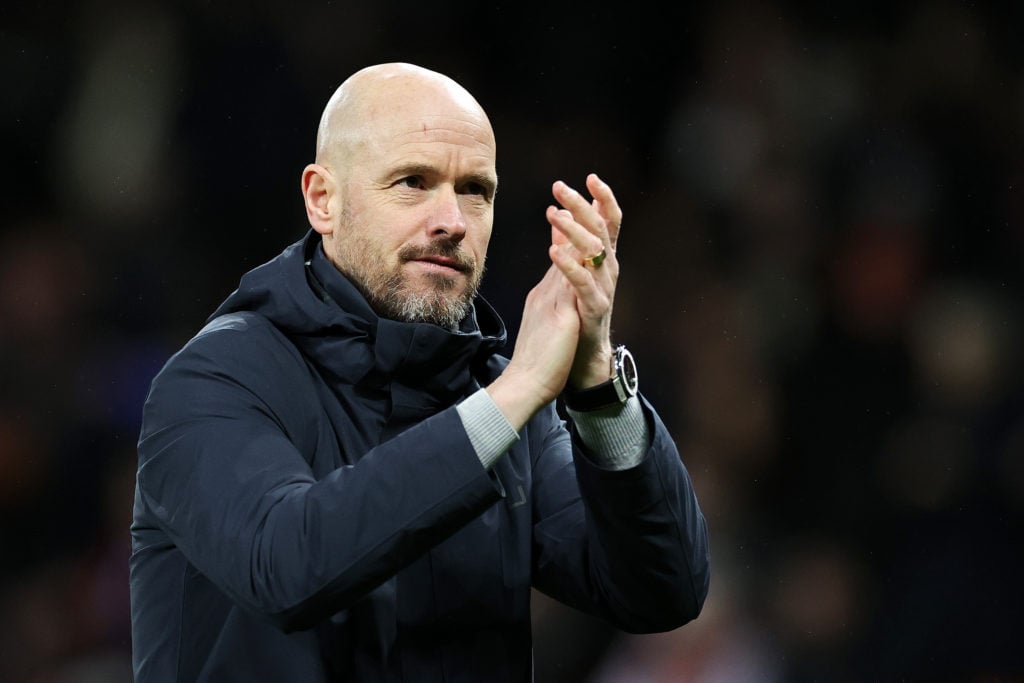 Old Trafford chiefs named Erik ten Hag as the latest manager of Manchester United in April 2022. He replaced interim head coach Ralf Rangnick at the helm with an initial contract until June 2025. But the Red Devils hold an option to extend the 53-year-old's deal by 12 months.
Ten Hag previously served as the manager of Go Ahead Eagles, FC Bayern II, FC Utrecht and Ajax. He also oversaw a vastly successful part of Ajax's history whilst in charge at the Johan Cruijff ArenA. They won three Eredivisie titles and lifted the KNVB Beker cup twice together.
The Dutchman is the Red Devils' fifth permanent manager since Sir Alex Ferguson retired in 2013, as well. Manchester United sought to name Ten Hag as their latest manager in 2022 having also guided Ajax to the semi-finals of the Champions League over the 2018/19 term.
Assistant Manager: Steve McClaren
Ten Hag named former England manager Steve McClaren as his assistant after taking charge of Manchester United. It also marked a return to Old Trafford after two decades for the 61-year-old. McClaren played the same role under Ferguson from February 1999 to June 2001.
McClaren's coaching career would take him around Europe and into the international game after leaving Manchester United back in 2001. The York-born coach enjoyed a five-year spell at Middlesbrough from 2001 to 2006 before replacing Sven-Goran Eriksson as England boss.
His tenure with the Three Lions was short-lived with just 18 games in charge of the national side. But McClaren bounced back with spells at FC Twente, VfL Wolfsburg and Derby County among others. He was last a manager whilst with Queens Park Rangers from 2018 to 2019.
Assistant Manager: Mitchell van der Gaag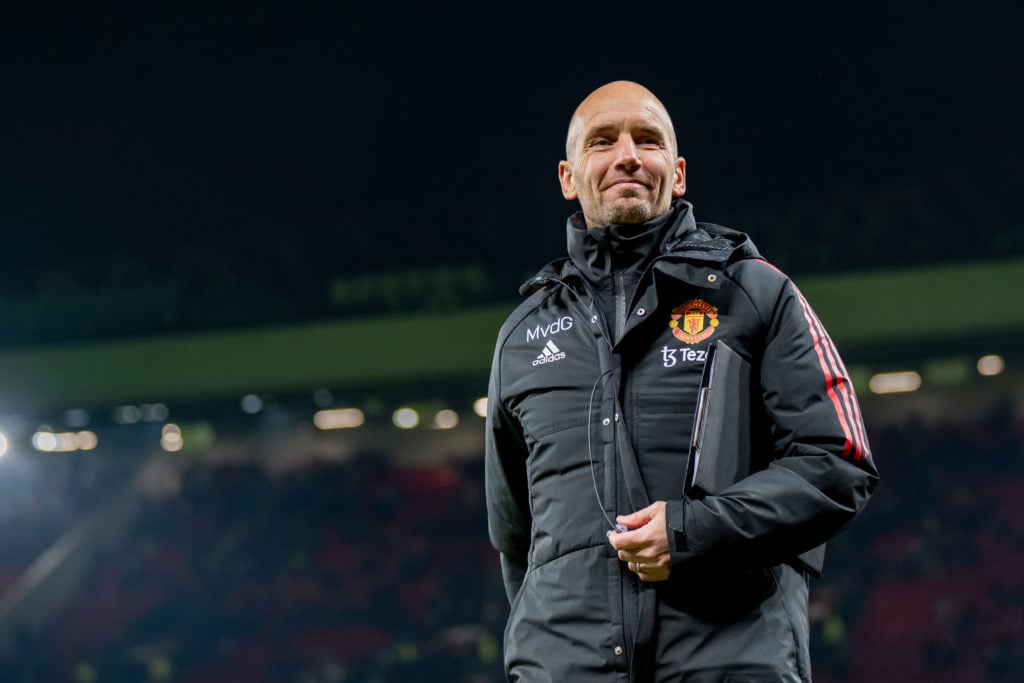 Ten Hag also named Mitchell van der Gaag among his assistants at Manchester United. The 51-year-old followed the manager to Old Trafford having spent the previous year serving as his right-hand-man at Ajax. He stepped up from his role as the Dutch giant's U21s manager.
Van der Gaag has also previously worked as a first-team manager at Maritimo, Belenenses, Ermis Aradippou, FC Eindhoven, Excelsior and NAC Breda since becoming a coach in 2008.
Goalkeeping Coach: Richard Hartis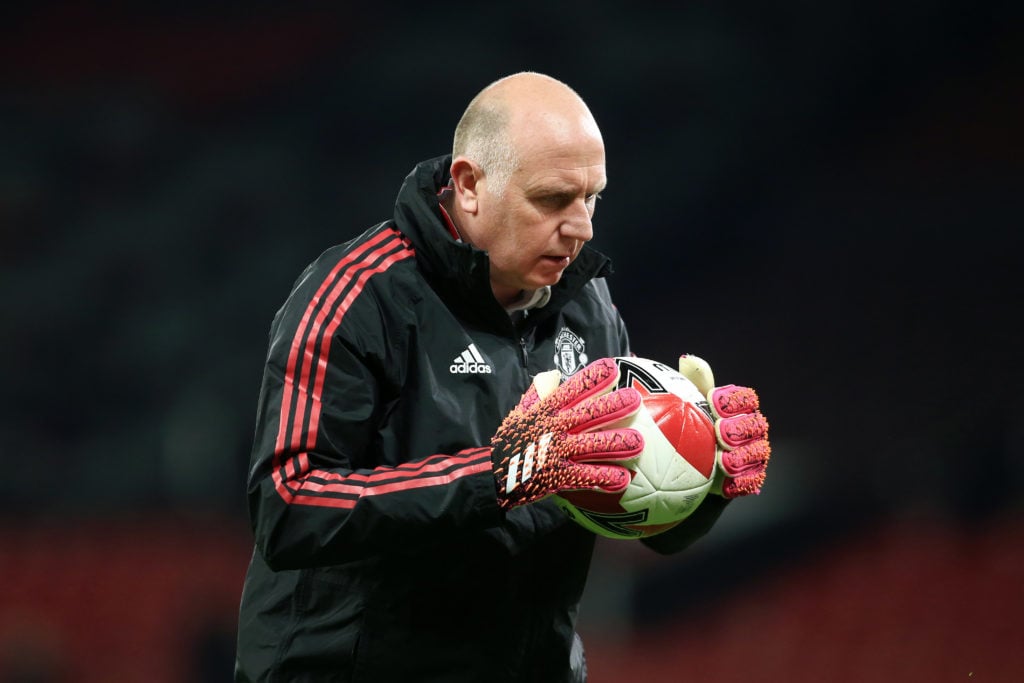 Manchester United hero Ole Gunnar Solskjaer coaxed Richard Hartis back to Old Trafford in 2019 whilst he was first-team manager. Ten Hag later opted to keep the vastly-experienced 55-year-old on in his role as the Red Devils' goalkeeping coach after he took charge in 2022.
Hartis also first held a role at Manchester United from 2001 to 2010 as the club's Under-18s goalkeeping coach. He would leave the Red Devils to join Solskjaer as the goalkeeping coach at Molde and followed the Norwegian to Cardiff City in 2014 before later reuniting in 2019.
Goalkeeping Coach: Craig Mawson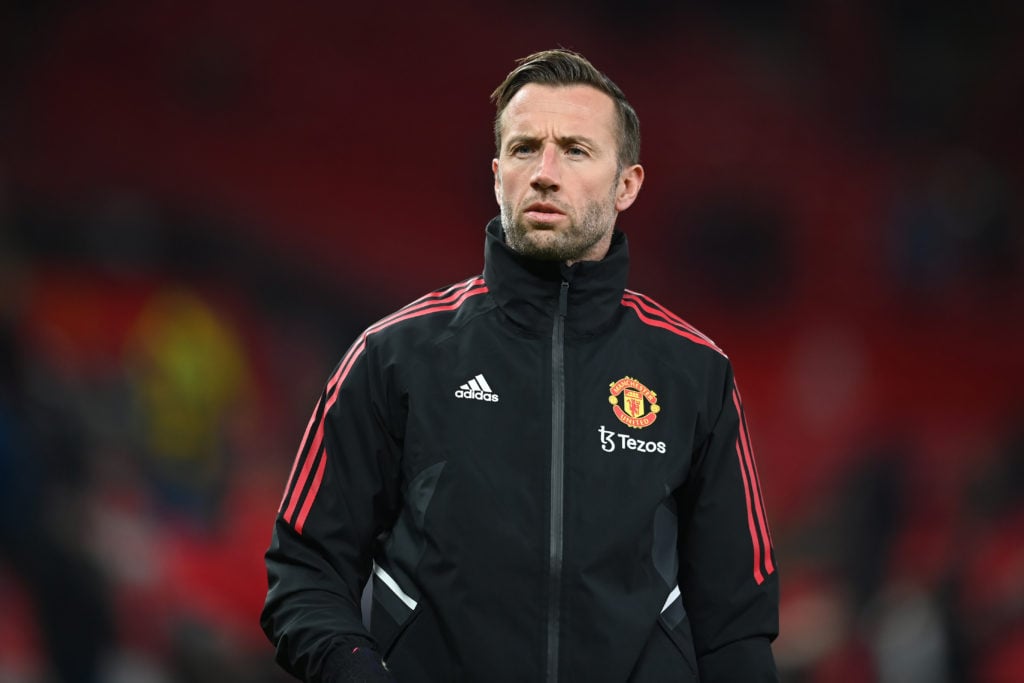 Ten Hag also has Solskjaer to thank for another member of his coaching staff at Manchester United in another goalkeeping coach, Craig Mawson. Like Hartis, Solskjaer lured the 43-year-old to the Red Devils in 2019. He had served as Burnley's U18 goalkeeping coach since 2010.
Individual Coach: Eric Ramsay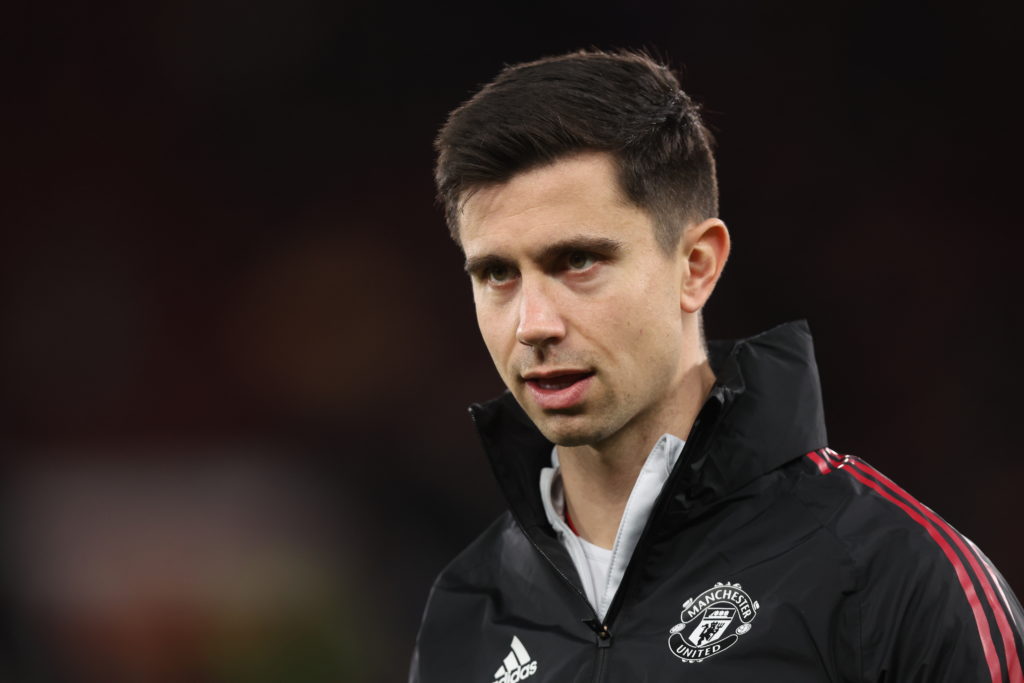 Eric Ramsay now works as an individual coach for Manchester United and as an assistant to Wales boss Rob Page. He began doubling his duties from March 2023 after accepting Page's offer to join the Cymru set-up. The 31-year-old started his role at Old Trafford back in 2021.
Solskjaer lured Ramsay to Manchester United following his two-year spell as Chelsea's U23s assistant manager. Ramsay has also worked for Swansea City and Shrewsbury Town before.
Forward Coach: Benni McCarthy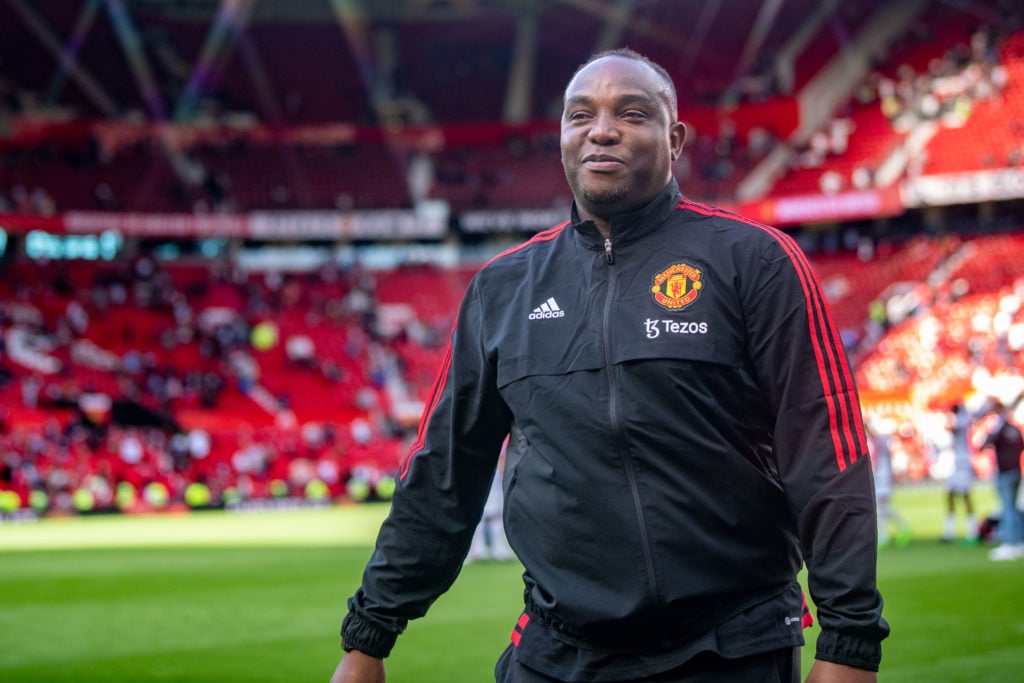 Ten Hag appointed Benni McCarthy to his coaching team at Manchester United in 2022. The 45-year-old took up the position of forward coach at Old Trafford following two years as the manager of AmaZulu FC. He also previously acted as the first-team coach of Cape Town City.
McCarthy's move to Manchester United marked a return to the Premier League for the 80-cap former South Africa international striker. He had enjoyed spells at Blackburn and West Ham United as a player, alongside stints around Europe with Ajax, Cleta Vigo and FC Porto.
Head of Sports Medicine and Science: Steve McNally
Steve McNally is one of the longest-serving members of the coaching staff now at Ten Hag's disposal at Manchester United. He first joined the Red Devils back in 2006 under Ferguson after spells working as a medical official in Liverpool's academy and England's youth teams.
Head of Rehabilitation and Physiotherapy: Robin Sadler
Robin Sadler joined Manchester United as their head of rehabilitation and physiotherapy in 2021. He had previously held the same position at Derby between 2016 and 2018. He also enjoyed a 16-year spell working as a physiotherapist at Manchester City from 2000 to 2016.
Strength and Conditioning Coach: Michael Clegg
Michael Clegg returned to Manchester United as the club's strength and conditioning coach in 2019. He had spent the previous 13 years holding the same role with Sunderland after the ex-Red Devils right-back hung up his playing boots back in 2004 whilst with Oldham Athletic.
The 45-year-old began his playing career at Old Trafford in 1995 as a product of Manchester United's academy. Clegg would remain at the Red Devils until 2002 following loan transfers to Ipswich Town and Wigan Athletic. He left them after winning three Premier League titles, too.
Fitness Coach: Paolo Gaudino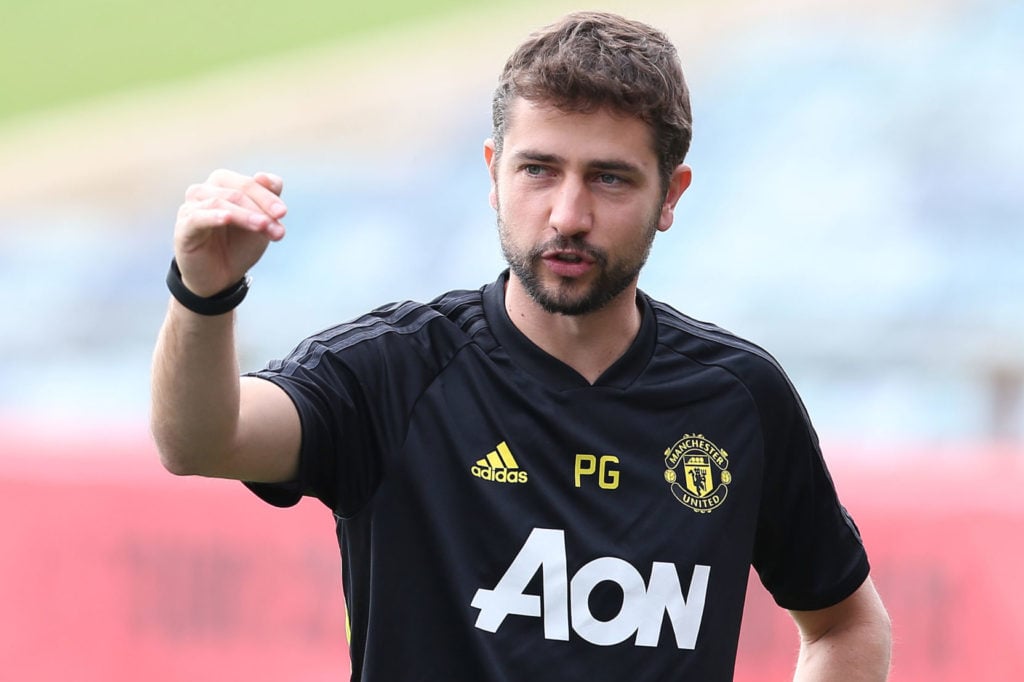 Paolo Gaudino now works in his third role at Manchester United as the club's fitness coach. The 36-year-old first arrived at Old Trafford back in 2012 as the Red Devils' sports scientist and had the role until 2019. He became the rehab coach in 2019 and also still holds the role.
Chief Analyst: Paul Brand
Ten Hag kept Paul Brand on in his role as Manchester United's chief analyst after taking over in 2022. The 35-year-old first took up the position in 2020 under Solskjaer following a seven-year spell as a match analyst. Manchester United took Brand from Blackburn Rovers in 2013.
Video Analyst: Stewart Heppinstall
Stewart Heppinstall joined Manchester United as a video analyst during Rangnick's tenure at Old Trafford as the club's interim manager. Ten Hag opted to keep the 33-year-old on in the role after gaining the reins in 2022. Despite his age, Heppinstall has a wealth of experience.
He joined the Red Devils from Blackburn after two years as a match analyst at Ewood Park. Heppinstall has also previously worked as a match analyst from 2011 to 2018 with Sheffield Wednesday's U18s, Nottingham Forest's U18s, and later their first-team, plus Derby's U23s.
Video Analyst: Anthony Bates
Ten Hag further built up his coaching staff at Manchester United in 2022 by naming Anthony Bates as a video analyst. The 32-year-old joined the Red Devils from Blackburn having spent the eight years before working as a video analyst, a match analyst and an opponent analyst.