Manchester United have a great history as one of the most iconic football clubs in the world and a long list of legends. Some of the game's greatest players have taken to the pitch in red over their 145-year existence from the Busby Babes to the icons that Sir Alex Ferguson built.
No player has featured more often for Manchester United than the club's legendary winger, Ryan Giggs. While no player has scored more goals for the Red Devils than Wayne Rooney. But the pair with decorated careers under Ferguson are only two players on a long, long list.
Wayne Rooney
| | |
| --- | --- |
| Position: | Centre-forward |
| Appearances: | 559 |
| Goals: | 253 |
| Managers: | Sir Alex Ferguson (2004-13), David Moyes (2013-14), Louis van Gaal (2014-16), Jose Mourinho (2016-17) |
| Years at Manchester United: | 2004 – 2017 |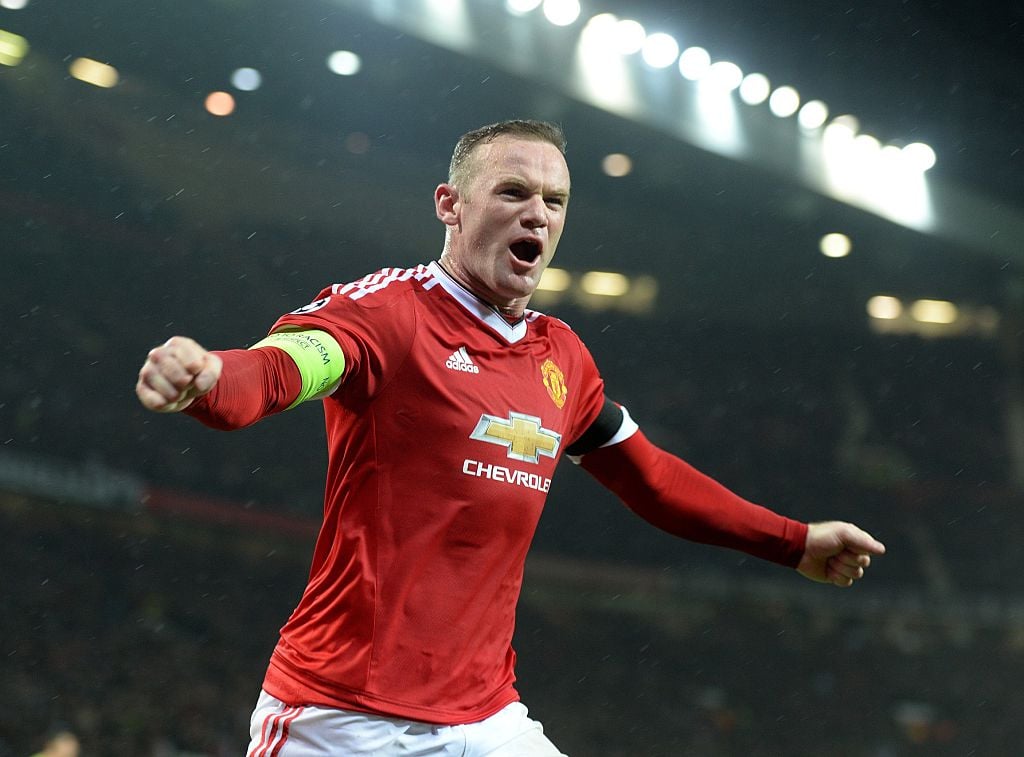 Rooney's Manchester United legacy started to take shape from the very moment Ferguson raided Everton for him in 2004. The striker burst onto the scene by scoring a hat-trick on his Champions League bow against Fenerbache. He would also later win the UEFA title in 2018.
A Europa League honour would also follow for Rooney come 2017 before the striker said his goodbyes to Old Trafford. But he left the Red Devils as one of Manchester United's all-time legends. The forward also left as the club's all-time record goalscorer on 253 in 559 outings.
Trophies were a regular fixture of Rooney's early years at Manchester United having lifted a Premier League crown on five occasions. The attacker secured his first top-flight title during the 2006/07 season before adding further titles in 2007/08, 2008/09, 2010/11 and 2012/13.
Rooney's first title at Manchester United came in his first of four English Football League Cup honours in 2006. He would also help the Red Devils to secure the EFL Cup again in 2009, 2010 and 2017. While the Old Trafford outfit and Rooney also won the FA Cup once in 2016.
But Rooney's legend at Manchester United is not just the goals he scored or the trophies the club won. Louis van Gaal also handed the attacker the club's captaincy ahead of the 2014/15 season. He embodied the responsibilities of the role with a 100% attitude and great passion.
Cristiano Ronaldo
| | |
| --- | --- |
| Position: | Winger, Centre-forward |
| Appearances: | 346 |
| Goals: | 145 |
| Managers: | Sir Alex Ferguson (2003-09), Ole Gunnar Solskjaer (2021), Ralf Rangnick (interim, 2021-22), Erik ten Hag (2022) |
| Years at Manchester United: | 2003 – 2009, 2021 – 2022 |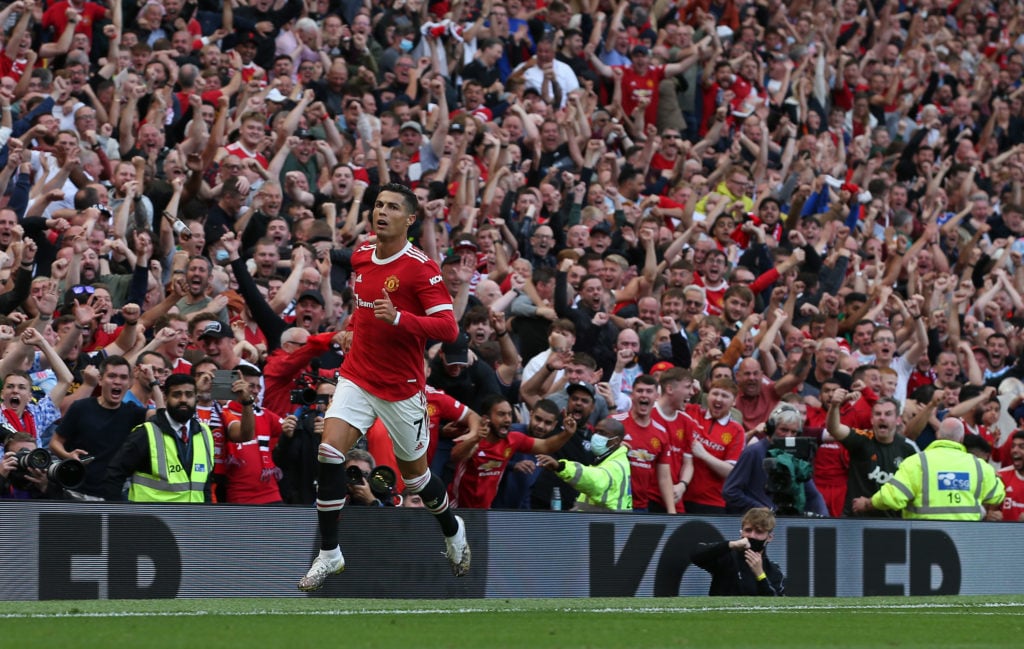 Ferguson paid Sporting Lisbon £12m to sign a relatively unknown Cristiano Ronaldo in 2003. The forward had left Manchester United shell-shocked with his skills at just 18 years old in a pre-season friendly. But, as they say, the rest is history as he would be one of the very best.
Ronaldo will be remembered as one of the absolute greats of not only his generation but all time. The forward is Portugal's all-time record holder for caps and goals, has won the Ballon d'Or five times and won five Champions League, three Premier League and two La Liga titles.
He won the first of his Champions League titles whilst at Old Trafford in the 2007/08 season. Ronaldo missed in the penalty shootout as Manchester United beat Chelsea in Moscow after a sublime individual showing. His sensational season also culminated in his first Ballon d'Or.
Manchester United swept the rest of the Premier League aside again over 2008/09 in what would be Ronaldo's final season. The attacker left Old Trafford to join Real Madrid for £80m, which was a world record at the time. He had expressed a desire to leave for the Galacticos.
But Ronaldo's legacy at Manchester United was not over as he returned to Old Trafford in 2021. Ole Gunnar Solskjaer paid Juventus £13m, plus £7m in add-ons, for his return to the club. But the forward would only stay for 18 months before Erik ten Hag released Ronaldo.
Eric Cantona
| | |
| --- | --- |
| Position: | Centre-forward |
| Appearances: | 182 |
| Goals: | 82 |
| Managers: | Sir Alex Ferguson (1992-97) |
| Years at Manchester United: | 1992 – 1997 |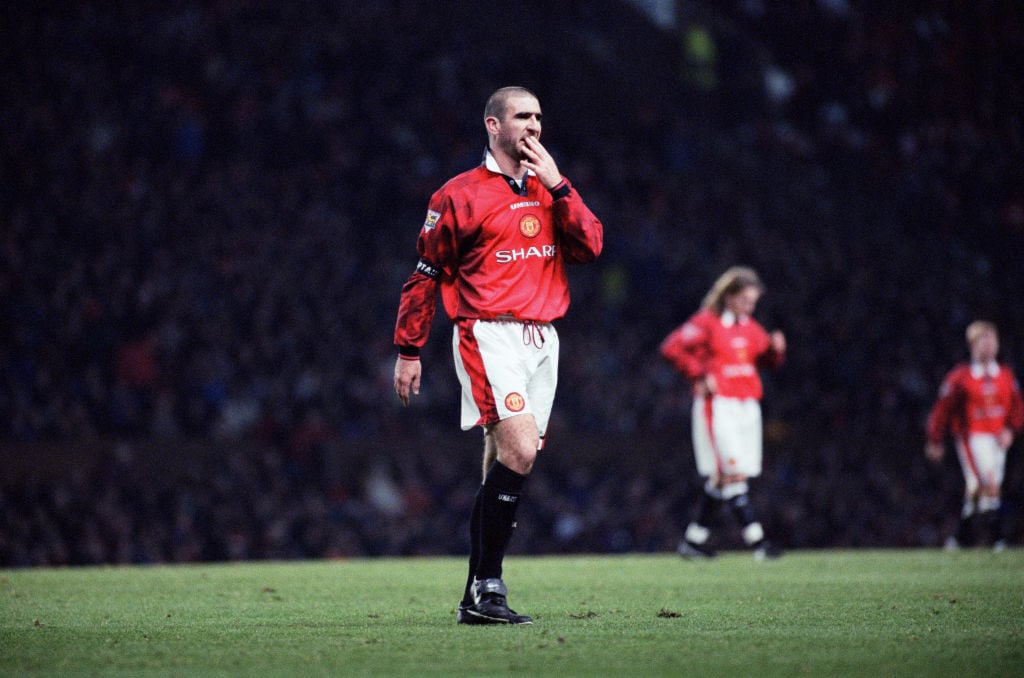 Four-and-a-half seasons at Old Trafford saw Eric Cantona take his place among the legends of Manchester United. With the No7 on his back and his collar piqued, the Frenchman was a theatrical force. And all Ferguson had to pay great rivals Leeds United was £1.2m to get him.
Cantona was branded 'the messiah' by Sir Alex Ferguson, known for playing with his heart and a ruthless nature to help Manchester United win the first Premier League title in 1992/93. He also ended two seasons as the team's top-scorer but led by example beyond his goals. The charismatic striker was a real conductor at Old Trafford.
His absolute commitment could, occasionally, creep over the line for what is acceptable. The FA famously threw the book at Cantona by giving him a nine-month ban during the 1994/95 season after that infamous Kung-Fu kick aimed at a Crystal Palace fan away at Selhurst Park.
Cantona would later return to action with Manchester United in the only way he knew how, scoring against Liverpool. His efforts at the top of Ferguson's attack would go on to seal the Red Devils four Premier League titles and two FA Cups before he left Old Trafford in 1997.
Roy Keane
| | |
| --- | --- |
| Position: | Midfielder |
| Appearances: | 480 |
| Goals: | 51 |
| Managers: | Sir Alex Ferguson (1993-2006) |
| Years at Manchester United: | 1993 – 2006 |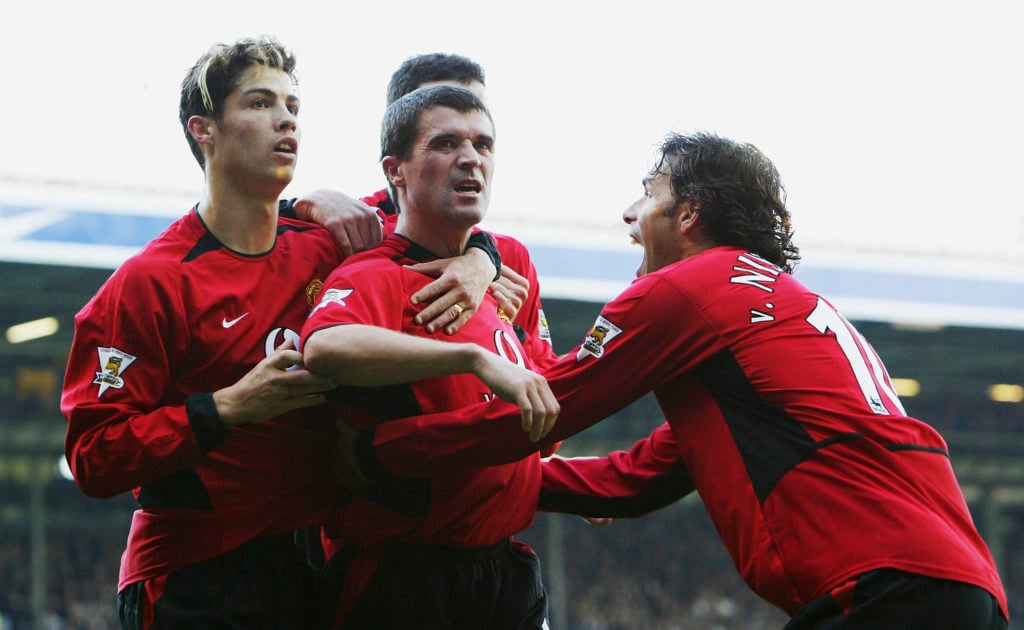 It is impossible to dispute Roy Keane's status as a Manchester United legend with Ferguson once hailing the midfielder as the best player he ever worked with. The Republic of Ireland icon was an endless force at Old Trafford who typified the spirit and traditions of the club.
"People used to say to me: 'Why do you always say Roy Keane was your best player?'," said Ferguson, via quotes by Sky Sports. "After all, there have been the likes of Eric Cantona, Paul Scholes and Ryan Giggs. Of course, he wasn't as talented as those players.
"But without question, his obsession with winning, the demands he put on other players and his desire to win football matches made him the most influential player in the dressing room, no question… To my mind, he was the best player in all my time here, fantastic."
Keane was also once a transfer record holder with his £3.75m switch to Manchester United from Nottingham Forest in 1993. The following 13 years before his exit would lead the Cork native to seven Premier League, four FA Cup and one Champions League title with the club.
Paul Scholes
| | |
| --- | --- |
| Position: | Midfielder |
| Appearances: | 718 |
| Goals: | 155 |
| Managers: | Managers: Sir Alex Ferguson (1993-2011, 2012-13) |
| Years at Manchester United: | 1993 – 2011, 2012 – 13 |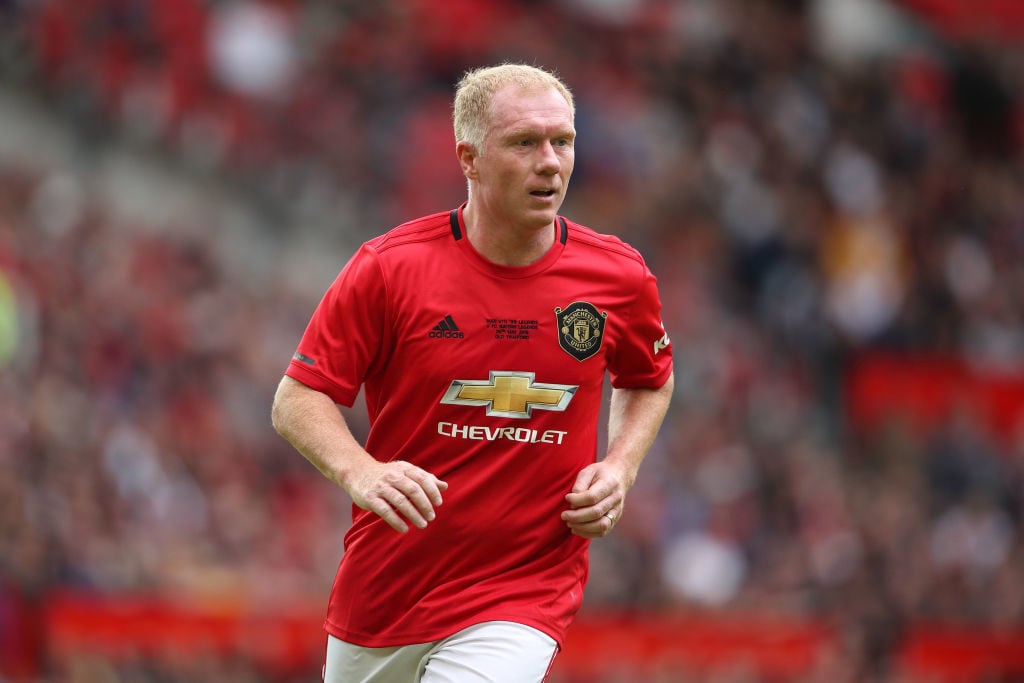 Paul Scholes was a key part of Manchester United's homegrown group of legends who emerged from the academy during the 1990s. The midfielder made his mark from the off, as well, by scoring twice on debut. He fired home a brace against Port Vale in a League Cup encounter.
The years would fly by with Scholes gracing Old Trafford with sublime poise and an alluring volley. His presence was often the cornerstone for the Red Devils' successes under Ferguson having possessed immense quality to rarely waste a pass and make late runs from midfield.
Injuries would occasionally get in the way for Scholes and force him to sit out large periods. But it seldom took the long-time England stalwart an extended spell to display his influence again. His significance to Ferguson's teams also remained high until his retirement in 2011.
Yet Scholes' decision to call time on a glittering career only lasted a few months before the talisman returned. The following 18 months would see him score in 19 consecutive Premier League seasons and seal an 11th title. He also won three FA Cups and a Champions League.
Ryan Giggs
| | |
| --- | --- |
| Position: | Winger |
| Appearances: | 963 |
| Goals: | 168 |
| Managers: | Managers: Sir Alex Ferguson (1990-2013), David Moyes (2013-14) |
| Years at Manchester United: | 1990 – 2014 |
Only Ryan Giggs has exceeded Scholes' achievement of scoring in 19 consecutive Premier League seasons so far. The iconic Wales winger also set an astounding record for appearances by a Manchester United player with 963. He also offered 168 goals over two decades at the club.
His 24 years at Old Trafford further saw Giggs become Manchester United's most-decorated legend with 34 titles in his cabinet. The forward eventually hung up his boots in 2014 having helped claim 13 Premier League titles, four FA Cup crowns and two Champions League titles.
Surely no player will ever eclipse Giggs' number of appearances as a one-club wonder with Manchester United. Those who follow in the Cardiff-born icon's footsteps will also struggle to better his haul of titles. And Giggs even enjoyed a stint as the caretaker manager in 2014.
Giggs' legs had started to lose their once explosive speed when Manchester United sacked David Moyes. So, he stepped off the pitch and into the dugout for the end of the season to cap a career that saw the forward decimate opponents with his phenomenal, creative eye.
Bryan Robson
| | |
| --- | --- |
| Position: | Midfielder |
| Appearances: | 461 |
| Goals: | 99 |
| Managers: | Ron Atkinson (1981-86), Sir Alex Ferguson (1986-94) |
| Years at Manchester United: | 1981 – 1994 |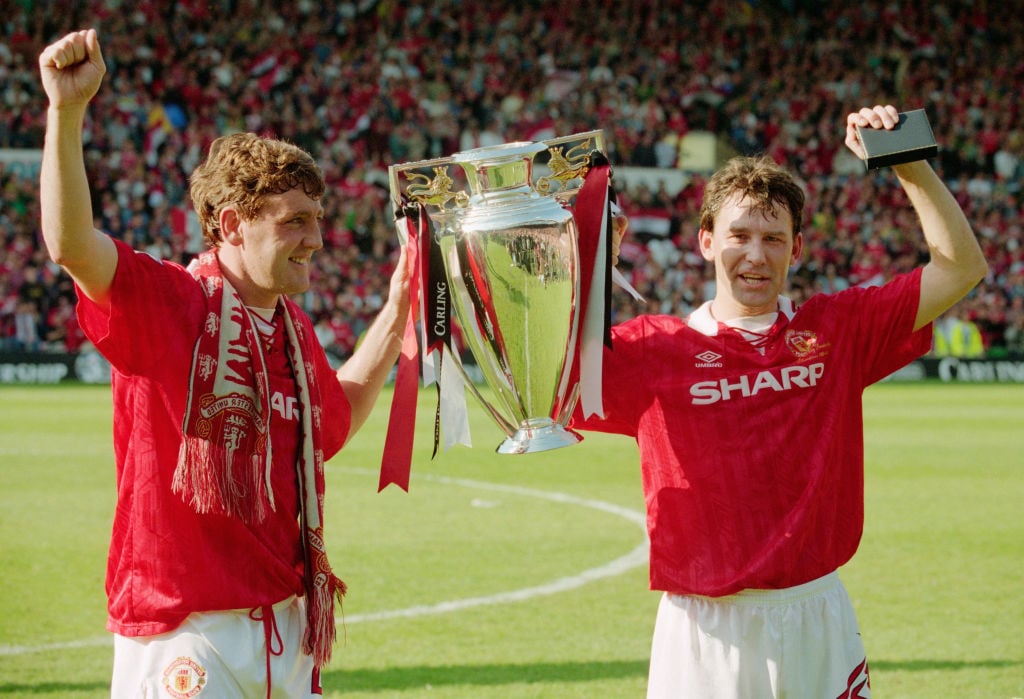 Manchester United raided West Bromwich Albion in 1981 to strengthen Ron Atkinson's core with Bryan Robson. The next 13 years would see the England international win two Premier League titles, three FA Cups, the League Cup and a European Cup Winners' Cup at the club.
Robson even battled through injuries to regain his place in Ferguson's line-up before he and Steve Bruce lifted the inaugural Premier League title. It would have been so out of character for the midfielder to ease up having proven his fierce commitment and courage in the side.
Manchester United paid West Brom a then-record £1.5m to get Robson. But he soon proved his worth to the Red Devils and replaced Ray Wilkins as the captain. The midfielder's endless stamina, sublime passing range and all-round skill from the core set him apart from the rest.
Robson's efforts in the 1988/89 season also saw him become the second winner of the Red Devils' Sir Matt Busby Player of the Year award. While after leaving Manchester United, he would go on to enjoy spells as the manager of Middlesbrough, West Brom and Thailand.
Denis Law
| | |
| --- | --- |
| Position: | Centre-forward |
| Appearances: | 404 |
| Goals: | 237 |
| Managers: | Matt Busby (1962-69), Wilf McGuinness (1969-70), Matt Busby (1970-71), Frank O'Farrell (1971-72), Tommy Docherty (1972-73) |
| Years at Manchester United: | 1962 – 1973 |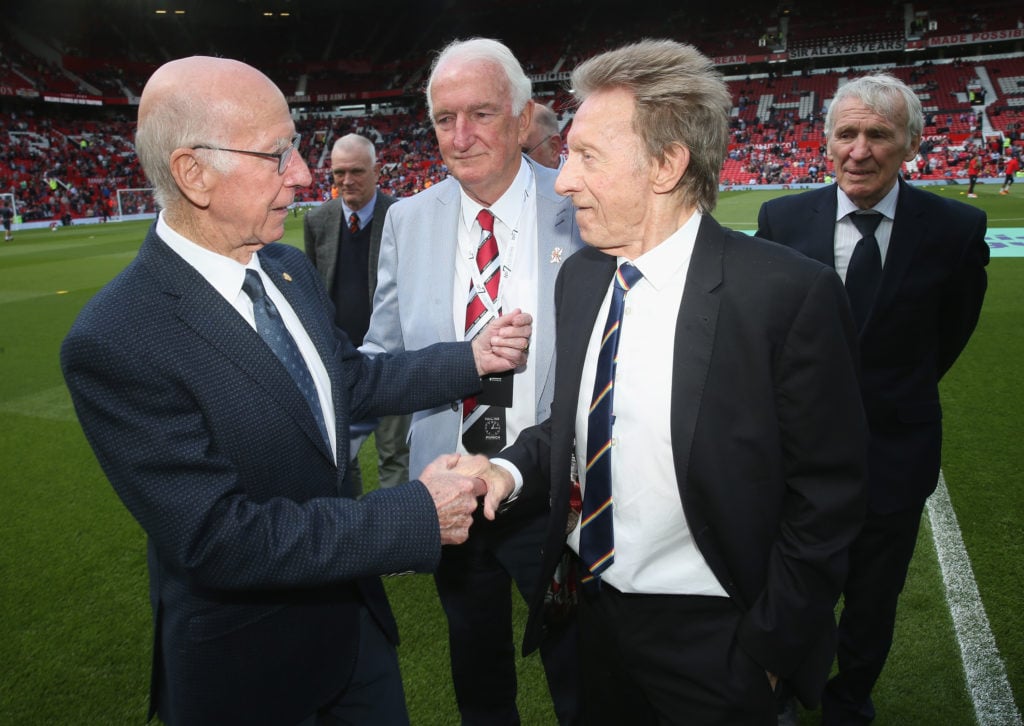 Manchester United have immortalised Denis Law in bronze not once but twice owing to his legendary status at Old Trafford. The former Red Devils striker has statutes at the Stretford End concourse and is a part of the United Trinity statue overlooking the stadium's forecourt.
Law will forever have a place in Manchester United's history and was nicknamed 'The King' for his ultimate goalscorer exploits. The flair and spirit he played the game with cemented the two-time Manchester City attacker's place in the hearts of the faithful at Old Trafford.
Busby convinced Law to return to England following a less-than-perfect year at Torino after his first spell at Manchester City. His history across the city was soon put to the side as Law led Manchester United to the FA Cup in 1963. He then added league titles in 1965 and 1967.
Surgery on his knee would keep Law from helping Manchester United win the European Cup in 1968. But his legacy was already secure before re-joining Manchester City in 1973. Even if his goal in the derby one year later compounded the Red Devils' relegation whilst he retired.
George Best
| | |
| --- | --- |
| Position: | Winger |
| Appearances: | 470 |
| Goals: | 179 |
| Managers: | Matt Busby (1963-69), Wilf McGuinness (1969-70), Matt Busby (1970-71), Frank O'Farrell (1971-1972), Tommy Docherty (1972-74) |
| Years at Manchester United: | 1963 – 1974 |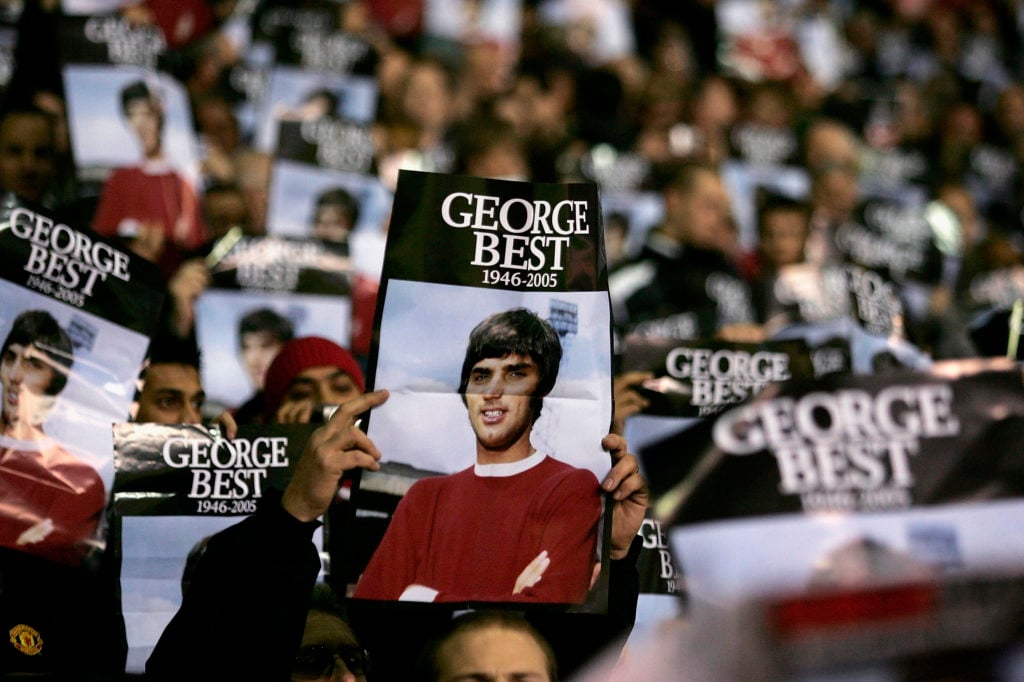 George Best is widely regarded as one of the greatest football players of all time and took a seat among Manchester United's legends from 1963 to 1974. The Northern Ireland forward had an incredible ability with the ball as he blended beautiful skills with his blistering speed.
He also had a sublime ability to score goals from almost anywhere on the pitch en route to a haul of 179 in 470 games for the Red Devils. Best also won two league titles and a European Cup at Manchester United and was also named the European Footballer of the Year in 1968.
Bob Bishop spotted Best as a teenager while working as a scout in Belfast and famously told Busby, via ManUtd.com: "Boss, I think I've found you a genius." His praise would prove to be an understatement, if anything, as Best developed into a part of the Holy Trinity beside Law.
His efforts away to Benfica in the European Cup quarter-final while still a teenager in March 1966 almost single-handedly destroyed the Portuguese giants. The dynamism he brought to the Red Devils that day remained with the forward for much of his 11 years at Old Trafford.
Sir Bobby Charlton
| | |
| --- | --- |
| Position: | Centre-forward |
| Appearances: | 758 |
| Goals: | 249 |
| Managers: | Matt Busby (1956-69), Jimmy Murphy (Caretaker, 1958), Wilf McGuinness (1969-70), Matt Busby (1970-71), Frank O'Farrell (1971-72), Tommy Docherty (1972-73) |
| Years at Manchester United: | 1956 – 1973 |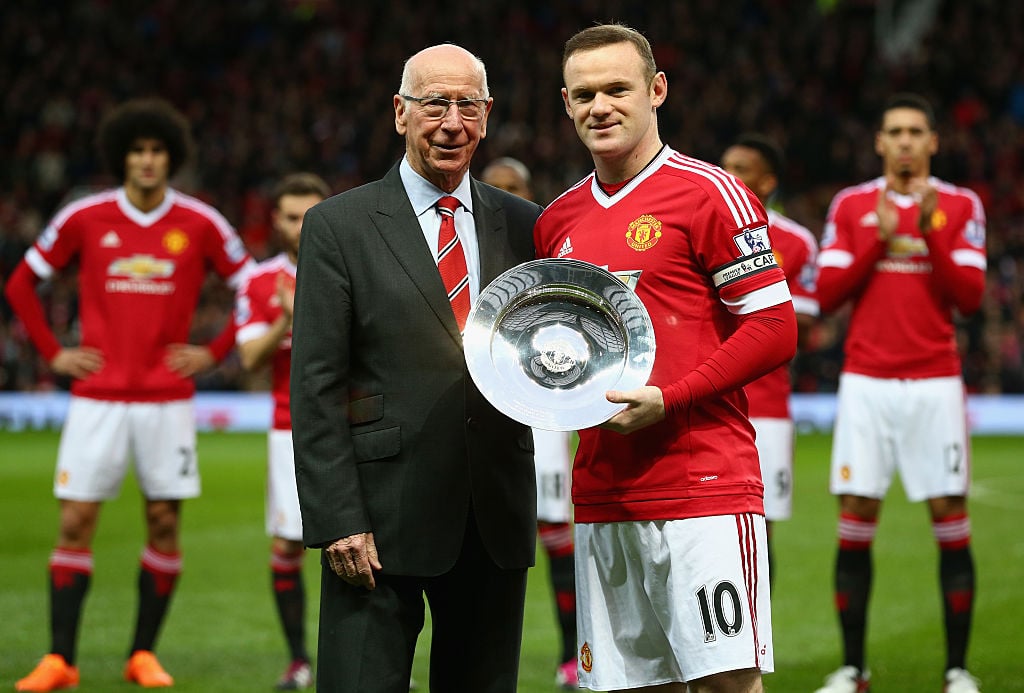 Sir Bobby Charlton is among the most important players in Manchester United's history. The centre-forward enjoyed a storied and record-setting career with the club between 1956 and 1973. He also helped England secure their only World Cup title to date on home soil in 1966.
The striker wrote his name in the Red Devils' history books with a vicious shot and incredible accuracy. He also helped Manchester United lift three league titles and a European Cup over his career. Charlton was a key star in Busby's Babes and was also crucial to the Holy Trinity.
Charlton's 758 matches and 249 goals with Manchester United in all competitions remained club records until Giggs and Rooney arrived. He was also a product of the club's scholarship programme and secured the FA Youth Cup three times after joining as a schoolboy in 1953.
His legacy at Old Trafford will forever be remembered for helping Busby rebuild Manchester United following the Munich Air Disaster. Charlton was just 20 years old but recovered from his injuries to return and reach the absolute peak of the domestic and international games.
Charlton plied his trade wherever needed while Manchester United rebuilt before settling in a deep-lying attacking role. His efforts for club and country would also see Charlton receive a knighthood after an OBE and a CBE. Manchester United also made him a director in 1984.