Manchester United U18s overcame the potential of a cup upset and the challenge of a heavy, windswept pitch to progress into the FA Youth Cup Fourth Round with a 2-0 victory against Salford City.
The Reds will now play host to one of Liverpool or Sutton United.
16-year-old Daniel Gore scored his first goal for United at this level with a 36th-minute header. Charlie McNeill wrapped the game for Neil Ryan's side with a wonderful right-footed strike.
United were defeated semi-finalists in last year's competition, knocked out of the competition by Chelsea. This season, they'll hope home advantage can help them past tough opposition.
United take time to settle at Salford's Peninsula Stadium
Although Emeran saw a teasing ball flash across Evans' goal untouched and Hansen-Aarøen a shot blocked, United took some time to settle into the game. The visitors' first serious opportunity of the game came after 27 minutes.
When Hansen-Aarøen fed McNeill into a one-on-one situation with a neat through ball, Evans did well to come and palm the ball away. Dan Gore saw his first-time strike blocked and the same fate awaited McNeill before it finally fell to Savage who fired over.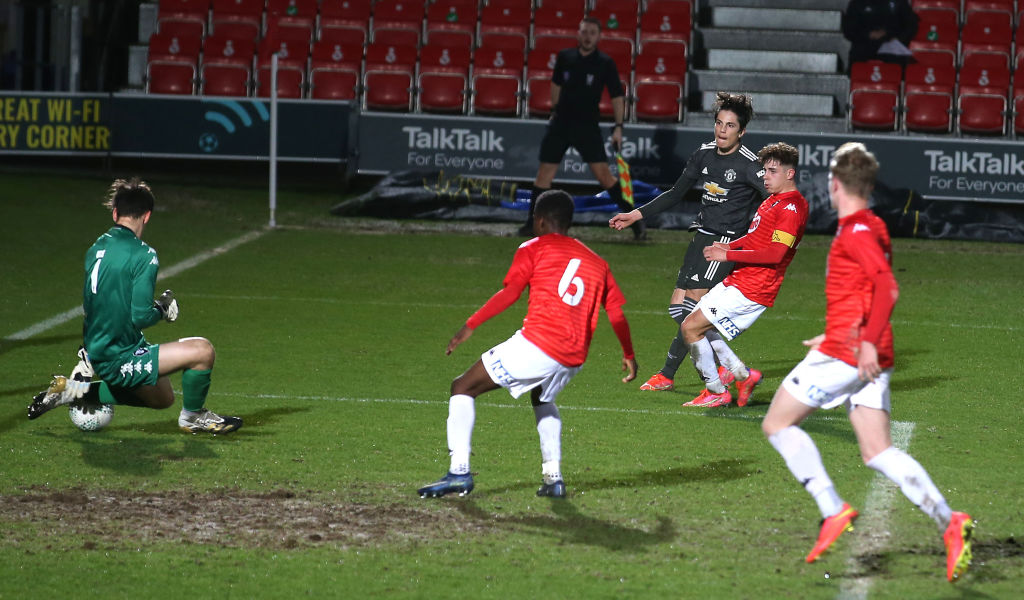 Evans soon denied Garnacho after the Spanish winger cut in from the right flank and offered an average left-footed shot. McNeill moved inside from the same wing and fired well over.
16-year-old Daniel Gore scores first Manchester United U18s goal
Dan Gore put United in front with a far-post header, converting Iestyn Hughes' excellent cross from the right-wing. The build-up play was excellent, involving 13 passes from Hardley, Vitek, Savage, Gore, Svidersky, McNeill and Garnacho as well as Hughes.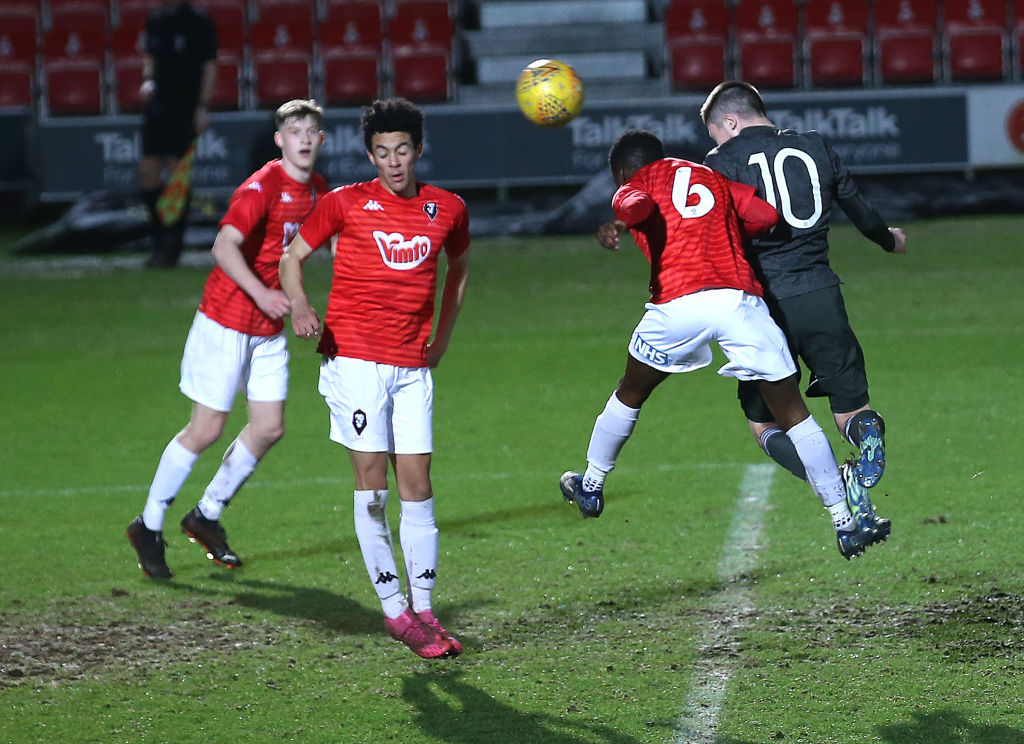 It was Gore's header that finished it, Svidersky's drive from deep that started it and Gore's quick one-two with McNeill that opened space up.
United sought a second before half-time but couldn't find it despite the urgings of manager Neil Ryan on the touchline. That made for a tense beginning to the second half, although it remained comfortable in terms of defensive work.
Charlie McNeill scores sublime right-footed goal
After an hour in which he dropped deep to take part in play, McNeill converted his first chance of the game in stunning fashion. The English striker turned one defender with a right-footed touch, skipped past another with a left-footed poke before a powerful right-footed drive soared into the top corner.
Goalscorer Gore had left the field minutes before that goal, replaced by right-back Marc Jurado. That substitution allowed Hansen-Aarøen to head to number 10 while Hughes shifted over to left-back.
When McNeill broke through on the right side of the box, it seemed certain that he'd wrap up the game with his second of the night. His pace got him enough space to shoot with comfort but his shot swept wide of the left post.
United head through comfortably despite long list of missing players
Liverpool will prove a much tougher challenge if the Anfield side can progress past Sutton United when they play next week. Neil Ryan will be pleased by a professional performance from his side at Salford, especially since United played a young side.
15-year-old Kobbie Mainoo came off the bench while United were missing, for one reason or another, all of: Hugill, Hannibal, Shoretire, Forson, Iqbal, Pye, Mejia, Fish, Wellens and Kambwala.
Related Topics
Have something to tell us about this article?
Let us know