"Dillion is a talent with a lot of potential," United In Focus are told by a regular watcher of Ajax's academy. Dillon Hoogewerf signed for Manchester United in the summer and the 16-year-old made his under-23s debut on Monday night against Aston Villa.
It was a small cameo for a player with small stature. But with two good feet, a low centre of gravity combined with strength, Hoogewerf is an exciting attacking prospect in United's academy.
Hoogewerf joined in summer
Hoogewerf was an early summer signing in the academy. He was later joined by a host of other names including Hannibal Mejbri and Noam Emeran. United won him over as Ajax tried to tie him down to a new contract. He rejected and the Reds paid under £200,000 in compensation.
He scored 10 goals and notched six assists for Ajax's under-17 side last season as well as playing three times in the prestigious UEFA Youth League tournament. The Dutchman has quickly become involved with both of United's senior youth sides.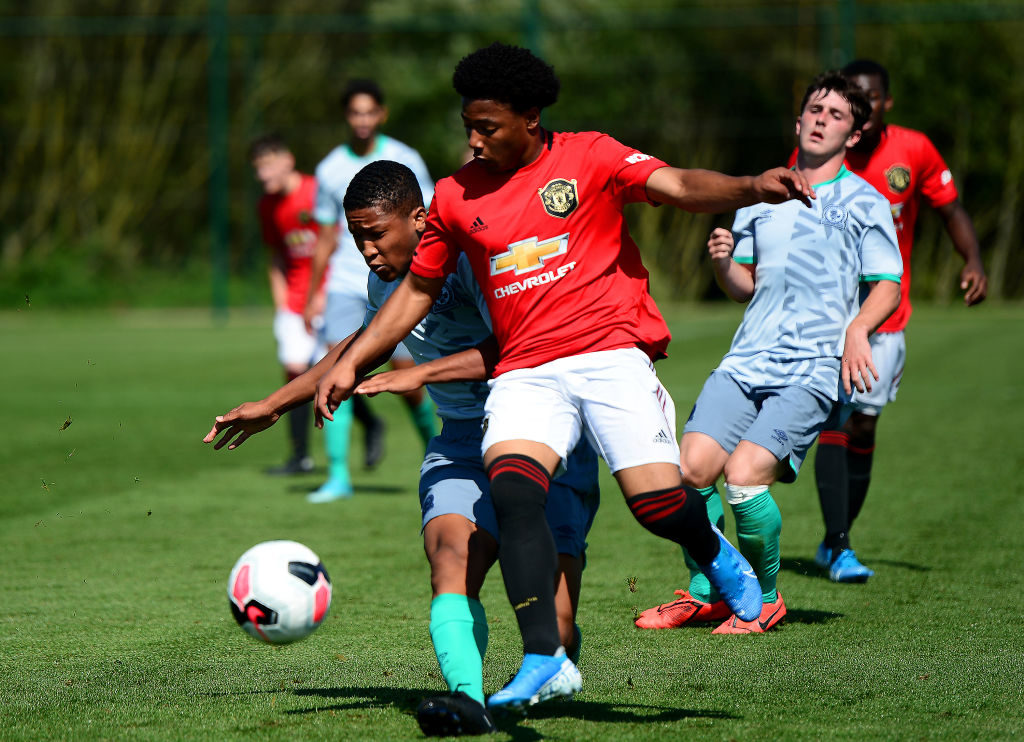 Beginning in the under-17s, he scored a penalty in a 3-2 friendly victory against Villa. That was only in August when he also made his first appearances for the under-18s. His first goal came against Blackburn Rovers. His inclusion off the bench for the under-23s was down to suspensions, injuries and first-team promotions, but it was a fantastic experience.
The striker, who can also play on the wing, was high in demand in the summer. A regular watcher of Ajax's youth academy, @AjaxYA on Twitter, told us that Hoogewerf has "a lot of potential."
"Sometimes it looks like he's not giving everything, but Dillon is a talent," @AjaxYA explained.
"Last season he was a threat for the defences playing with Naci Ünüvar. They understood each other very well. Dillon would have been promoted to the U19s at the end of the season.
Finishing, speed and footwork
"He's a good finisher, fast and good in the short-combinations. He was not Ajax's best prospect, but without a doubt he's talented.
"You have to understand that Ajax's 2002-2004 generations have a lot of brilliant talents [Hoogewerf was born in 2003]. He was one of them.
"He has to develop a lot more, especially now he's at United against physically stronger players."
Hoogewerf debut gives chance to kick on
Perhaps that physical development is the key, as with so many other young foreign talents. It can be a tough challenge signing for United and having to cope with the increased physicality and speed of the game. It's not a myth that the English game can be more intense, and it carries through to youth level.
The Dutch youth international has potential. Though United were heavily beaten, the taste of under-23s football on Monday night was a positive one. He didn't shine but he hardly had time to do so and the Reds were down to 10 men. His target now will be to force himself up into the under-23s on a regular basis over the next couple of seasons.
Related Topics
Have something to tell us about this article?
Let us know