Rasmus Hojlund has been pictured in England for the first time since Manchester United agreed a £64 million deal with the Atalanta striker set to undergo a medical at the Premier League giants. 
Pinch yourself. No, you are not dreaming.
Manchester United really have got three new first-team players through the door before a ball is even kicked. This is not the Red Devils as we know and love/hate them. No late, mad trolly dashes this time around. Just a clear, coherent transfer strategy, executed calmly and decisively.
What's more, with Rasmus Hojlund joining Mason Mount and Andre Onana at Old Trafford, Erik ten Hag and co can even claim to have strengthened three vital areas of the Red Devils squad in the space of just one month.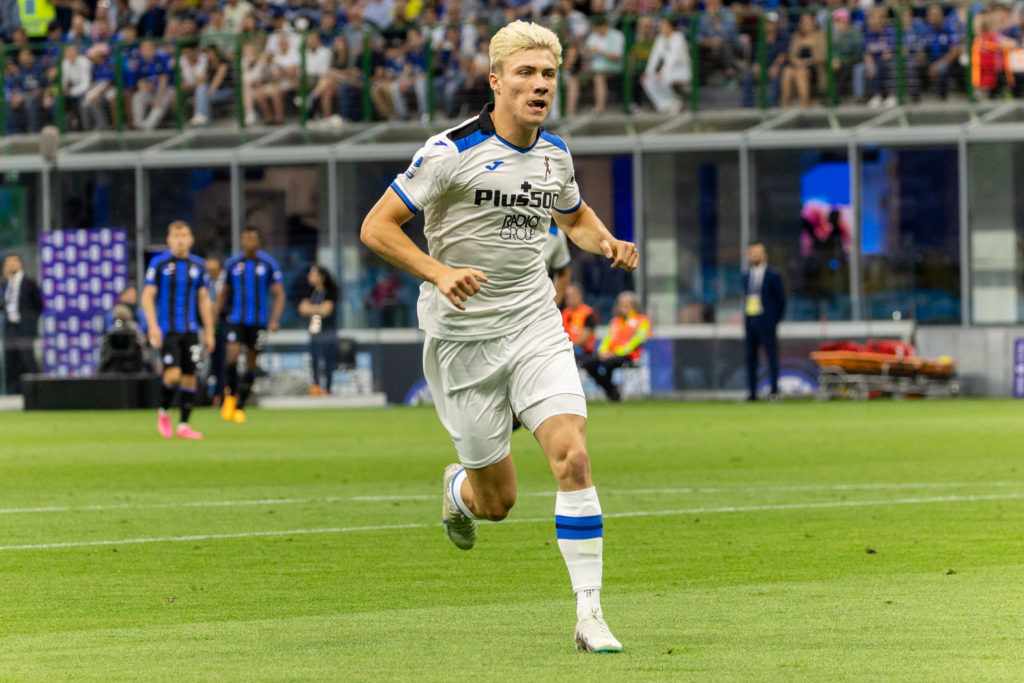 Onana combines David de Gea's shot-stopping ability with the passing range of a be-gloved Paul Scholes, Mason Mount is a younger, intense Christian Eriksen replacement, and Hojlund gives United the natural centre-forward they missed for almost the entirety of Ten Hag's debut season in English football. 
Rasmus Hojlund set for Manchester United medical
After weeks of speculation, United reached an agreement for the Atalanta frontman on Saturday. Hojlund will join for an initial £64 million, rising to £72 million.  
And if United had hoped to keep his medical under wraps, the shock of floppy blonde hair spotted in the back seat of the black Mercedes taking him from Manchester Airport on Tuesday afternoon gave the game away somewhat, the Daily Mail providing a pair of photos showing Hojlund on his way to Carrington. 
"He may well be the next Michael Owen or Robbie Fowler. You know, the young, baby-faced, clinical striker that could score goals in the Premier League for fun,' former Liverpool and Aston Villa ace Stan Collymore writes in his Caught Offside column. 
The critics are lining up to question Hojlund arriving on the back of a nine-goal season in Serie A. Statistics, however, can be used to skew any narrative. Yes, £64 million is a huge amount of money for an unproven youngster. One who didn't even reach double figures in Italy's top flight in 2022/23. 
MORE UNITED STORIES
If you take Hojlund's minutes and his performances across all competitions into account, however, you're looking at a player actually finished last season with 22 goals in 31 games in total. 
'He's going to be a superstar'
"Make no mistake, this kid is the real deal," Collymore adds. "He's going to be a superstar. I love his instinct inside the box. He's an old-fashioned striker. And that isn't something we see very much of nowadays, so the thought of him in the Premier League excites me. 
"My advice to the fans is to sit tight, give the lad plenty of time and watch him develop. Because he's a player who could become their main hitman for the next 10 or so years.
"And if that were to happen, no one will be talking about the £72m fee they're about to pay Atalanta."
Related Topics