As a black, French midfield for Manchester United, Aliou Traore was always going to draw comparisons to Paul Pogba. But in truth, they are different players. Traore is very talented and as he takes on his first full season in the under-23s, it's a good time to consider his progress since joining the Reds in 2017.
Traore netted in United's 4-1 away win against Swansea City on Monday evening. It's his second goal of the season from six Premier League 2 games. It's a very important season for the 18-year-old.
Gifted with the ideal physique for a box-to-box midfielder, Traore is powerful and strong. It was no surprise that United were flanked by Manchester City and Juventus in their interest for him back in 2017.
Has Aliou Traore's physicality left him behind technically?
However, it's a difficult task to ensure the technical ability of someone like Traore matches with their size and power throughout the youth ranks. United managed it with Pogba, who initially signed as a teenager as well.
Traore strides down the pitch at speed with long steps which make him a nightmare for opposing midfielders. His technical ability, though, is a little way behind that of James Garner, Dylan Levitt and others who cannot rely on their physical dominance.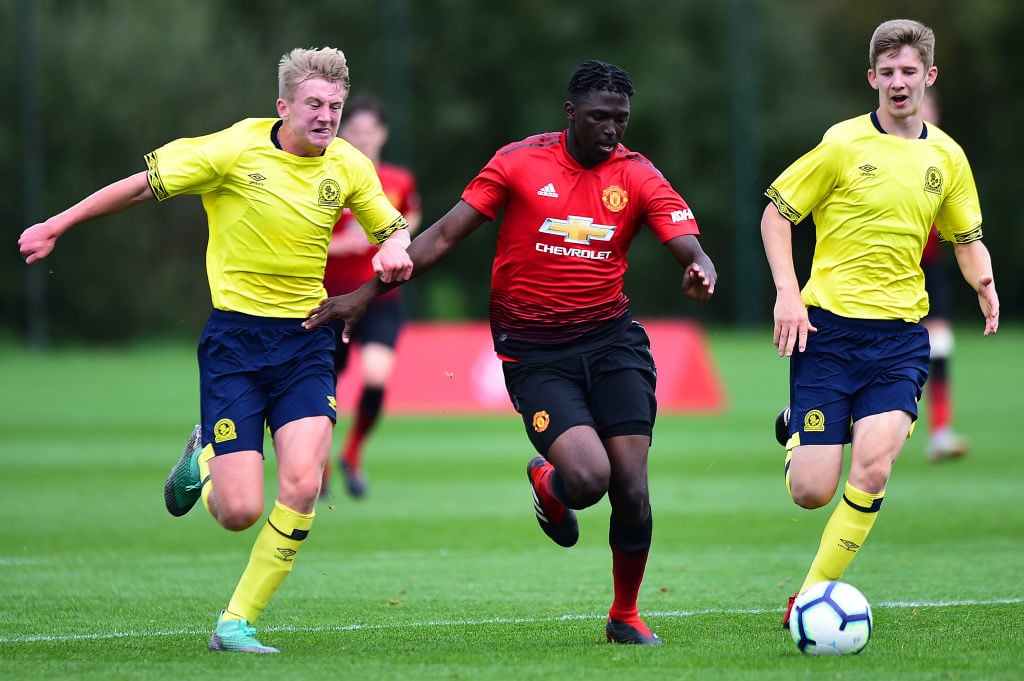 At 18, Traore is being tested early on in the under-23s. He's playing against men three or four years his superior and it's an interesting watch.
As an under-18 star, he shone with regular goals and assists (11 from 19 games in the 2018/19 U18 Premier League).
United working to keep Traore well-rounded
United put a big emphasis internally on working to ensure players don't miss out on development due to their size, big or small. The contrast is big.
There are players like Angel Gomes having to be coached at the same time as Scott McTominay or Traore. It's a fine balance.
Traore is doing well. This experience at under-23s level is a vital one. As things stand, he's not as impressive as Garner or Levitt who can dictate and control games in a way that Traore can't.
Conversely, neither of those two players, nor Galbraith or Puigmal, could score the goal below. Traore's goal in a 4-1 defeat to Aston Villa in September. He nicked the ball 50 yards from goal, beat one defender and struck home from 25 yards out.
It would be wrong to omit Traore's fine technical ability. His problem is that he's just a little bit behind his competitors for first-team action. But when you see this tall figure pirouetting between two defenders and curling into the top corner from a tight angle, it's hard to not be excited. That's what he did against Swansea on Monday night.
Aliou Traore abilities unique in United U23s
The fact is that United are blessed with a well-balanced set of midfielders. Garner should be involved more in the first team as the season goes on allowing Levitt and Traore to play alongside each other with Ethan Galbraith joining them or replacing one of them.
They are all quite different midfielders. Traore must keep learning when to rely on his physicality and when to offload the ball and he will fast improve.
It's a tough first season in under-23s football. The step-up is quite noticeable. Traore has started well.
Related Topics
Have something to tell us about this article?
Let us know