Peter Schmeichel has been voted the best Manchester United No 1 of all time ahead of fellow club legends Edwin van der Sar and David de Gea.
Sir Alex Ferguson brought the legendary Dane to Old Trafford from Brondby in 1991 for a fee worth £505,000, with Schmeichel making a long-lasting impact at United.
Schmeichel was a pivotal figure in United's backline and hoovered up the major silverware, including five Premier League titles and a Champions League trophy.
The 59-year-old former Denmark international was also captain when United became the first English team to complete a continental treble in 1999.
READ MORE: Sir Alex Ferguson attempted huge double signing for Man United only weeks before he retired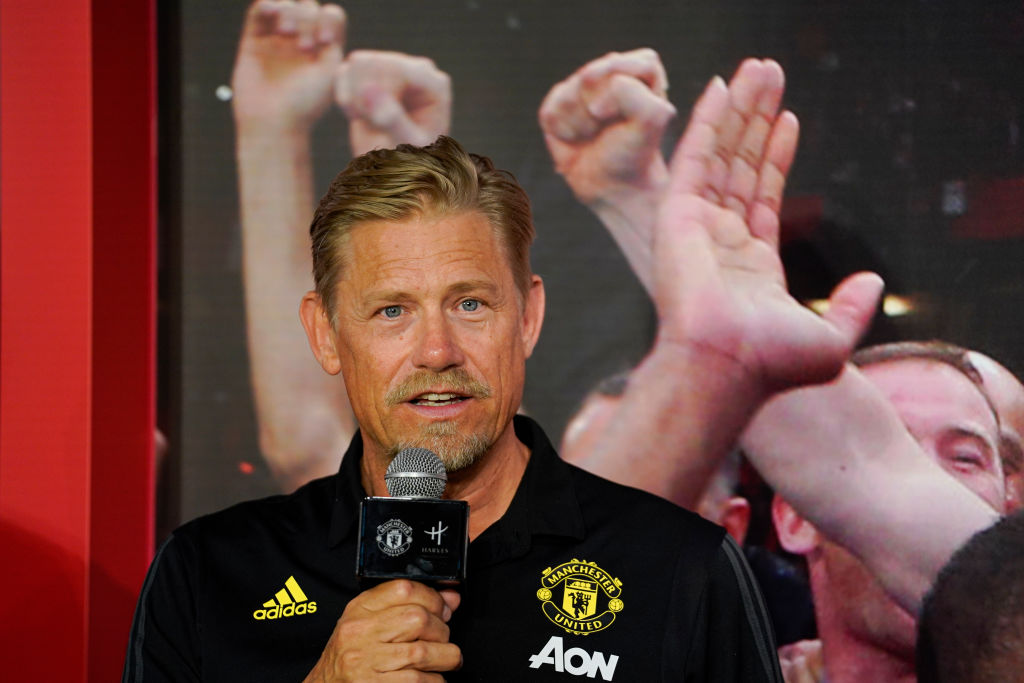 Man United legend Schmeichel comes out on top
United In Focus took to Twitter and posted a readers' poll asking United fans to have their say on the best shot-stopper in Old Trafford's long-standing history.
Schmeichel ultimately emerged victorious in the Twitter poll and took home the lion's share of the vote at 55.3 per cent.
MORE UNITED STORIES
Van der Sar finished behind Schmeichel after securing 35.5 per cent of the vote, while the legendary Harry Gregg came third with 4.7 per cent of the vote.
De Gea, who left United this summer and was replaced by Andre Onana between the sticks, came last in the poll after only receiving 4.5 per cent of the vote.
Schmeichel was "brutal" at United
Gary Neville admitted that fellow treble winner Schmeichel was "brutal" with him when he first arrived on the scene at Old Trafford.
"The one who was hardest with me was definitely Peter Schmeichel, he was brutal with me in that first year or two," he told Sky Sports (via the Metro).
"The one who actually helped me the most in that first year or two was Steve Bruce.
"He played on the right-hand side of the defence, I was right-back when Paul Parker was injured — Parks was a brilliant defender but unfortunately he had an ankle problem, so I got a chance [in the first team] through him having an ankle problem.
"Brucey really looked after me on that right-hand side, he was the one who really talked to me throughout the whole game.
"He never went quiet on me, I have to say that. That's one of the things he taught me about being a football player and being a defender.
"Rio Ferdinand was like that as well, he used to say, 'Never go quiet on me'. We never went quiet on each other during a game.
"Steve Bruce taught me that in my early years. He had a great manner about him off the pitch as well. He was the one I would say who had the biggest influence on me."
Related Topics