The announcement of a European Super League has united football fans across the country.
The backlash has been almost universal and it was only a matter of time before the protest made its way from social media and television to the stadiums.
Some Manchester United fans have displayed a banner outside Old Trafford, making their views known in no uncertain terms.
The message 'created by the poor, stolen by the rich' was displayed outside United's ground, not even 24 hours after the 3-1 Premier League win over Burnley.
The plans are so plainly about making more money for the Glazers and the other clubs involved.
They want to ringfence their cash, ensuring that it is not at risk because of sporting competition.
That means that Ed Woodward does not have to burden himself with building a successful football club again.
He just has to keep the sponsors rolling in, because the broadcasting revenue will boost profits, irrespective of how good United's first team actually are.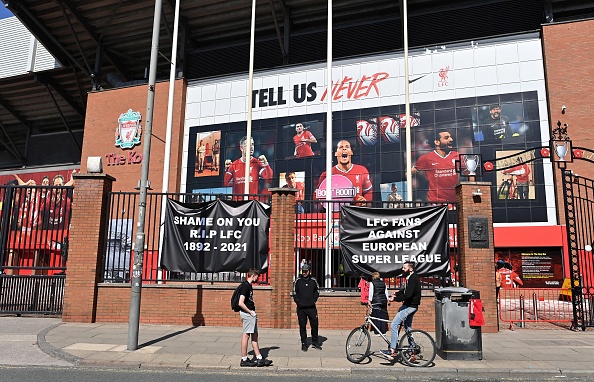 The message echoes the one outside Anfield, the home of United's bitter rivals Liverpool.
There isn't a bigger rivalry in English football, but there was always grudging respect there and the understanding that they're proper football clubs, and England's two most historic teams.
But their American owners have dragged both their names through the mud and both sets of supporters are united in their anger.
More protests will surely follow in the months to come unless there is a complete U-turn on the plans to seismically alter English football.
Have something to tell us about this article?
Let us know