Wout Weghorst admits his form in front in goal has not been 'good' as the Manchester United striker gears up for Saturday's FA Cup final with rivals Man City at Wembley.
Imagine the scenes. Just close your eyes and, if you can, picture the ball falling at the feet of Wout Weghorst with 93 minutes on the clock, the score level at 0-0.
As we said, imagine the scenes.
The much-maligned Dutchman is likely to make his final appearance in the red of Manchester United at the national stadium and, with all due respect, you'd probably get shorter odds on Aaron Wan-Bissaka firing the winner past Stefan Ortega, confirmed by Pep Guardiola to start ahead of usual number one Ederson.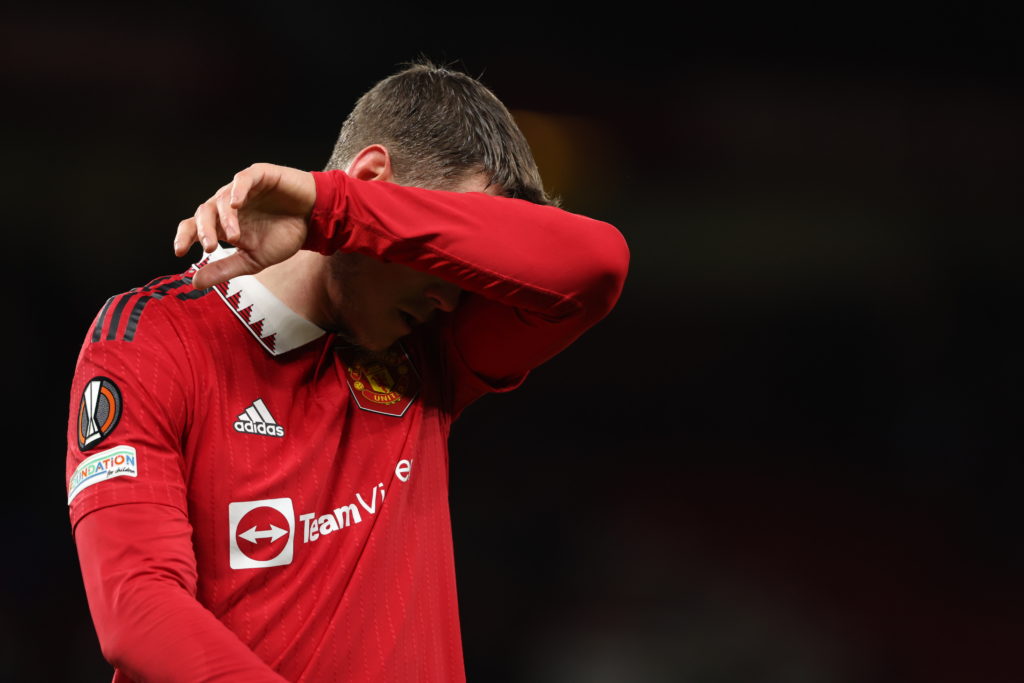 Weghorst has just two goals in 30 appearances under Erik ten Hag. None in his last 17 for club and country. And while some will always remember the Burnley loanee fondly for his prodigious work ethic and his clear love for the club, an average of one goal every 15 outings looks to have cost Weghorst a permanent move to Old Trafford.
Could Wout Weghorst be Man United's Wembley hero?
"I've really tried to give my all in every match I've played, in every minute I've had. It doesn't matter which position it is. I always give my best," Weghorst tells the Man United website.
"Of course, for me as a striker, only two goals is not enough. It's not good. That's just the only thing for me that's disappointing, because I know I'm capable to do it."
As Weghorst himself alludes to, he has been prolific at his other clubs. The rangy Dutchman broke the 20-goal barrier in successive seasons at Wolfsburg, and notched nine in 18 games at Besiktas during the first half of this term.
"I scored a lot in the past," he adds. "But all the other parts of the football contribution, in helping with the team pressure and work ethic, link-up play, I think I've developed myself there again and I could help the team and be important for them.
MORE UNITED STORIES
"Let's keep the goal for Saturday. Let's do it that way."
'Saturday is going to be our day'
Weghorst is unlikely to start against City, but he could still have an important part to play, especially if – should all go to plan – United find themselves defending a lead late on. Anthony Martial, Ten Hag's only other natural number nine, has already been ruled out through injury.
"Let's believe in it. (Let's) fully believe that Saturday is going to be our day and maybe also going to be my day and just believe in it," Weghorst smiles. "Hopefully, we can create a nice memory again."
"I'm still really, really proud and thankful that I'm playing for this amazing club. (A) big club. The most beautiful club in England.
"For me, it's a great experience so far. The final is coming now, so I'm definitely hungry to make the ending of the season amazing. I've enjoyed it from the first minute since I've been here."
Related Topics