Remember the criticism directed at Manchester United and Paul Pogba last month after the penalty debacle against Wolves?
Admittedly, United and Ole Gunnar Solskjaer could have handled the issue of a preferred penalty taker better than they did. But the outrage was over the top.
Gary Neville lambasted on Sky's MNF: "It isn't right. They should decide before they play. This is not right. This is a Manchester United penalty. This is not tombola. This is not five a side. Rashford throws the ball to Pogba. Something is not right."
So we await to see the response to Chelsea's own 'debacle' last night against Valencia.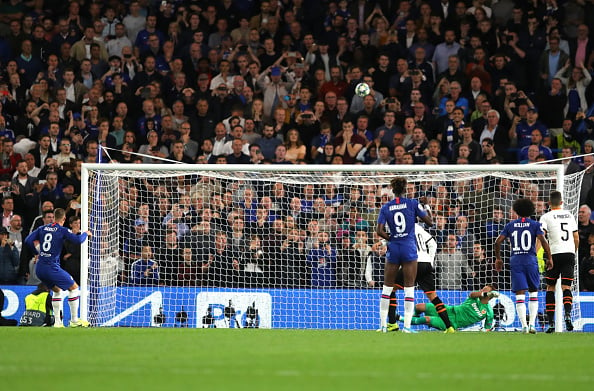 Substitute Ross Barkley jumped in ahead of teammates to claim the spot-kick, and then hit the bar and then flew over.
It was worse than Pogba's on four counts. 1) He missed the target. 2) He actually had a very frank discussion with teammate Willian on the pitch about who took it, 3) He is not even Chelsea's established penalty taker and never has been, and 4) It meant his team lost the game.
But he's not Paul Pogba
We will see if there is much criticism of Barkley. We are not counting on it, after all, he's not Paul Pogba.
Bemusingly, Daily Telegraph journalist Matt Law said he felt sympathy for Barkley.
It's funny, because we didn't see anybody in the media expressing sympathy for Paul Pogba after his penalty miss against Wolves.
It was a big story which dominated the news cycle for more than 24 hours. The reaction was way over the top.
Ole Gunnar Solskjaer was attacked over it, with ESPN journalist Mark Ogden writing scathingly, "Man United's penalty incident illustrates club's lack of leadership on the pitch and in the dugout."
Lets see if Barkley and media darling Frank Lampard get anywhere near the Pogba treatment. We doubt it.
Everyone loves to criticise United and especially Paul Pogba, we are used to it, but the double standards really are frustrating.
Have something to tell us about this article?
Let us know