With the end of the 90's now a full twenty years ago, we look at what Manchester United's best team was in a decade of pure dominance.
We've gone through the archives and our fondest of memories to pick out who we think was United's best XI of the 90s. We start with perhaps the greatest goalkeeper of all time;
GK – Peter Schmeichel
Was there going to be any other? Perhaps the best goalkeeper in Manchester United's history, Schmeichel won five Premier Leagues, three Fa Cups, a League Cup and a European Super Cup.
He rounded out his United career by captaining them in the Champions League final before leaving for Sporting Lisbon. Something he has since said he regrets.
Signed from Brondby just after United's Cup Winners Cup success, he became an immovable object in goal for United racking up 398 appearances in total… not forgetting his goal against Rotor Volograd in the UEFA Cup.
The greatest to grace United's net?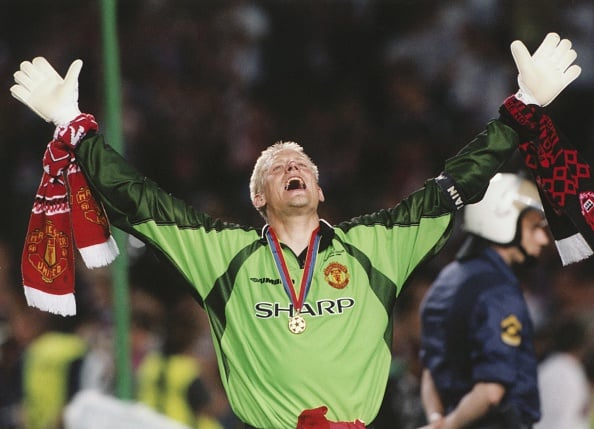 Defensive solidity
RB – Gary Neville
The first of Fergie's fledglings to be included in the 90's XI. Paul Parker would come a close second but G.Nev made the position his own and won a whole host of trophies, including eight Premier League titles.
He amassed over 600 appearances for the club following his breakthrough in the 1994/95 season.
Easily one of the best right-back this country has ever produced.
CB- Steve Bruce
Formed a formidable partnership at centre back with Gary Pallister, arguably the greatest in United's history. He scored some important goals to boot, namely his two against Sheffield Wednesday. He won both domestic and European trophies with the club.
A true leader, it's still seen as a travesty that he was never capped by England.
On a personal note, his return of 19 goals in 50 games in the 1990/91 season is beyond remarkable – most strikers would be happy with that!
CB – Gary Pallister
Joined the club in 1989 from Middlesbrough for a then record fee for a defender, Pallister quickly became a regular at the back for the club. His partnership with Bruce is still send as legendary by the United faithful.
He left in 1998 being replaced by Jaap Stam.
LB – Denis Irwin
A world class left back according to Roy Keane, Irwin oozed class for United. Both footed, Irwin could play on either side. He won everything with the club and was the only player to play in both the 1991 Cup Winners Cup Final and Champions League Final eight years later.
An unassuming character, he scored his fair share of goals for United where he spent 12 years before moving onto Wolves.
Midfield maestros
RM – David Beckham
Andrei Kanchelskis get's an honourable mention here, but it was always going to be Beckham that got the nod.
His goal from the halfway line at Wimbledon catapulted him into the media spotlight and made him a household name.
He helped the club to win the Treble in 1999 and was their standout performer. He finished second to Rivaldo in that year's Ballon d'Or.
CM – Roy Keane
The rock in the centre of midfield for the club. Keane enjoyed 12 years of unbridled success.
Named captain after Cantona retired, his importance to the team was massive. His knee injury in 1997/98 season being significant as United lost out in the league to Arsenal.
Cruelly had to miss the Champions League final after he led United back from brink in the famous semi-final against Juventus in Turin. Left United on a sour note but is still loved by the United faithful.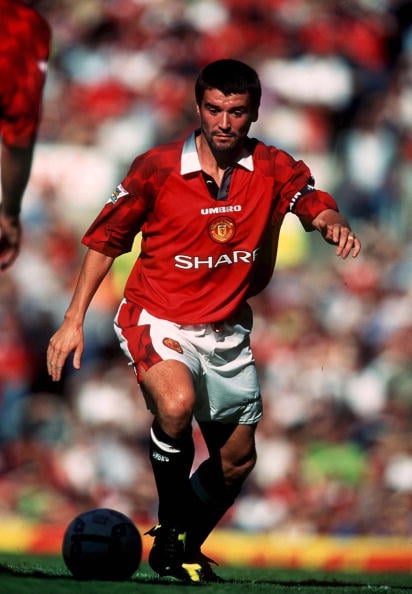 CM – Paul Scholes or Paul Ince?
This is a tough one, as technically Scholes' best year's as a midfielder came later on. He broke through more as a striker and only moved back to centre midfield thanks to Roy Keane's injury.
Ince on the other hand, had a great bond with Keane in the middle and was instrumental in Fergie's first great side, of 1994. The Guv'nor as he became known was surprisingly let go in the summer of 1995. He returned just two years later, signing for Liverpool.
Perhaps that sways it… but we'll let you decide.
LM – Ryan Giggs
There can only be one player here right?
It is absolutely impossible to pick anyone but him. The first of Fergie's Fledglings to make the grade, Ryan Giggs, was your typical out and out winger.
The Welsh Wizard won everything possible with United and broke Bobby Charlton's appearance record. A true legend of the club.
As his career wound down he reinvented himself as a centre midfielder and even managed the club for four games.
World class forwards
Forward – Eric Cantona
The man that made winning the Premiership possible.
King Eric was the catalyst that begun United's dominance of the Premier League. A surprise purchase from Leeds, he turned in to a club legend and is still adored by the fans.
The panache and skill with which Cantona played made everyone stand still and watch. With the up turned collars and swagger to match anyone, you knew something special would happen when he played. Retired extremely early, he graced Old Trafford for a memorable five years.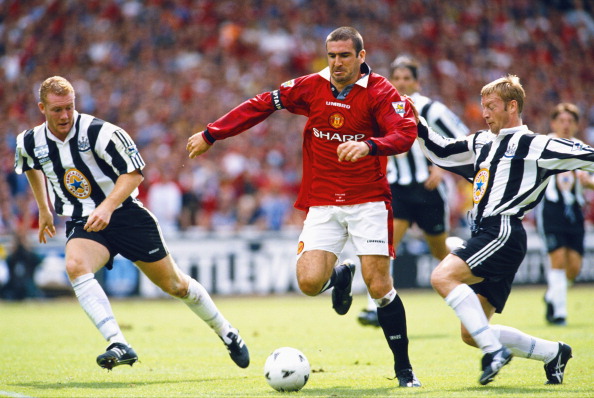 FW – Andy Cole or Mark Hughes?
Both scored a lot of goals for the club and one could argue both deserve to be in the line-up. Based on the amount scored though and honours, Andy Cole gets the nod here.
Signed from Newcastle, Cole scored 122 in all comps for United and formed a famed partnership with Dwight Yorke in their Treble winning season.
Left due to the signing of Ruud Van Nistelrooy – he'll be remembered as one of the best goalscorers to play for the club.
That's our 90's XI and we're sure it will provide some debate. Drop us a line on Twitter @unitedinfocus and let us know yours.
Have something to tell us about this article?
Let us know