Manchester United defender Lisandro Martinez is enjoying his celebrations as a World Cup winner with Argentina.
Martinez played 301 minutes through the tournament as Argentina won their first World Cup trophy since 1986.
The defender was part of an open top bus parade in Buenos Aires earlier this week in front of millions, with jubilant fans lining the streets.
Now he has returned to his hometown of Gualeguay, having been invited by the governor of the province of Entre Rios.
Martinez is the second player from the region to win the World Cup, following Jorge Burruchaga in '86.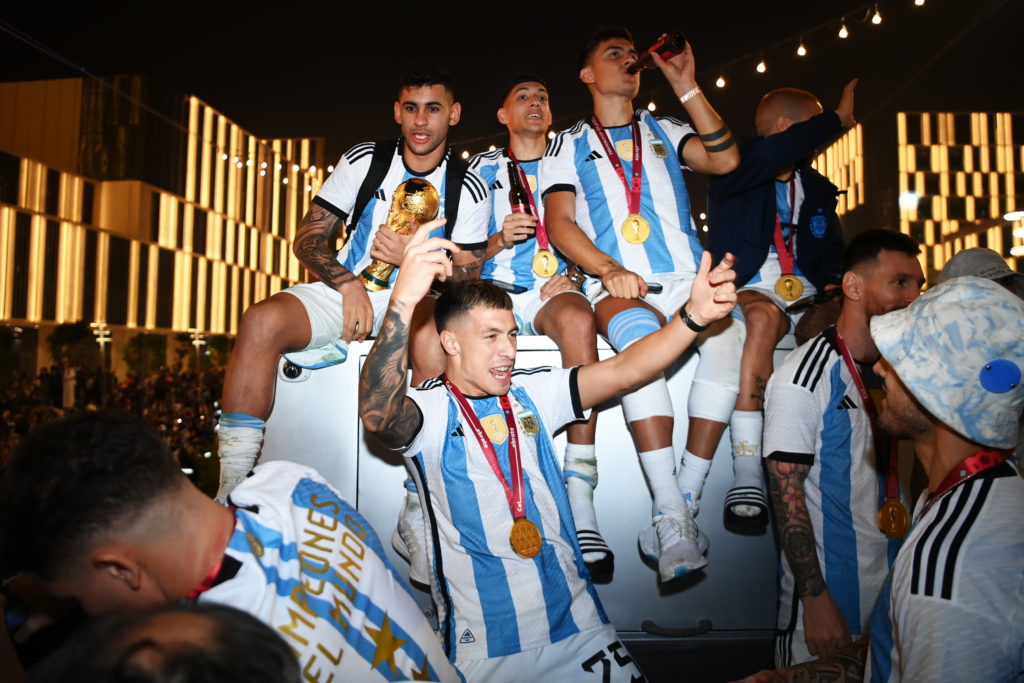 Martinez visits hometown of Gualeguay
Local outlet Minuto Uno reported how big an occasion Martinez's arrival in his hometown was, with fans invited to, 'Bring your flags, wear our National Team's shirt and come cheer on the Champion of the World in Gualeguay'.
Martinez was presented on stage to speak to the thousands of fans in attendance, wearing his Argentina football shirt and his World Cup medal around his neck.
With Argentine television crews following the events, Martinez looked emotional as he reflected on his success, while being given a hero's welcome.
Speaking about the occasion, Martinez told Radio Dos: "I am very happy to close the festivities in my home. I am very happy with my people, coming here for me is the best."
Quoted extensively by InfoBae, Martinez told crowds: "It moves me a lot when I talk about my city because I always keep it in mind. Every time I come here I go to the Molinos neighborhood. To my grandmother's house, which is my ground wire. I get very emotional when talking about them because today they are not here."
Speaking about his life at Manchester United, he said he is inspired by his homeland.
He said: "Every time I wake up and I have to go to Manchester to train I start thinking about my family. With that strength is that I leave everything in each training session and in each game. It is for them, all the people from here, my city, and you feel the support of all of Entre Ríos."
Martinez also spoke about his parents, joking: "My old woman is the one who gives the most football advice and my old man tells me to go with the knife between my teeth and break a leg."
He also said he hopes for Argentina's World Cup success to be a force for good in the country, and beyond.
"Getting a smile out of every Argentine for us is enormous pride. I hope that this World Cup can serve so that all of us can unite, that we can embrace each other more, that we can all be together, that the violence ends, that we get excited when we have to do it and that we enjoy this wonder.
"There are many people in the world who are not having a good time and we have the privilege of being able to celebrate for all those people. All I want is for everyone to be in this happiness for the rest of their lives."
There is no current return date on Martinez coming back to Manchester United, although this lap of honour in his hometown could turn out to be the final part of his week of celebration.
It is likely he will be back in Manchester by the end of 2022, with manager Erik ten Hag keen to get him back to add to the squad, where he will have a key starting role when fully fit.
Related Topics
Have something to tell us about this article?
Let us know