Marcus Rashford rose to the challenge against Barcelona and replicated his superb domestic form on the big stage, starring at the Nou Camp.
The Manchester United forward struck his 22nd goal of the season against Barcelona and could easily have had more. He played a key role in the team's second goal, causing serious problems for the La Liga leaders.
Rashford is full of confidence and it showed. The England international is a player reborn this season and Barcelona could not contain him.
It is 12 months since Rashford's last game in Spain, and the personal circumstances could not be more different.
READ: Confirmed Manchester United transfers in, out, loan deals for January 2023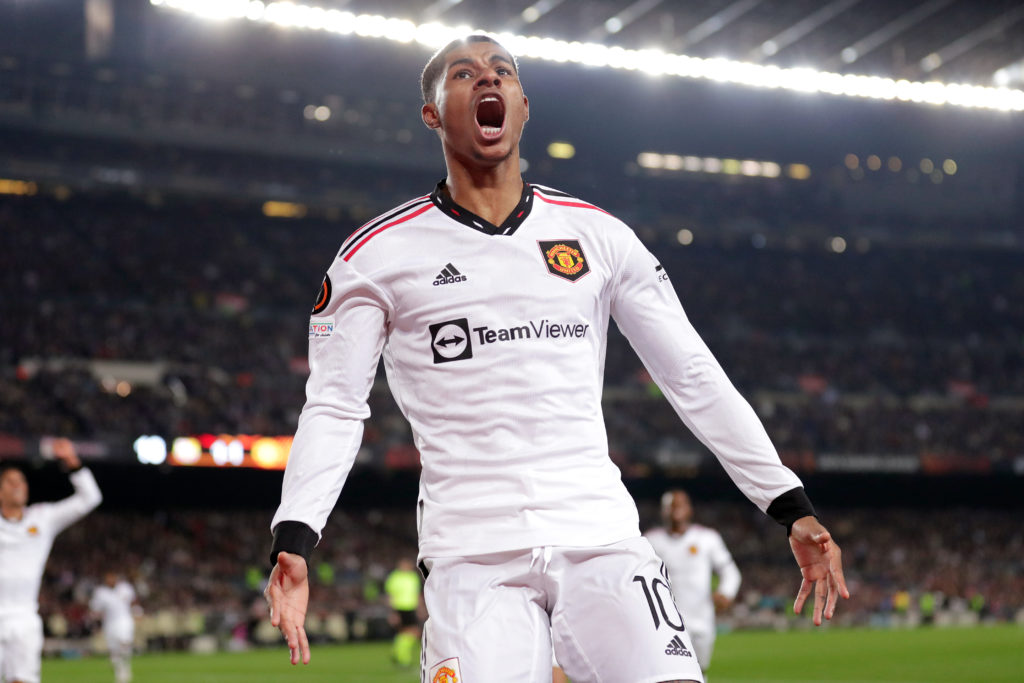 Rashford's turnaround
It was in mid-February last year that Manchester United secured a 1-1 draw away at Atletico Madrid in the Champions League knockout stages. This was a creditable result undone by a limp performance at Old Trafford.
While the result in Spain was the same, an away draw, Rashford's contribution could not have been more different.
Rashford had a night to forget at the Wanda Metropolitano, and was hooked off after 75 minutes for Anthony Elanga, who stole the show with a surprise equaliser.
Elanga's big moment overshadowed just how poor Rashford had been. He was a player bereft of confidence who had no impact, taking just one shot at goal on the night which sailed high over the bar.
Rashford did not create any chances, completed just one of five dribble attempts, with just one poor shot at goal attempted. But it was not just the statistics which stood out. It was Rashford's body language at the stadium, displaying a player who was a shadow of his former self, lacking self-belief, and trying to force success.
Paul Scholes told BT Sport at the time: "He looks too anxious for me, he looks like he is trying almost too hard. Every time the ball comes to him it almost feels like he is trying to do something magical. It is probably the worst thing you can do."
At the time Rashford had scored five goals in the 2021/22 season. His form collapsed after this and he did not add to that tally.
Back to the present, and Rashford was lauded by Scholes as 'unplayable' after his display at the Nou Camp.
Rashford has long eclipsed his tally from last season, and then some. His incredible form is testament to his self-belief and mental strength, putting in the hard work last summer to reset himself and get back on track.
The star has been aided by a new manager who believes in him, with Erik ten Hag backing Rashford from day one. He has been repaid in full by the Manchester United forward soaring to new heights.
His latest performance at the Nou Camp was former validation of Rashford and Ten Hag's work. Barcelona came up with a specific plan to try and stop him, and even that fell apart, Rashford was simply too good.
The challenge for the forward is to maintain this form. But this was said at the start of January, and he is still going.
Now having matched his career best tally, Rashford is into unchartered territory, ready to break new goalscoring frontiers, looking like netting in every game, while this time last year, he did not look capable of scoring at all.
Related Topics
Have something to tell us about this article?
Let us know