Here are, in our opinion, the top 10 goals Marcus Rashford has scored in a Manchester United shirt.
Rashford has been simply a revelation for Manchester United since he burst onto the scene as an 18-year-old back in 2016, scoring two on his debut against Midtjylland.
Since then he's accumulated more than 120 career goals for United, with the prolific Englishman showing no signs of stopping anytime soon.
He has just scooped up both Player of the Year and Players Player of the Year for the 2022/23 season, so it seems fitting to reminisce on his time at the club so far. So, with this – let's rank Marcus Rashford's top ten goals in a Man Utd shirt.
READ MORE: Manchester United's all-time record goalscorers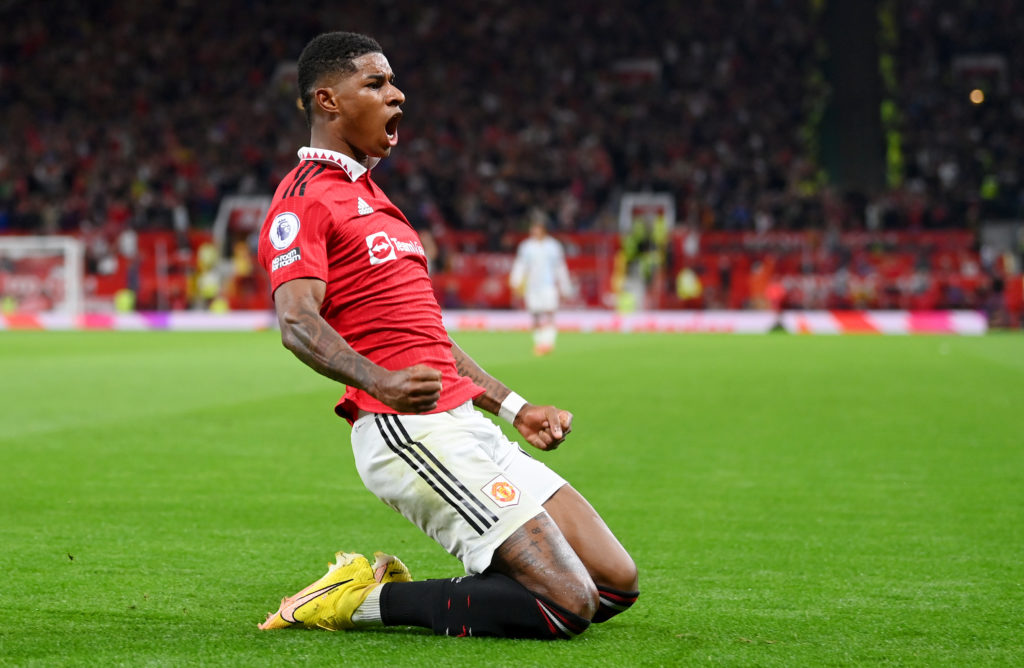 10 – Rashford vs Manchester City (15/16)
To begin with, it seems fitting to include the goal where Manchester United fans really fell in love with Rashford.
After scoring a double both on his European and Premier League debut, not long later Rashford featured in his first-ever derby.
He scored the only goal of the game with a superbly composed finish for such a young man, all whilst sending Martin Demichelis for a hot dog.
9 – Rashford vs Nottingham Forest (22/23)
From humble beginnings to where Rashford finds himself now. His solo run against Nottingham Forest in the Carabao Cup set them on their way to a comfortable 3-0 win at the glorious stadium of Old Trafford.
8 – Rashford vs West Ham (18/19)
A Rashford goal that many forget, but this was an audacious flick against the Hammers. Rashford met a Luke Shaw corner at the front post to which he smartly sent goalwards with the back of his right heel.
It's a shame about the scoreline this day, where United lost 3-1, as it really did tarnish a great Rashford goal.
7 – Rashford vs Brighton (18/19)
Another trademark Rashford strike. When all looked lost at a tight angle Marcus cuts onto his right ever so nicely and strikes the ball over a helpless Brighton keeper into the top right corner of the net.
6 – Rashford vs West Ham (15/16)
Another against the Hammers! This time a very young Marcus Rashford dazzles the defence with a couple of stepovers and unleashes a strike into the top right corner which bounces off the bar and in. So aesthetically pleasing.
This gave United the win in an FA Cup sixth-round replay.
5 – Rashford vs Burnley (22/23)
Another more recent strike is Rashford's solo effort in the run into Manchester United's Carabao Cup victory against Burnley.
Rashford collected the ball inside Manchester United's half and simply just didn't stop. He then finished the run-off brilliantly with a powerful drive into the bottom left.
4 – Rashford vs Celta Vigo (16/17)
A crucial Europa League semi-final was deadlocked at 0-0 and Manchester United obtain a free-kick. Up step Marcus Rashford.
Seemingly fitting a left-footer, Rashford stepped up anyway and powered into the bottom left corner. United thus progressed to the final, where they beat Ajax to claim their first-ever Europa League title under Jose Mourinho.
3 – Rashford vs Brighton (20/21)
Some say the Brighton players are still sliding.
His superb solo goal here put United 2-1 up and subsequently won them the game at the Amex.
2 – Rashford vs Liverpool (17/18)
Just missing out on the top spot is a goal that epitomises Rashford's explosiveness.
Rashford unleashes his inner Cristiano Ronaldo here with a fantastic chop and a powerful strike past Karius in goal.
The winger grabbed two goals in this match, ensuring the Scousers were sunk at Old Trafford.
1 – Rashford vs Chelsea (19/20)
It had to be. Number one is Rashford's ludicrous free-kick against Chelsea in the Carabao Cup.
This goal speaks for itself. Sit back, relax and watch Marcus Rashford's greatest-ever goal in a Manchester United shirt.
Related Topics