Kobbie Mainoo is 'on the right trajectory' at Manchester United but remains slightly behind Premier League team-mate Alejandro Garnacho in his development.
That is the assessment of Nick Cox, the head of Manchester United's prestigious academy.
Cox has watched the likes of Kobbie Mainoo and Alejandro Garnacho develop their talents at a remarkable rate over the last two years or so, both players making first-team debuts under Erik ten Hag last season.
And while Garnacho is now an established part of the senior set-up – the blonde-bleached Argentina international already building quite the catalogue of 'clutch' moments for the Red Devils – 18-year-old Mainoo is not far behind, only an ill-timed injury denying this uber-confident playmaker a key role in the opening weeks of the current campaign.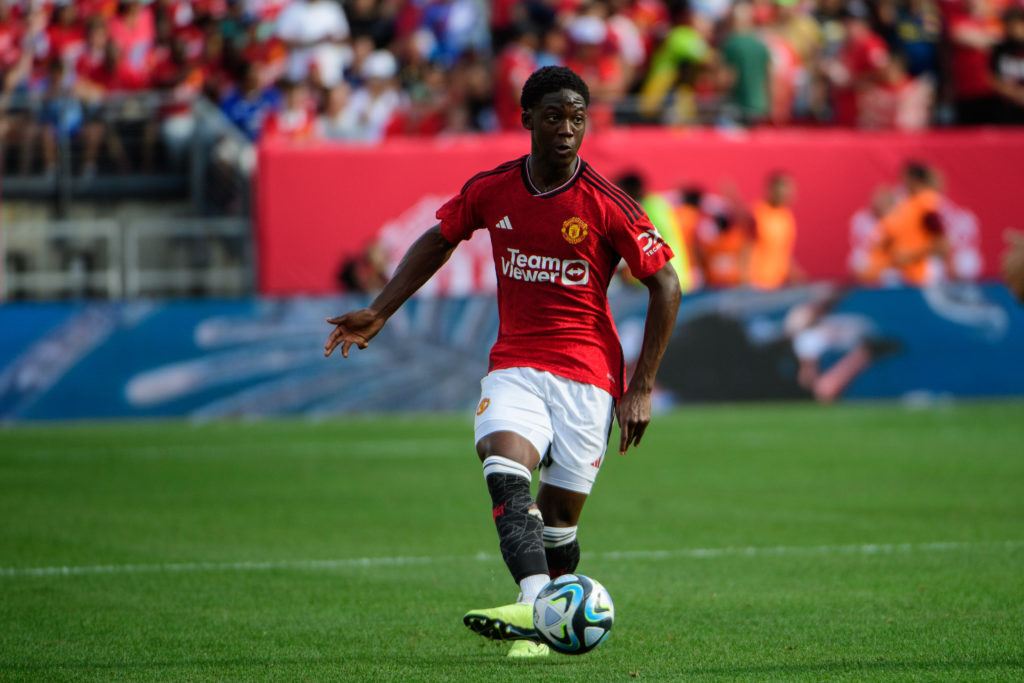 Kobbie Mainoo ready for Manchester United lift-off
"He is a little bit behind where Alejandro is at," Cox tells the Manchester United Norway podcast. "He has work to do before he can really saw that he's made it, that he's arrived. But the early signs are that he is on the right trajectory, he is in a good place."
Mainoo was perhaps the biggest success story of United's pre-season tour; outstanding against Leeds United and Arsenal. A belated first senior appearance of 2023/24 may only be a few days away now too, Mainoo hoping to be back in contention for Saturday's home clash against Brighton and Hove Albion.
And while many United supporters have been counting down the seconds until Mainoo's long-awaited return – some labelling the England U19 international the missing piece in a rather disjointed midfield – Cox is keen to point out that patience will be required.
'Reach his full potential'
"He seems to be, so far, taking all the challenges that come his way. But he has a long way to go. I sound a little bit boring because I tend to play things down and not get too excited. I just think youth development is unpredictable," Cox adds.
MORE UNITED STORIES
"Sometimes, players that you think might get there – for one reason or another – fall short. Players you didn't expect to get there, they exceed your expectations. It's important we don't put young people on pedestals and heap expectation onto them.
"Young players need time, patience, and nurturing. There will always be setbacks, and you will see periods where they excel and when they find things difficult.
"For Kobbie, you guys will be familiar with him because you've seen him play through pre-season. But he is another where we have to be patient and see how his season unfolds.
"But absolutely he has some regular exposure to our manager and his staff. We hope, through their expertise, that we will help him reach his full potential."
Related Topics