Isak Hansen-Aaroen insists he will be 'ready' to take his chance at Premier League giants Manchester United as the Norwegian looks to follow in Alejandro Garnacho's fizzing footsteps.
With his peroxide blonde mop of hair and his arms dotted with tattoos, if you squinted, you'd have been forgiven for thinking you were looking at Manchester United's swaggering number 17 rather than a 19-year-old playmaker still awaiting his Red Devils debut.
But while Isak Hansen-Aaroen appears to be taking inspiration from FA Youth Cup winning teammate Garnacho in the image department, the former Tromso whizzkid is looking to follow in his fellow teenager's footsteps on the pitch too. 
Garnacho came from nowhere to establish himself as one of the most dangerous weapons in Erik ten Hag's attacking armoury last term. An eye-catching performance in the 2-0 pre-season victory over Leeds United did Hansen-Aaroen's hopes of emulating Garnacho's impact no harm either; Ten Hag hailing the silky Scandinavian's vision and guile after he assisted Noam Emeran's opener with a typically pinpoint through-ball.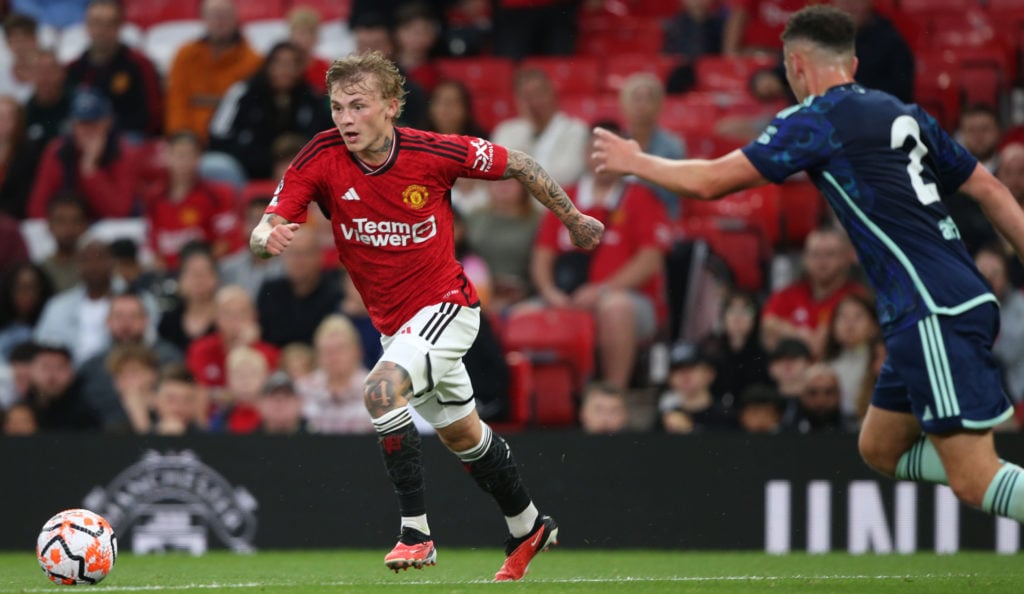 Isak Hansen-Aaroen wants Manchester United chance
"My life now is completely different. England is almost like home now. I have settled in very well in England," Hansen-Aaroen tells VG.
"Absolutely (I take inspiration from Garnacho). When the chance comes, you have to be ready. It can come suddenly. What I'm doing now is just making sure that when the chance comes, I'll be ready to take it."
Hansen-Aaroen is yet to force his way into the senior set up at Old Trafford. The player himself, however, insists that he plans to secure first-team football sooner rather than later, even if that means he needs to leave Man United on loan first.
'You will find out'
"There was talk of something different, but I don't want to say too much about it. There was some stuff, but we didn't quite agree," Hansen-Aaroen adds, rather cryptically. "You will find out in a few months.
MORE UNITED STORIES
"Yes, (a loan is) possible. There is a lot of interest. If we wanted it to be a loan, I know we could go.
"(First-team football is) very important, and a step I will certainly take very soon".
Related Topics