Many of Manchester United's players are enjoying a much-needed breather during the international break, ahead of a hectic schedule.
United return with three Premier League games in a week, and could be boosted by the returns of two key players, who would help significantly.
Both Anthony Martial and Christian Eriksen are closing in on returning to fitness, and could make a big difference down the final stretch.
Martial and Eriksen are both making encouraging progress – confirmed by manager Erik ten Hag.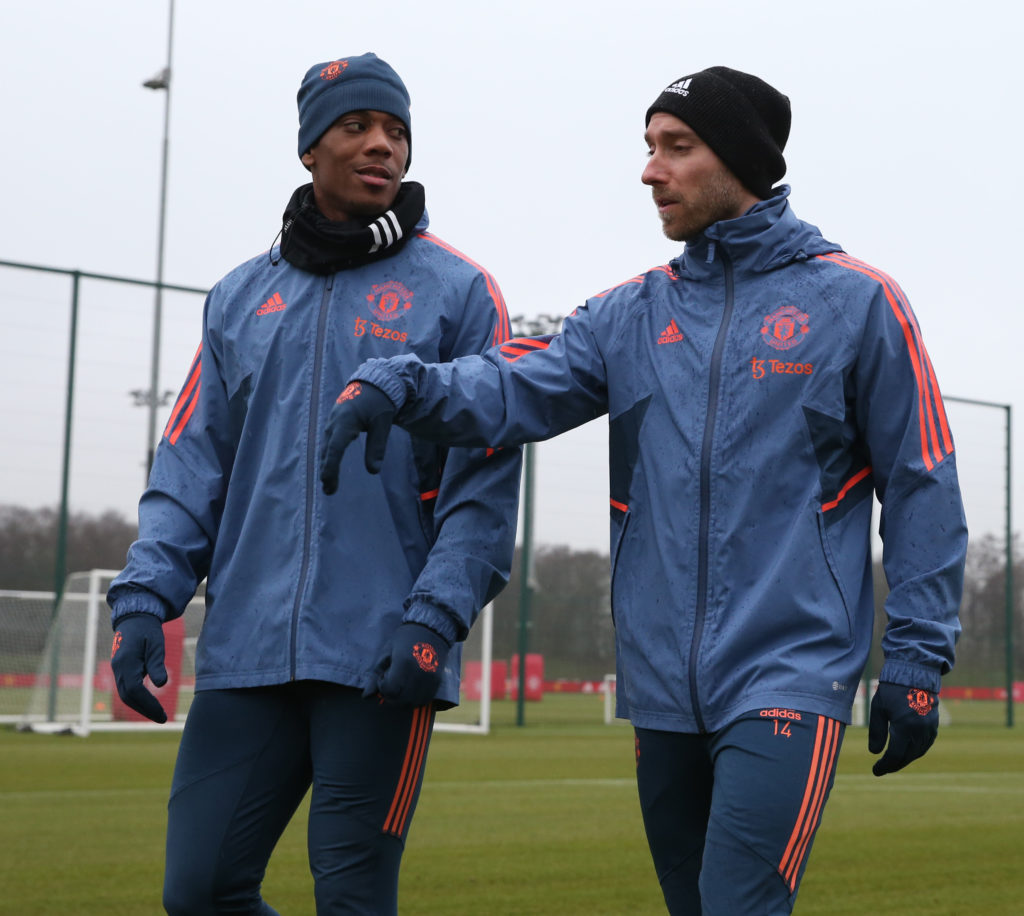 Anthony Martial status
Anthony Martial's ongoing injury troubles have blighted his season. He last completed 90 minutes for the Red Devils in September 2021.
His last start was in the Manchester derby, and his most recent appearance in the Carabao Cup semi-final second leg.
Martial has been back in training since early March. Manager Erik ten Hag has simply chosen to tread cautiously, saving him until after the international break.
An extra fortnight of training will help, and Ten Hag believes he is worth waiting for. He told the told the club website on March 1: "Let's give him the time and we will see when he is back. Then we will be happy because we have a quality option extra for the rest of the season."
Christian Eriksen status
Christian Eriksen has been out of action since being hacked down by Andy Carroll in Manchester United's win over Reading in late January.
He was projected to be out until April or May, and while he was still wearing a walking boot in late February, he is on track to make a swift return.
Erik ten Hag was quoted last week by Danish outlet TV2: "It's very positive. He has healed very quickly. He'll be ready in April. He's coming back, and we're happy about that."He's a class player that we need. I can't wait for him to be back."
Martial and Eriksen impact
Getting both players back is going to be so important. In the case of Martial, there will remain some well-founded nervousness about whether he can stay fit. United fans have learned to expect the worst.
But if he can, Martial's impact will be very helpful. He has scored six goals this season despite playing fewer minutes than Wout Weghorst.
It will help Ten Hag to have a choice up front, so he can also rest Weghorst when required, and use him as more of an impact substitute.
United have missed Eriksen too, and if he is able to return right for the start of April when Casemiro is suspended, it will be a great help.
Eriksen and Casemiro were settled as United's first choice partnership and by mid-April, the pair should be reunited in the heart of the midfield.
Related Topics
Have something to tell us about this article?
Let us know