Brighton and Hove Albion ace Kaoru Mitoma admits Aaron Wan-Bissaka got the better of him during an enthralling duel in the FA Cup semi-final clash between Roberto de Zerbi's side and Manchester United at Wembley. 
Mitoma is not the first winger who found himself caught up in 'The Spider's' web. Nor will he be the last, either.
With the possible exception of Marcus Rashford, arguably no Man United player has improved quite as much as Wan-Bissaka during the Erik ten Hag era.
And, after locking down the likes of Jack Grealish and Allan Saint-Maximin, the former Crystal Palace colossus succeeded where so many full-backs have failed in recent months, restricting the usually-irrepressible Mitoma to a watching brief during Sunday's FA Cup semi-final triumph over Brighton at the national stadium. 
"He is a strong opponent," sighs Mitoma; gracious in defeat (Goal). "That is what I thought while I was playing. But there were a lot of situations where his legs stretched at the end or he got the ball.
"I think it was a complete defeat."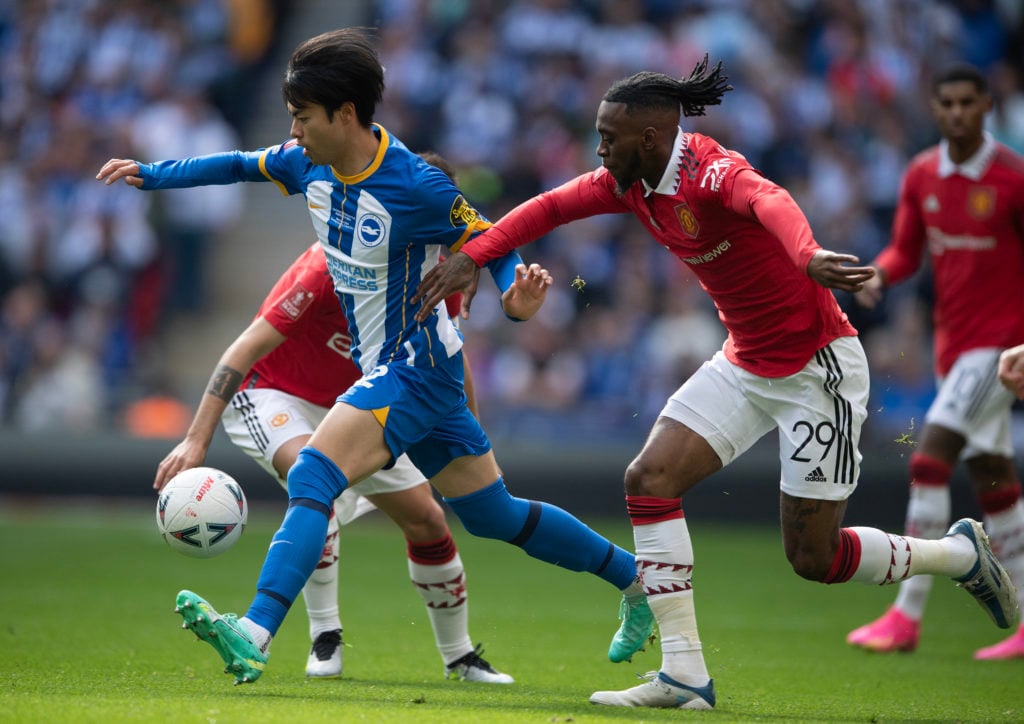 Aaron Wan-Bissaka outstanding as Man United reach FA Cup final
Wan Bissaka has gone from forgotten man to one of the first names on Ten Hag's team sheet within the space of a few short months at Old Trafford.
While rediscovering the form that once made him arguably the finest one-v-one defender in English football, the London-born 25-year-old is also crediting Ten Hag with adding some much-needed creativity and end product to his game at the other end of the pitch.
"(I am) getting involved more in the higher part of the pitch, which is what the manager wants," Wan-Bissaka, who turned into prime-Cafu during one searing burst at Wembley, tells The Telegraph.
"It gives more options for other players. It creates space for other areas of the pitch. Now it is natural. It is what we do in training and what we practise, so we have to make it a habit to create as many options as possible.
"It is about timing. When to be in certain positions at different times. To get forward and be an option, the more players in the box the better. What it is is just having that understanding of what the coach demands. He is demanding and it brings the best out of us.
"My aim has been to keep improving and using each game step-by-step. I'm quite happy with it. The only thing I can do when I get on the pitch is give it my all for the team and the manager."
Related Topics
Have something to tell us about this article?
Let us know