Rumours of Casemiro's demise have been greatly exaggerated. 
As Manchester United's Brazilian battleaxe stumbled through Thursday's 3-0 Europa League hammering at Sevilla – loose on the ball and lacklustre without in during his poorest performance since arriving in English football – there was no shortage of hand-wringing ahead of a daunting FA Cup semi-final with Roberto de Zerbi's brilliant Brighton.  
But write Casemiro off at your eternal peril.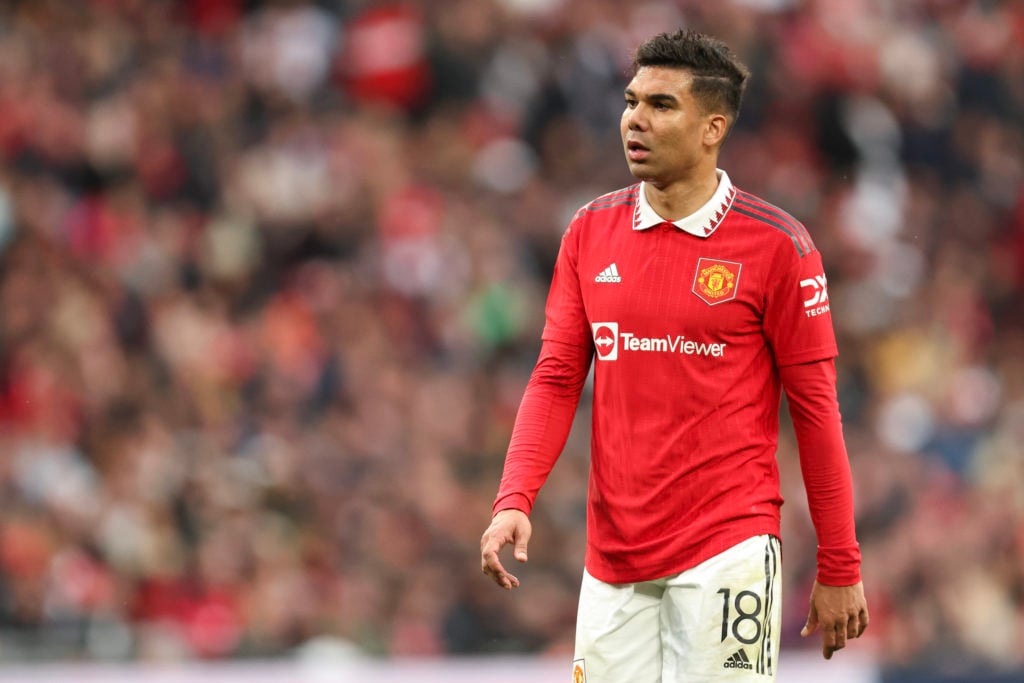 Yes, the now-31-year-old midfield maestro has looked a little off the pace following a series of suspensions. And he was far from his best during the first half at Wembley either. But, as the game went on, Casemiro grew in stature. You wouldn't have been surprised to see him tear of his shirt, turn a shade of deep green and roar 'Case Smash' before tearing chunks out of the Wembley arch.  
By the time he coolly rolled his penalty past Robert Sanchez in a tense shoot-out – Casemiro volunteering to step up first and converting with ease – his status as the Colossus of Old Trafford had been well and truly restored.
This is why Casemiro is here. This is why United bought him. The big man for the big occasion. 
Casemiro back to his best as Man United beat Brighton
And if there were any doubts about Casemiro's influence on a tense, nerve-destroying victory which sets up the FA Cup's first ever Manchester derby final, it's worth pointing out that – since arriving at Old Trafford from Real Madrid – a man with more silverware than the kitchen section of John Lewis has averaged around 2.6 tackles and 1.3 tackles per game in all competitions.
At Wembley, he obliterated those statistics in quite stunning style.
Casemiro, WhoScored report, completed no fewer than seven tackles and six interceptions against Brighton. No one on the pitch managed more. No one really came close. 
MORE UNITED STORIES
With Lisandro Martinez and Raphael Varane unavailable, the prospect of a much-maligned Victor Lindelof, an out-of-position Luke Shaw and a tired, not-yet-match-fit Casemiro taking on one of the most exciting, free-flowing teams in Europe – let alone England – may have tested the confidence of even the most optimistic Manchester United supporter. 
But Ten Hag never doubted Casemiro for a second. At this stage, neither should we.
"I thought Victor and Luke Shaw played brilliantly," Ten Hag beams following that dramatic penalty shoot-out victory, via the BBC. "They had great co-operation with Casemiro." 
Man United will now take on Manchester City in a fierce FA Cup final on June 3rd.
Related Topics