Manchester United took on a naive tactical approach in the first game of the season and just about got away with it. And now all the club's decisions are being questioned.
The national media should have had to write lines after last season, like Bart Simpson on a chalkboard: "Don't overreact to the opening two games. Don't overreact to the opening two games, etc."
Because after an underwhelming performance from United early on, every little decision is being scrutinised. Imagine if we lost.
A case in point, comes from a report in The Times from Martin Samuel, who points the finger at United's recruitment policy for the team looking 'off the pace' in the first game. Apparently we should have signed Declan Rice and Harry Kane.
READ: Confirmed Manchester United transfers in, out, loans, releases, youth for 2023/24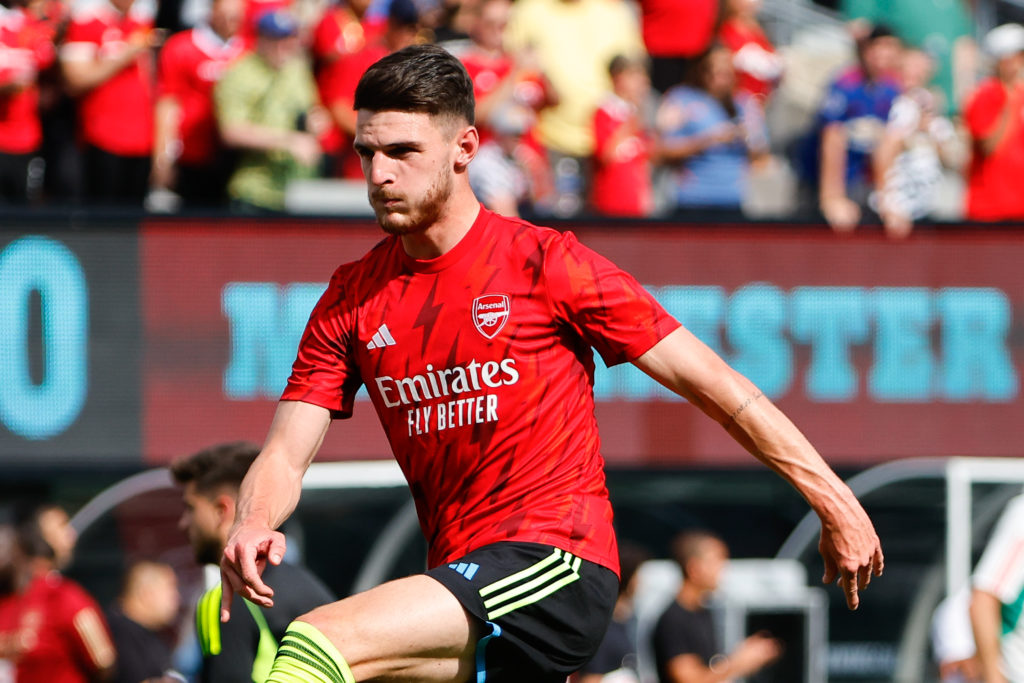 'Declan Rice's family wanted Manchester United move'
Samuel's column in The Times claims 'Erik ten Hag is to blame' for Manchester United looking 'a rung below the rest'.
There is no mention whatsoever of the fact Ten Hag took over a club on it's knees in June 2022 and managed to lead them to a trophy, a cup final, and Champions League qualification in his first season.
And after one game of the 2023/24 campaign, he's willing to write United off. Perhaps he's right, but there are 37 games ahead to prove him wrong, and three points in the bag.
MORE UNITED STORIES
In making his point about United's recruitment being wrong, Samuel points toward Declan Rice, who signed for Arsenal this summer in a club record move around £105 million, one of the top 10 transfer fees of all time.
He claims Rice was open to a move to United last summer and there was a deal to be done with West Ham.
The report states: "There was always a chance of doing business, even for a player of Kane's standing. And the same was true of Rice. Last summer, his family were very hopeful of a Manchester United move and we now know he had a price."
Breaking it all down
Last summer United had a choice, and chose Casemiro instead of Declan Rice. The Brazilian cost £60 million as opposed to £100 million plus.
It was a savvy move, landing a five-times Champions League winner. The problem is, United are expecting him to win the midfield battle on his own at the moment. Declan Rice would have found himself in the same position on Monday night, had he been the one isolated defensive midfielder in Erik ten Hag's system.
United had a lot to do last summer in the market. Spending £100 million on a single player was not on the agenda. Rice may even have cost £10-20 million more, because in 2022, he had two years left on his deal.
Samuel asks in his column, whether United should have pushed for Kane and Rice this summer. Perhaps. It would make the Red Devils a better team at a high cost. But the club are not finished yet this transfer window.
There are more deals in the pipeline, and United have to sell to buy this summer. Signing Kane or Rice, would have meant no new goalkeeper. Ten Hag has had to prioritise.
The media were just waiting to pounce, and criticism will grow if United slip to defeat to Spurs this Saturday. But it won't change anything. The transfer window is not over, there is more to be done. After that, can we assess United's decisions properly, and in a less kneejerk manner, with a couple more games played too.
And once we hit September, it's time for United to visit Arsenal and Declan Rice in his new home.
United won't have injured wonderkid Kobbie Mainoo for that one. But after seeing his pre-season performance against Rice, you wonder just how much that may have factored into Ten Hag's long-term planning.
The manager is playing the long game. He's not trying to make the popular decisions for short-term success. We have seen that approach crash and burn at Old Trafford before.
Related Topics