Manchester United waved goodbye to Anthony Elanga this week as the forward was sold to Nottingham Forest.
The Sweden international had a rapid rise at Manchester United which slowly unravelled. This was a player who scored away at Atletico Madrid in February 2022, and it looked at that stage, that anything was possible.
Anthony Elanga scored his first goal for the club away at Wolves at the end of the 2020/21 season. He then was handed another start under interim boss Ralf Rangnick in late 2021, subsequently establishing himself in the team.
The goal against Atletico came as part of a double inside the same week as his strike away at Leeds. After that, the goals dried up.
READ: Confirmed Manchester United transfers in, out, loans, releases, youth for 2023/24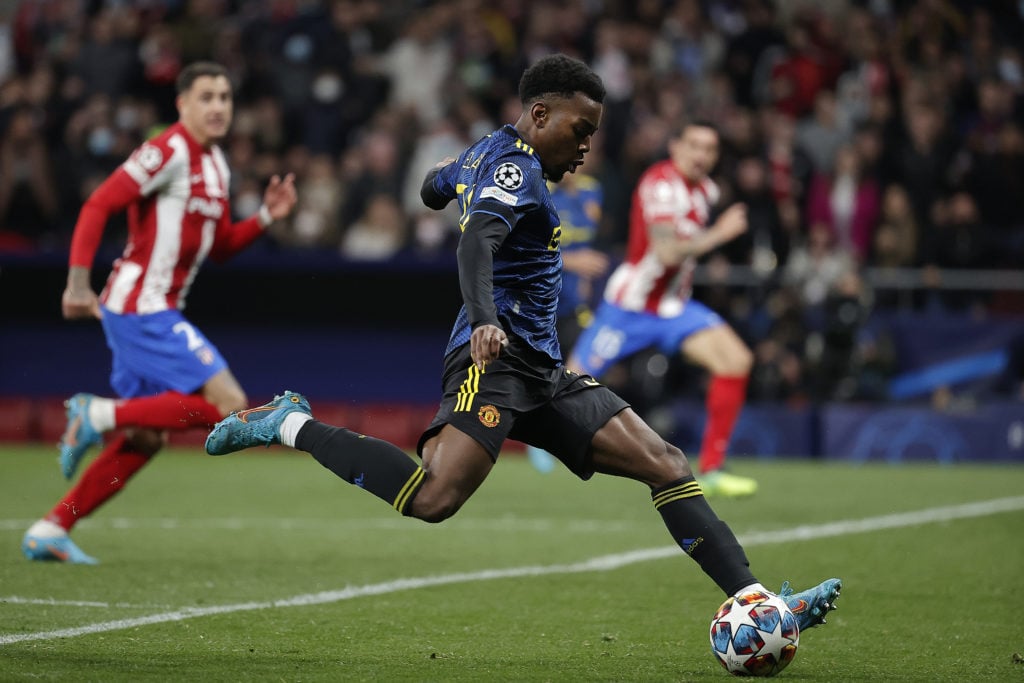 Anthony Elanga's best career moment
The goal away at Atletico Madrid was a career high for the youngster. On as a substitute with United trailing, Elanga outwitted goalkeeper Jan Oblak with an early, low strike, which nestled in the bottom corner.
Ralf Rangnick, in charge at the time, spoke about what made Elanga's big moment so special.
The Austrian said: "He is playing as if a dream comes true. He is just a joy and it's fun to watch him play.
MORE UNITED STORIES
"I wish a few other players would take him as an example, or almost as a role model I would say, not because he is doing everything right, but because he's just enjoying himself on the pitch and that's what it's all about.
"Football is an important sport and even more so for our supporters or for the media, but it's still a ball game and you have to enjoy yourself on the pitch."
By the end of the following season, the joy in Elanga's game had burned out. This was the right time for the forward to make his exit.
Where it all went wrong
Rangnick's words were a poignant dig at a lack of 'joy' in other players' games at the time. Marcus Rashford was one who really struggled away at Atletico.
Rashford ended the most of that season on the bench, with Elanga given an extended run in the team. It was a chance for the youngster to make the most of it.
Elanga started nine of the subsequent and final 11 Premier League matches after the Leeds game, and it grew increasingly miserable.
The trigger was the home game against Atletico, in which Elanga was fouled in the lead-up to Renan Lodi's winner. Some fans felt he should have got up quicker and tracked back more hastily.
Work rate has been a strong part of Elanga's game, but against a team like Atletico, you have to be mentally and tactically smart too. It was a learning curve, and the forward retained his place in the side.
The problem was, the defeat left United with nothing to play for that season, and with an interim boss in charge, the team spiralled into an awful stretch of form, losing five of the last seven games.
This was a time Elanga should have enjoyed, a big run of games as a United starter. Instead it was like banging his head against a wall, with his energy and confidence being drained.
New manager Erik ten Hag did not share the same enthusiasm for Elanga as Rangnick did. However, there was one big game he started, in the home win against Liverpool at the start of the season.
Elanga was part of a high-energy approach which saw United swap Jurgen Klopp's side early on. He came close to scoring, hitting the post. It was a moment which could have sparked his revival.
After that, Elanga found himself looking more and more like a spare part due to Antony's arrival at the club.
Combine that with Alejandro Garnacho's breakthrough, and a totally rejuvenated Marcus Rashford, and there was simply no place for Elanga to re-establish himself. That was the simple conclusion – Manchester United essentially had better players.
When February 2023 came, Elanga was one year without a goal. Hard to criticise him for, considering his lack of chances, but it was something he would have have been aware of, increasing his desire to kick on.
Elanga did score in his one start, in early January against Charlton. It was unfortunately ruled out for offside.
A loan move in January would have been the best move for the youngster. He essentially wasted six months of his career by staying, handed the odd minutes nobody else wanted, when United were losing heavily away at Liverpool and Sevilla.
There's a diamond to be developed
Elanga might be a success at Nottingham Forest, he might not. A lot depends on circumstance, and his own ability.
The youngster is a rough diamond of a player, who might not ever be a prolific 20-goal forward, not even at academy level did he reach these numbers.
He has not yet played a full season of senior football, and saw his confidence sapped under the circumstances of the unhappy Rangnick spell.
But this is a player who has all the attributes, work rate, pace, attitude, to be a success. United fans are left wondering just how good he is, probably coming to the conclusion he is not the truly elite level player supporters hoped he might be.
That won't stop him going onto have a successful career, if things break correctly for him at Forest, opportunity, the right system, a good start, and staying injury free. Forest fans will have high expectations, but there should be a little less pressure than when he was living the dream by lining up alongside Cristiano Ronaldo each week.
Related Topics