Manchester United hoped the 2021 signing of Jadon Sancho would be a complete game changer and unlock the team's attack.
Despite the £73 million investment, hailed in many quarters as a bargain, Jadon Sancho is yet to really show what he is capable of aside from a few flashes.
Some of this is down to Sancho not quite embracing the physicality and intensity of the Premier League. He remains a work in progress, in this regard.
The other side of the coin, is that Manchester United did not put Sancho in the best position to succeed last season, with an injury-prone Anthony Martial and a goalshy Wout Weghorst leading the line.
READ: Confirmed Manchester United transfers in, out, loans, releases, youth for 2023/24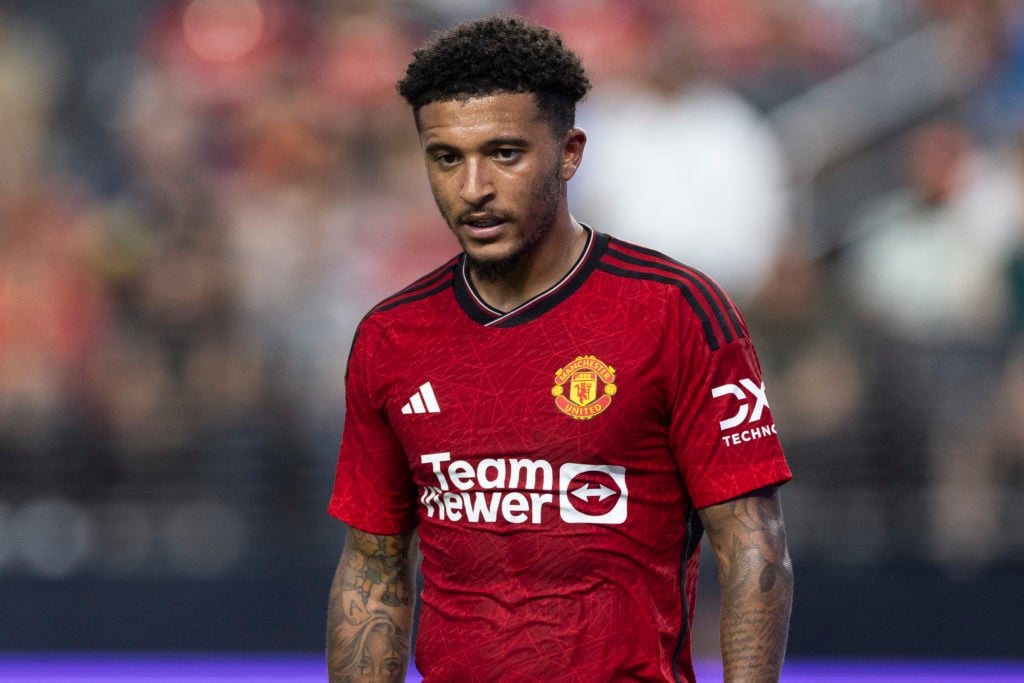 Rasmus Hojlund can help Jadon Sancho
The new arrival of up and coming striker Rasmus Hojlund can help Jadon Sancho improve. He is an aggressive, pacy striker who can stretch defences with his runs and can benefit from the chances the Englishman creates.
Sancho provided 41 Bundesliga assists in three seasons, demonstrating his creative qualities. He has only six in two seasons at Manchester United to date.
One advantage he had at Dortmund was having Erling Haaland in his team. And while we would refrain from comparing Hojlund to him, Manchester United's new young striker brings some of the qualities, principally, being a young number nine who can grow alongside Sancho.
MORE UNITED STORIES
Hojlund's attributes include his ability to find space in the penalty box. He ranked inside the top six in Serie A for progressive passes received, per FBRef.
Sancho's eye for a pass has not gone away. Last season in the home win over Everton he created five goalscoring opportunities.
Numbers highlight Sancho creativity
He created 43 chances last season in the Premier League, a minor improvement on the 41 in his first season, in 204 fewer minutes.
At Dortmund these numbers were higher, 62 chances created in 2018/19, followed by 68 and 63 respectively.
The difference here was he played more minutes, in all three seasons, than he did at United. In one case 800 more than he managed last season for United.
At Dortmund in three seasons he averaged a chance created every 35.2 minutes, while at United it is every 42.6 minutes, not far behind.
Crucially, Sancho's chances were converted into goals at Dortmund by his teammates.
His 193 key passes at Dortmund created led to 41 assists, at a rate of 21 per cent.
His 84 key passes at Manchester United led to six assists, a rate of just 7 per cent.
The arrival of Rasmus Hojlund does not guarantee Sancho's assist numbers will improve, but it should help. The young Dane can thrive from the creativity of Manchester United's players, also including Mason Mount, Christian Eriksen and Bruno Fernandes.
It should be win-win for Hojlund and Sancho. If the former Dortmund star's assist numbers shoot up this season courtesy of his new £64 million teammate, the money will be very well spent.
Related Topics