Sergio Reguilon has been called out by unhappy Manchester United fans over his defensive style of play, despite impressing others with his attacking work rate.
The 26-year-old Spanish full-back arrived at Old Trafford on deadline day as part of United's season-long loan deal with Premier League side Tottenham.
United manager Erik ten Hag was forced to enter the summer market late on and sign a new full-back option after Luke Shaw was sidelined due to injury.
Reguilon made his debut for United against Brighton at Old Trafford on Saturday, but his performance against the Seagulls left fans deeply divided.
The Spurs loanee was heavily criticised for being "exposed" defensively, with Reguilon being caught out of position for Danny Welbeck's first-half opener.
READ MORE: Erik ten Hag explains shock Aaron Wan-Bissaka absence and Scott McTominay inclusion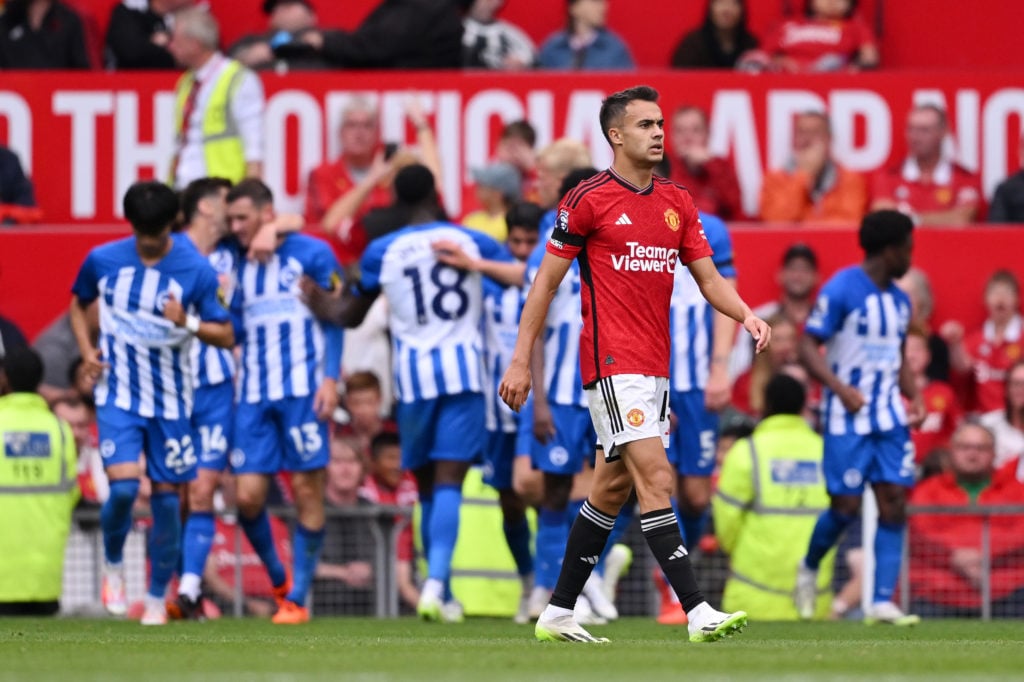 United fans unhappy with Reguilon's defensive play
United fans flocked to social media and slammed Reguilon for allowing Simon Adingra to have space to pick out former United striker Welbeck in the first place.
One fan posted: "Where was Reguilon for that goal? Adingra was free on the right-hand side."
MORE UNITED STORIES
"Reguilon is so poor in [defence], this season [gonna be] long," another tweeted.
While a third commented: "Reguilon will give you a lot offensively, but will be defensively suspect as a full-back in a back [four]. Shaw will fix this issue partially."
Someone else said: "For everything that Reguilon is, he's not a defender [and] that cross shouldn't have come in. SMH."
A fourth asked: "Reguilon, do you even want to look behind you?"
And a fifth wrote: "Not impressed by Reguilon, the goal came off his position and the winger there is having a ball. No reinforcement on the bench."
United fans praise Reguilon's attacking play
Despite receiving heavy criticism over his positioning for Welbeck's opener, Reguilon's attacking quality did receive praise from some United fans.
"He has been good. He has been a bit exposed defensively down that side, though," one fan said.
Another wrote: "Quite impressive. Very good style of play going forward."
And a third posted: "Playing high up and done really well linking up."
While one Twitter (X) user tweeted: "Very impressive debut. Always bombing down the flanks."
Someone else added: "He's decent, TBH. Quick feet and doesn't hesitate unnecessarily. But not sure about defensive ability."
A sixth said: "Very good aside from being caught out. He's actually impressed me a bit, hope he keeps it up."
Related Topics