Manchester United fans are all comparing Shea Lacey to the exact same Premier League superstar.
United have yet another serious prospect coursing through their academy ranks, in the form of Shea Lacey. At the age of just 16, the winger has already featured for Manchester United's Under 21's.
Now he's making waves at international level. Last night he lined up on the right wing for England U17s and was one of the stars of the show. He provided two assists in eight minutes, which has got Manchester United fans talking.
They're all saying the same thing about him – likening him to a familiar Mancunian face, but not on the red side.
READ: Man Utd Fixture List 23/24: Next Game, Key Dates and More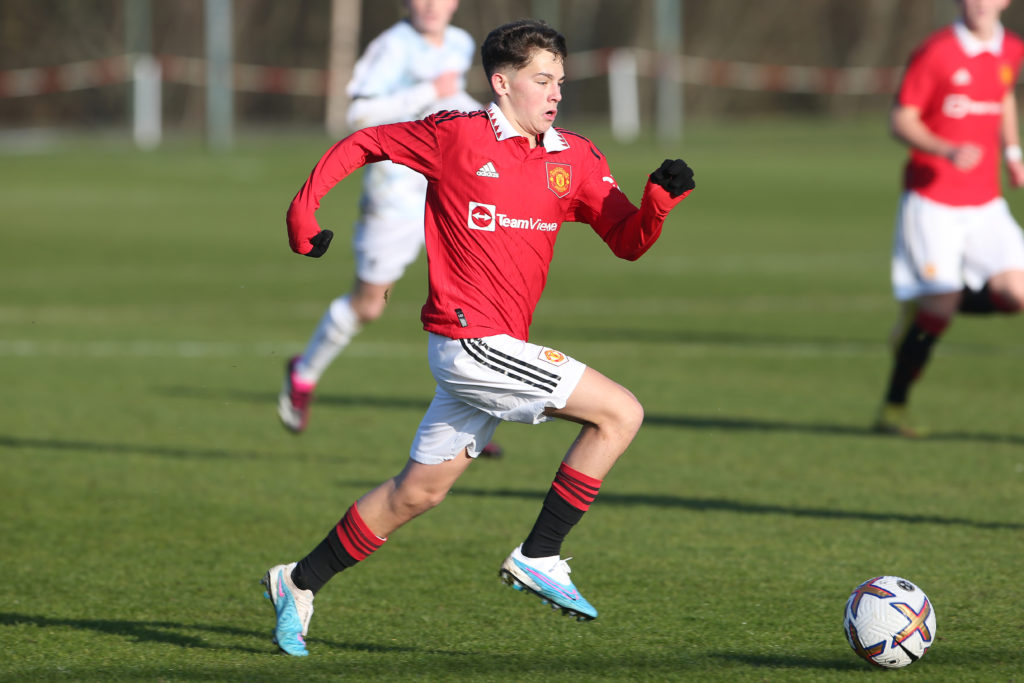 Manchester United fans think Shea Lacey is the next Phil Foden
Lacey's scintillating performance has got Red Devils fans talking. They believe that the right-winger has striking similarities in terms of play style to Manchester City's Phil Foden.
"Shea Lacey is the truth, can't wait for him to play for the first team, Phil Foden regen" one fan said.
Another wrote: "We've got our own Foden in Shea Lacey. I just beg the youth structure to look after this gem. He is going to be a top, top player."
MORE UNITED STORIES
A third simply added: "Shea Lacey is a Phil Foden copy and paste."
While a fourth posted: "Buying my Shea Lacey stocks early. We might have our own Foden/Saka loading."
"One to watch. Shea Lacey to the top. Gives off Foden vibes," another tweeted.
Someone else commented: "Shea Lacey the next Foden, special player."
The two play very similarly…
The two have their similarities.
Lacey is predominantly a right-winger but also has the capabilities of playing attacking midfielder and left-wing.
He's a very agile player. The ball simply sticks to his feet when he's running at defenders. His technique is also second to none for a player of his age, which makes him excellent in dead-ball situations.
He has a wand of a left peg, which makes him ever so effective at cutting in on the right.
Remind you of anyone? Yeah, you may as well have been describing Phil Foden. Hopefully, for United's sake, Lacey can live up to, if not surpass Foden's legacy.
Related Topics