A move to Premier League giants Manchester United may come too soon for Belgium U21 starlet Arthur Vermeeren despite an outstanding breakthrough season at Royal Antwerp.
That is according to Jan Ceulemans; the Rote Duivel legend who, like so many others, has been blown away by the maturity and the guile of an 18-year-old, £20 million-rated midfielder who is already being labelled Belgium's answer to Andres Iniesta.
Arthur Vermeeren, who was only six months old when Manchester United signed Edwin Van der Sar back in 2005, has been – to quote former Belgium boss Rene Vandereycken – the 'absolute revelation' of the 2022/23 Jupiler League season.
Despite only turning 18 in February, the twinkle-toed teenager is a major reason why Royal Antwerp are today celebrating their first top-flight triumph since 1957, veteran defender Toby Alderweireld slamming home a last-gasp thunderbolt during his very own 'Aguero moment'.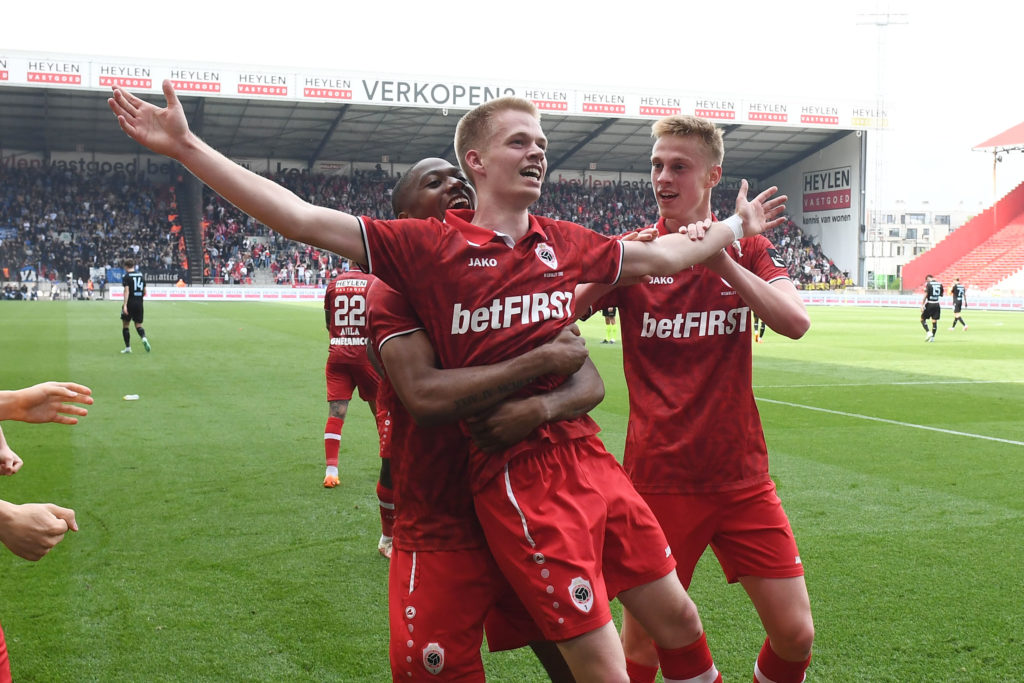 Will Manchester United win the race for Arthur Vermeren
The Daily Mail say that Erik ten Hag's side are 'monitoring' the Vermeeren, alongside Newcastle. There is also interest from Barcelona – in the hope that those Iniesta compariosns are more than mere hype – though Sport believe that United may be in pole position having made contact with Vermeeren's entourage; Ten Hag reportedly 'in love' with the playmaker's enthralling potential.
Ceulemans, however, hopes to see Vermeeren stay put for the time being. History, after all, is full of players who found themselves falling by the wayside after making the 'big move' too early in their careers.
"Now Barcelona and Manchester United are already being discussed. That seems a bit early to me," Ceulemans tells Het Nieuwsblad. 
Labelled a 'great talent' by Antwerp team-mate Jean Butez; Vermeeren has attempted to distance himself from the speculation. Though he does admit that it is nice to know his dazzling performances have not gone unnoticed.
MORE UNITED STORIES
"It is a motivation to work even harder," he tells HN.
"(But) not everything in the newspaper is true. I'm not at all concerned with leaving in the summer. I can't promise anything; football is too uncertain a world for that, and everything changes quickly.
"But again; now, I don't have that (a transfer) in my head."
Vermeeren featured in 26 Jupiler League games this term. Even if he does not leave for Manchester, Newcastle or Barcelona, he will be playing Champions League football in 2023/24.
Related Topics