Santos coach Diego Aguirre is desperate for Marcos Leonardo to stay put and 'score 20 goals' as Premier League giants Manchester United join the race for the Samba starlet.
Last month, the agent of Brazilian wonderkid Vitor Roque confirmed that Manchester United had made a money spinning offer to sign his client from Athletico Paranaense.
The total package, Andre Cury said, was 'over 100 million euros'. Presumably with add-ons and Roque's wages included.
By then, however, Roque had already given his word to Barcelona, heading to the Camp Nou after shining in Brazil's victorious South American U20 campaign at the start of 2023.
If Roque was Brazil's brilliant Batman, then Marcos Leonardo was his very own Robin. The Selecao sous chef. And while the former may have outshone the latter as Brazil became U20 champions for the 12th time, Leonardo's own scintillating displays certainly did not go unnoticed.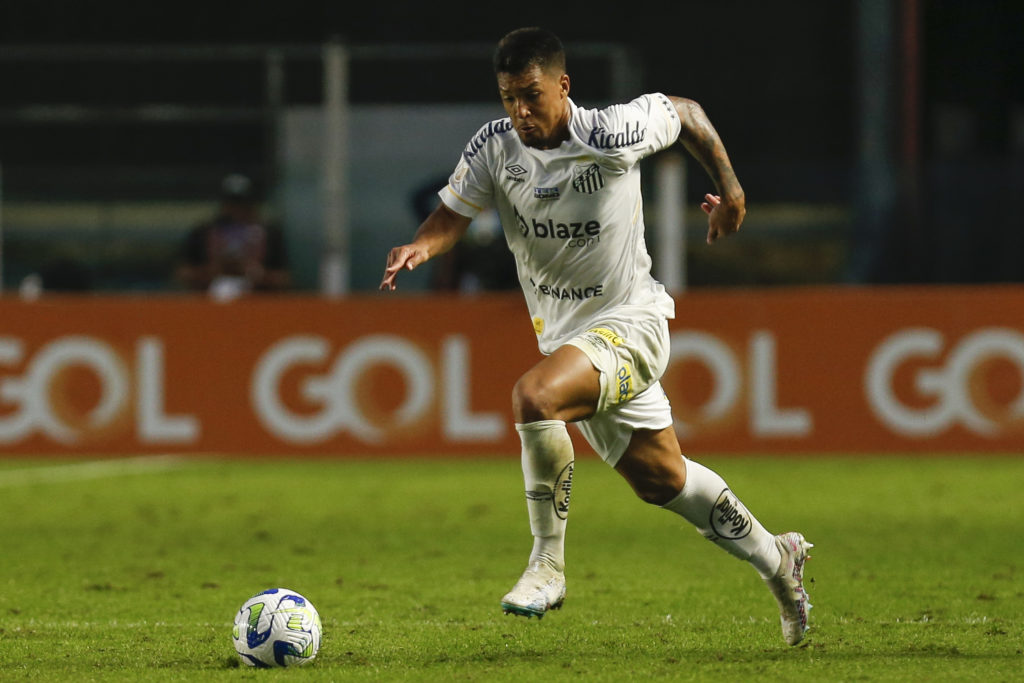 Manchester United like Santos striker Marcos Leonardo
According to the Daily Mail, Man United were keeping a very close eye on Leonardo – as well as Roque. And, with a reported price-tag of £13 million, Santos' number nine should be available for a fraction of the fee Barcelona are paying for his baby-faced team-mate.
Santos coach Diego Aguirre, meanwhile, is not surprised to learn that Leonardo is tempted by a move to Europe; Jose Mourinho's Roma apparently leading the race as things stand. But he will do everything in his power to convince a 5ft 9ins poacher often likened to Sergio Aguero that he would be better off staying put for at least one more year.
"It is a situation that we have to be very careful about," Aguirre tells Globo Esporte. "I understand the player's situation. It is a very good possibility for him, and his family. But we also have to understand Santos needs,"
MORE UNITED STORIES
"I really need him. We need him a lot. I would very much like him to stay with me. I'll try to help him as much as possible so he can score 20 goals and be sold for 30 million euros."
'Scoring many goals'
Leonardo scored seven goals in just 13 Serie A games for Santos last term. First-team football would obviously be a lot harder to come by at Old Trafford, with Rasmus Hojlund arriving from Atalanta for an initial £64 million.
"Honestly, I don't think it's possible for Marcos Leonardo to leave. There's no substitute for him," Aguirre adds. "He is the best or one of the best players in the team, without a doubt. I'm not thinking about (him leaving).
"I imagine Marcos Leonardo playing and scoring many goals.
"I'll definitely be in touch. I understand the player and we have to help him. I will do everything to make him feel good. If he stays, he can have something much better.
"We have to think like this, because it's something that has to happen."