Wout Weghorst has been credited with playing a key role in Manchester United's penalty shootout win over Brighton.
Wout Weghorst scored Manchester United's sixth penalty in the shootout, equalising on sudden death to tie the scores at 6-6.
It was what came next which may have proved to be ultimately decisive. Weghorst handed Brighton penalty taker Solly March the ball, after planting a kiss on it right in front of him.
March went onto sky his effort over the bar, then Victor Lindelof scored the decider to send Manchester United into the final.
READ: Manchester United Pre-Season Tour 2023: Fixtures, How to Watch, Tickets & Everything Else You Need To Know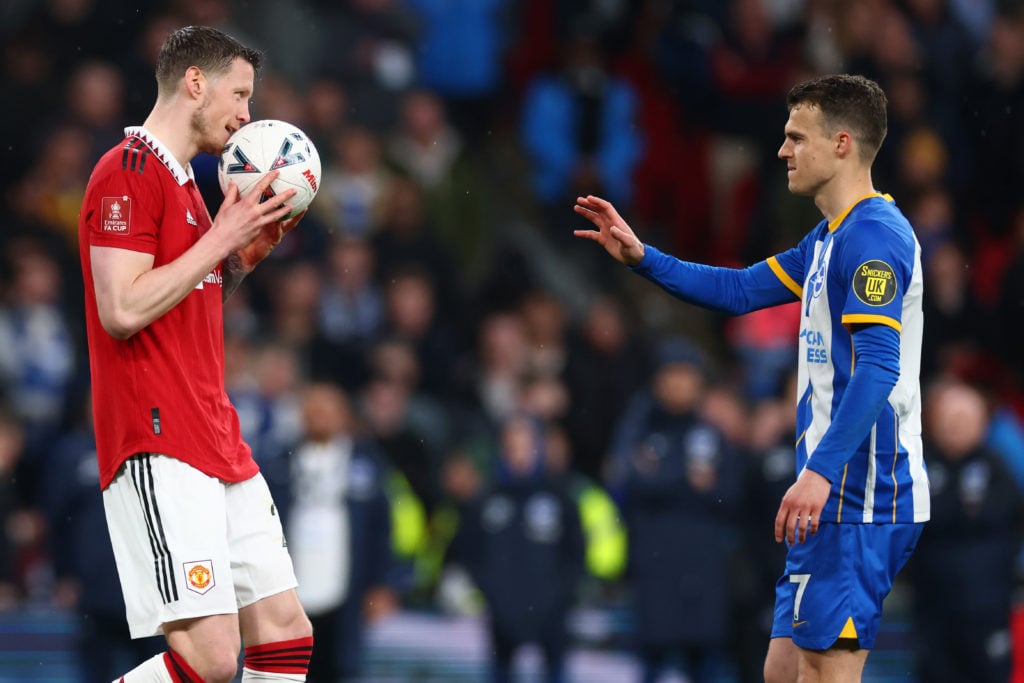 Weghorst mind games
Weghorst had scored his penalty smartly, sending Roberto Sanchez the wrong way. He then walked back to the halfway line, and gave March the ball, with a kiss.
MUTV pundit Danny Webber told the channel's post-game coverage that the incident may just have been decisive.
He explained: "You know what, he definitely got in his head. You've got a 6ft 5" man walking up to you handing the ball, kissing it in front of you, it gives you something additional to think about.
MORE UNITED STORIES
"Solly March, who didn't have a bad game to be fair, it got to him.
"It can go one of two ways. If Solly March scores he can run away with elation of scoring but he didn't and that'll forever be a moment where Wout kissed the ball and it made the difference."
Goalkeeper David de Gea also had an exchange with March before his penalty, and it certainly seemed as though the Brighton man was put off.
As Brighton's seventh taker, he would not have been the most certain of takers beforehand.
This was a case of United's players using their experience to try and gain a tiny edge, and only Solly March will be able to truly say how much difference it made.
Wembley is proving to be a happy ground for Weghorst. After Victor Lindelof's goal he ran all the way to United's supporters at the other end and performed a knee slide.
If the final against City in June proves to be his last ever game for the club, you know he will give it his absolute all.
Related Topics