Manchester United star Bruno Fernandes showed his class in a one-sided Portugal win over Luxembourg.
It was not so long ago that Luxembourg were being regarded as a fast-improving international team, looking to shed their minnows tag. They beat Ireland, drew with Turkey, and more recently beat Bosnia and last week defeated Iceland 3-1.
Last night Portugal made them look like minnows again, with a one-sided demolition led by Bruno Fernandes.
Fernandes was the star, providing a hat-trick of assists in a stunning 9-0 win, and also scoring.
READ: Confirmed Manchester United transfers in, out, loans, releases, youth for 2023/24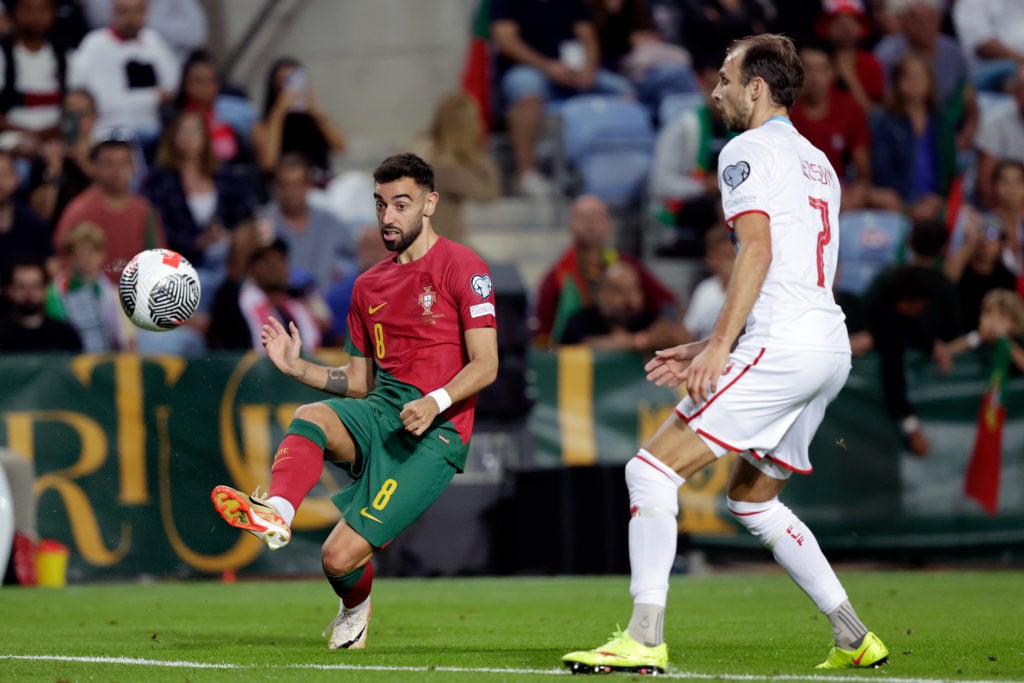 Bruno Fernandes stars
Cristiano Ronaldo missed the goal glut through suspension, with Goncalo Ramos stepping in to lead the line.
Ramos linked up well with Bruno Fernandes, who was at the heart of everything positive Portugal did.
Fernandes created seven chances in total, more than any player on the pitch providing three assists. He had 83 touches in total, putting in the hard work with three tackles won – the joint highest of any player.
MORE UNITED STORIES
He added to his impressive night with a goal in the 83rd minute to make it 8-0. Portugal eventually won 9-0. Goncalo Inacio (2), Goncalo Ramos (2), Diogo Jota (2), Ricardo Horta and Joao Felix scored along with Fernandes.
While you would expect Fernandes to perform strongly against Luxembourg, his performance was eye-catching, against a team that has accrued 10 points from qualification and could still make Euro 2024.
Portugal had an excruciating qualifying campaign to make the World Cup, going through the play-off rounds. Their place at the Euros looks confirmed, with six wins from six games and a +22 goal difference.
Fernandes has enjoyed strong international break
Fernandes scored the winner in Portugal's winner against Slovakia in the previous game, on his 29th birthday.
He scored in this game too, and will return to Manchester United full of confidence, at a key point in the season.
Games upcoming against Brighton and Bayern Munich will be much tougher, but Fernandes at least will return in a positive, upbeat mindset, removing some of the frustration he will have left with, after the recent defeat away at Arsenal.