Erik ten Hag appears ready to offer Harry Maguire the chance to salvage his Manchester United career after the Red Devils turned down a £20 million bid from Premier League rivals West Ham. 
It speaks volumes about the media obsession with Manchester United's England international that, after a thrilling, five-goal pre-season clash between Erik ten Hag's side and Borussia Dortmund in Las Vegas – a game in which Diogo Dalot scored a stunner, Donny Van de Beek grabbed two assists and Andre Onana once again showcased his laser-guided passing range – Harry Maguire was once again the story. 
Isn't he always?
Onana himself played down suggestions of a row with United's number six at full-time (anyone clutching their pearls at the goalkeeper's second-half rant should stay clear of Peter Schmeichel) but that did not stop reports of a 'furious bust-up' between the two team-mates.  
Don't let the truth get in the way of a good story, right?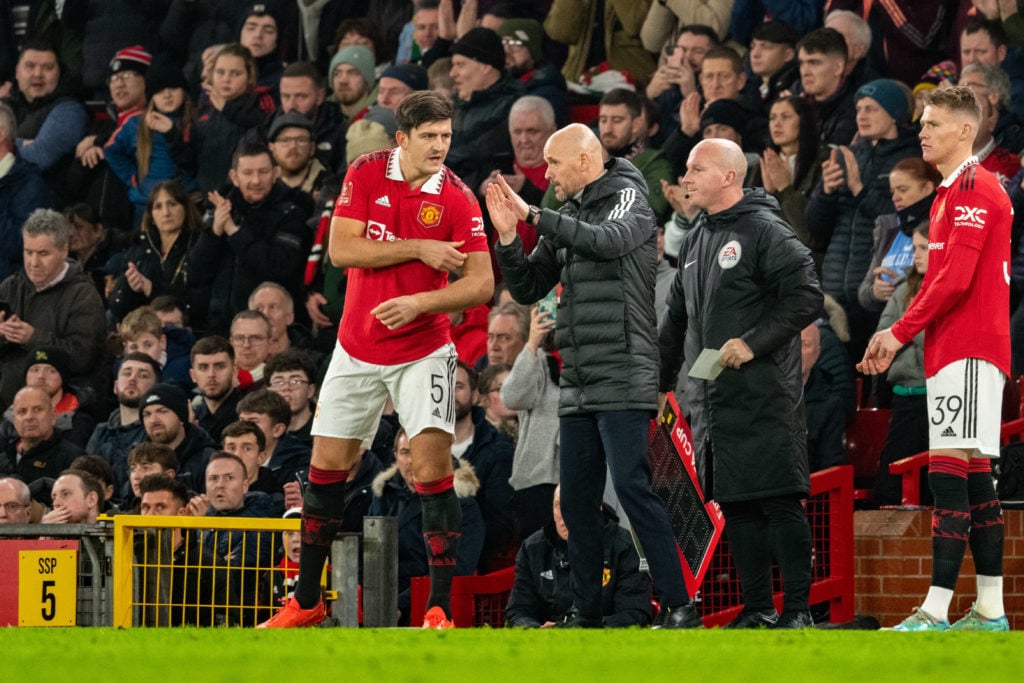 Harry Maguire may still have an Old Trafford future
Ten Hag, meanwhile, is insistent that – as long as Maguire remains a Manchester United player – he will be afforded the opportunity to stake his claim. The former Leicester colossus was stripped of the captain's armband earlier this month, but it's testament to Maguire's professionalism that he appears to have taken that most public of snubs as motivation to kick-start his United career and prove those critics wrong. 
"It's nothing against Harry. (Taking the armband off him) was in advantage of the team. Then you make the decision. But I will not say that Harry isn't part of this group. He has to fight for his position," Ten Hag tells the Daily Mail. 
"He is a very good centre-back, and I believe in the potential of Harry Maguire. It's just that he has to prove himself and fight his way into the team. It's up to him. And I think he can do it." 
Ten Hag has a decision to make
Of course, you will point out that Ten Hag spoke in similar terms about Cristiano Ronaldo and David de Gea before shoving both out the door. But after rejecting West Ham's £20 million bid for Maguire on Friday, and with any potential replacement likely to cost a pretty penny, do not be surprised to see the former skipper stick around to fight for his place (The Athletic). 
MORE UNITED STORIES
Who knows? A more proactive, ball-playing goalkeeper like Onana could be the partner Maguire needs, he and De Gea often bringing out the worst in each other.
"Didn't I play him (last season)? See his competition. It's tough when you're competing with Rapha Varane and Victor Lindelof," Ten Hag adds. "It's huge competition. That has nothing to do with the belief.
"I have often chosen a player ahead of Harry, that's true. But that says nothing about me not believing in him. He has to show he is better for the team than Rapha or Victor. I think that's a normal situation in top football.
"When you are at Man United you have to fight for your position, bring your skills in and prove you are the best for the team, and contribute the most."
Related Topics