David de Gea's latest cryptic tweet has not gone down well with former Premier League owner Simon Jordan as the goalkeeper faces an uncertain future post Manchester United.
There were about a million different meanings you could take from David de Gea's use of a single 'juggling clown' emoji.
Was it a reference to Manchester United juggling their options? The Sun reporting that the now-unattached Spaniard has been asked not to commit himself to any new club as United weigh up what do with a player who's Old Trafford career appears to be ending with a whimper rather than a roar.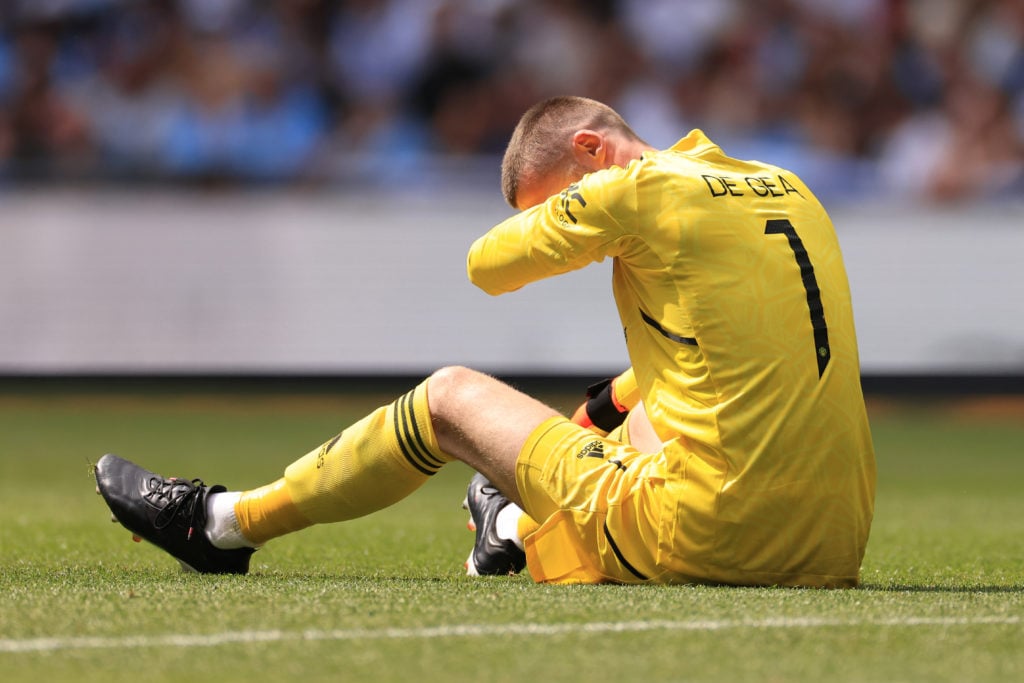 Or was it a self-deprecating reflection of his own increasingly error-strewn performances during 2022/23? If United have been ran like a circus in recent years, then De Gea's growing penchant for high-profile blunders have seen him take on something of a class clown role in the eyes of less-than-forgiving supporters.
In truth, it's probably more of the former than the latter; De Gea clearly – and rather understandably – frustrated about how his situation has been handled behind the scenes.
David de Gea now a free-agent
The Athletic report that De Gea agreed a new contract before Ten Hag vetoed it. The Dutchman wants a more modern, technically-capable goalkeeper in his place.
Not that the straight-talking Simon Jordan had any place in his heart for sympathy, however. Considering De Gea's vast experience – and his near-£400,000-a-week wages – it's surely not too much to ask to expect your goalkeeper to slice simple passes into the stands. Or, for that matter, letting the weakest of daisy-cutters trickle through his outstretched hands.
"Maybe its an emoji metaphor for some of his goalkeeping prowess!" the former Crystal Palace chairman joked on talkSPORT (7 July, 10am).
MORE UNITED STORIES
That's a little unfair on De Gea, whose place is likely to be taken at Old Trafford by Andre Onana, won the Premier League's Golden Glove last term, accumulating more clean sheets (17) than anyone else.
In around half of those 17 games, however, he did not have a single shot to save, however. That Golden Glove gong more a reflection of the sterling work done by those ahead of him; Lisandro Martinez, Casemiro and Raphael Varane.
Onana, meanwhile, is expected to join even after Inter rejected United's latest proposal of around £42 million (Fabrizio Romano). The Red Devils are also pursuing a new number two; bargain deals for Altay Bayindir and Zion Suzuki lined up.
"They do need to get rid of him," United legend Gary Neville said on Sky's Overlap Podcast before De Gea's contract expired. "Either now or, if they've not got the money, then obviously a year later is the maximum.
"But I agree with Roy (Keane); a goalkeeper is everything to a league (title challenge). You have to have a brilliant goalkeeper. You have to have an unbelievable goalkeeper."