Manchester United and France defender Raphael Varane has announced his retirement from international football.
The 29-year-old, who won 93 caps for Les Bleus, made his debut for France back in March 2013 in a World Cup qualifier against Georgia.
United's number 19 was a key part of the France side that won the 2018 World Cup in Russia after Didier Deschamps' side beat Croatia in the final.
The former Real Madrid centre-back also won the 2021 Nations League. But it looks like his last appearance for his country will be the 2022 World Cup final penalty shootout defeat to Argentina.
Varane was replaced in extra time by Liverpool's Ibrahima Konate. The four-time Champions League winner looked crestfallen when he went off injured for Manchester United against Chelsea back in October with his World Cup participation seemingly plunged into doubt.
But having recovered in time to form part of France's 26-man squad, Varane started six of France's seven matches in Qatar having been an unused substitute in their group opener against Australia.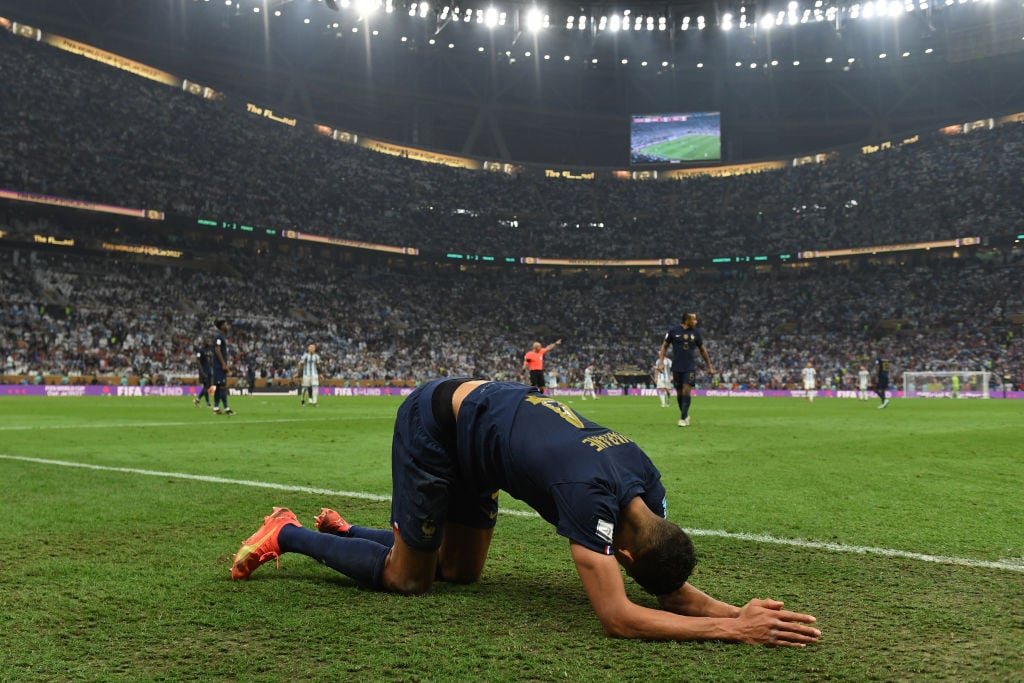 Raphael Varane explains why he's chosen to retire from international football
Since joining the Red Devils from Los Blancos in August 2021, the Frenchman has had his fair share of injury setbacks and with him turning 30 in April, Varane has opted to follow in the footsteps of Hugo Lloris who has also called time on his international career.
Varane wrote on Instagram: "Representing our great country for a decade has been one of the greatest honors of my life.
MORE UNITED STORIES
"Every time I wore this very special blue jersey I felt immense pride. The duty to give it all, play my heart out and win every time we put on the field. I've been contemplating this for several months and deciding it's the right time for me to retire internationally.
"As a child, I remember following France 98, this team, these players who made us experience indescribable emotions. I dreamed of being our heroes and 20 years later I lived one of the best experiences of my life, one that made me really proud.
"We brought home the Cup!! I will never forget it. I still feel every single one of the emotions felt on that day, July 15, 2018. That was one of the most amazing and memorable moments of my life.
"This victory that we won all together would never have been possible without the support of Didier Deschamps, every member of the management and staff over the years, and my teammates who have defended our shirt in every game we played.
"But more importantly, this victory would not have been possible without every single one of you supporting us along the way.
"Your fervor, the celebrations and the memories of our return to France will forever be etched in me.
"Even after the defeat in the final last year, with a beautiful course, you welcomed us as heroes when we returned. To each and every one of you, THANK YOU a thousand times!"
Having opted to retire from international duty despite being seven caps away from racking up his landmark 100th appearance, Varane will be hoping his decision results in his club career being extended.
Erik ten Hag will likely be delighted by the news, knowing that Varane is no longer at threat of picking up injuries while with France.
Rio Ferdinand, Paul Pogba and Didier Deschamps react to Raphael Varane announcing his retirement from international football
Deschamps, who handed Varane all of his 93 caps and his debut at the age of 19, has reacted to the news that the serial winner will no longer be part of his France team.
Speaking via L'Equipe, Deschamps said: "Raphael called me a few days ago to explain that he wanted to end his international career. He is an intelligent boy, who knows how to take the time to think, weigh the pros and cons before deciding.
"Without going into the details of our exchange, Raphaël believes he has reached the end of his adventure with the France Team. I experienced a situation a little similar to his, I understand his arguments and respect his decision even if it may seem regrettable in view of everything he was able to do with the selection until the World Cup during which he behaved, from start to finish, like the leader we know.
"Of course, I cannot turn this page without some emotion, given the ties we have forged since August 2012. Like Hugo Lloris, he will have been, barring injury, all my lists. Raphael, who was then a young talent in the making at Real Madrid, was in my first for the friendly against Uruguay in Le Havre.
"He quickly established himself as a starter. I remember his authority in the return play-off against Ukraine in 2013. A first high-level performance. The first of many. If I did not hesitate to give him the armband at 21, it is because he already exuded, in his own way and with others, a leadership on the group. "Rapha" was an effective relay, one of the guarantors of the collective and its values.
"After Blaise Matuidi, Steve Mandanda and Hugo Lloris, Raphael is the fourth 2018 world champion to retire internationally. As our paths separate, I wanted to salute his honesty, his unfailing commitment to the blue jersey. Raphael has played a central role on and off the pitch over the past decade. I had a lot of fun being his coach and I know that this is also the case for all my staff. I wish him the best fulfilment and happiness possible."
Manchester United legend Rio Ferdinand commented "legendary" on Varane's Instagram post.
While Varane's former United and international teammate Pogba commented: "Is it true? The old man? I'm sad but so happy for you for everything you've done for the republic of football thank you my rafaou.. we'll talk in private."
Related Topics