Sturm Graz boss Christian Ilzer has shared how Manchester United new boy Rasmus Hojlund was mocked for likening himself to Erling Haaland.
We're midway through the international break now and, frankly, Premier League action can't return soon enough.
United went into the break off the back of a frustrating 3-1 defeat at Arsenal and fans want to see an immediate reaction when league action comes back.
Fans also want to see more of Rasmus Hojlund, who came on for his long-awaited United debut against Arsenal.
The Dane caused problems for the Arsenal back line and the hope is that he can now really kick on after the international break.
Christian Ilzer hails Rasmus Hojlund
Hojlund has been on an incredible rise in recent times.
The 20-year-old was flogged by FC Copenhagen just over 18 months ago as he headed to Austria with Sturm Graz in January 2022.
Hojlund caught the eye in Austria, smashing 12 goals in 21 games to earn himself a quickfire move to Atalanta.
10 goals in Italy last season wasn't incredible but United saw enough potential in Hojlund to complete a huge summer move.
MORE UNITED STORIES
The man who put Hojlund on that path is Christian Ilzer, who coached the United striker at Sturm Graz.
Ilzer has now told the Daily Mail that he remembers Hojlund likening himself to now-Manchester City striker Erling Haaland upon arriving in Austria.
The media – and even some people inside Sturm Graz – laughed and didn't take an 18-year-old Hojlund seriously at all.
Ilzer loved those comments though as Hojlund immediately showed his confidence, with Ilzer adding that the United striker is a 'rock star' who can really excite the crowd if given the chance.
"In one of his first interviews here, he said his playing style has some similarities to Erling Haaland. Both in our club and in the media, people laughed or didn't take it seriously, because he was only 18 and hadn't really shown anything," said Ilzer.
"But for me it showed how confident he was. After his first game, where he scored twice, all the journalists knew what he was talking about and saw that there are similarities, with their size, power and finishing ability. The pitch is a concert stage and he is a rock star that excites the crowd. He is naturally comfortable in the spotlight. That's why he is made for the biggest stages," he added.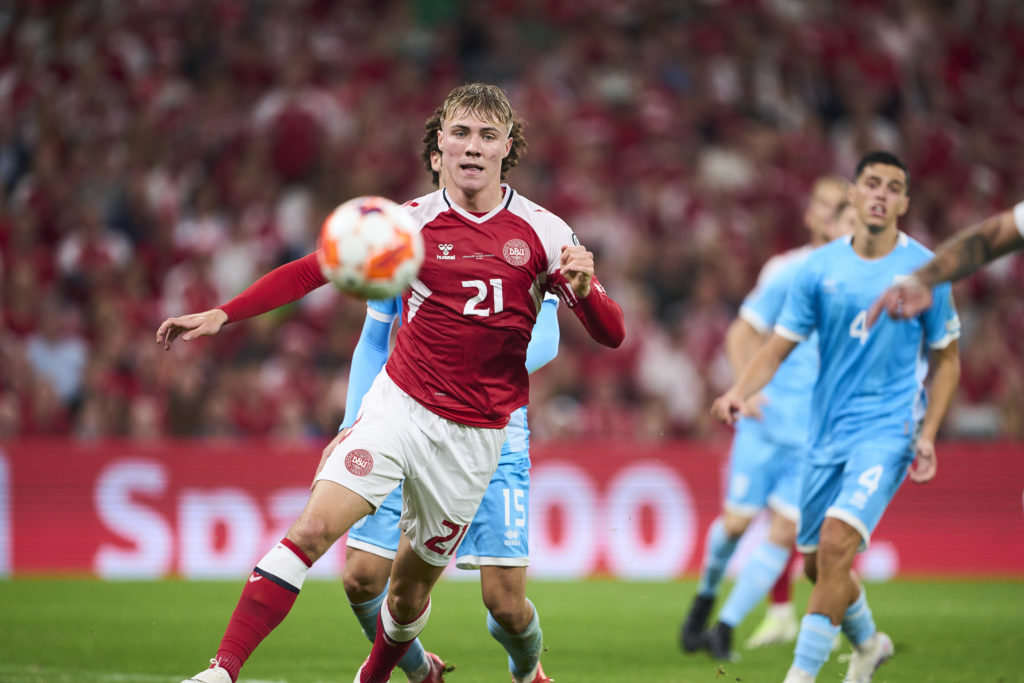 United have to hope Hojlund turns into Haaland
City and United went down different routes in terms of recruiting strikers.
City bought a proven hitman who, whilst still being young, was ready to make an immediate impact in the Premier League.
United have decided to go for somebody a little less polished by bringing fellow Scandinavian Hojlund to Old Trafford.
Hojlund may well have been tempted to make that move to Austria having seen Haaland become a sensation with Red Bull Salzburg.
Now both in Manchester, it's almost impossible for Hojlund to match Haaland's numbers, but United will be looking to see him grow into an elite forward at Old Trafford.
Related Topics