Despite his illustrious career with honours galore, Raphael Varane is still learning so much about football from his boss – Erik ten Hag.
Varane has been one of the best defenders to play football over the last decade. During his time with Real Madrid, Manchester United and the French national team – he's managed to rake in a whopping 21 trophies.
These include some of the best accolades in the game. The World Cup, the Champions League, the FIFA Club World Cup… you name it, Rapha's probably won it.
More times than once as well, with a ridiculous four European Cups to his name. This is why it's outrageous that at his stage of his career, he's still learning from his new boss.
READ: Manchester United Pre-Season Tour 2023: Fixtures, How to Watch, Tickets & Everything Else You Need To Know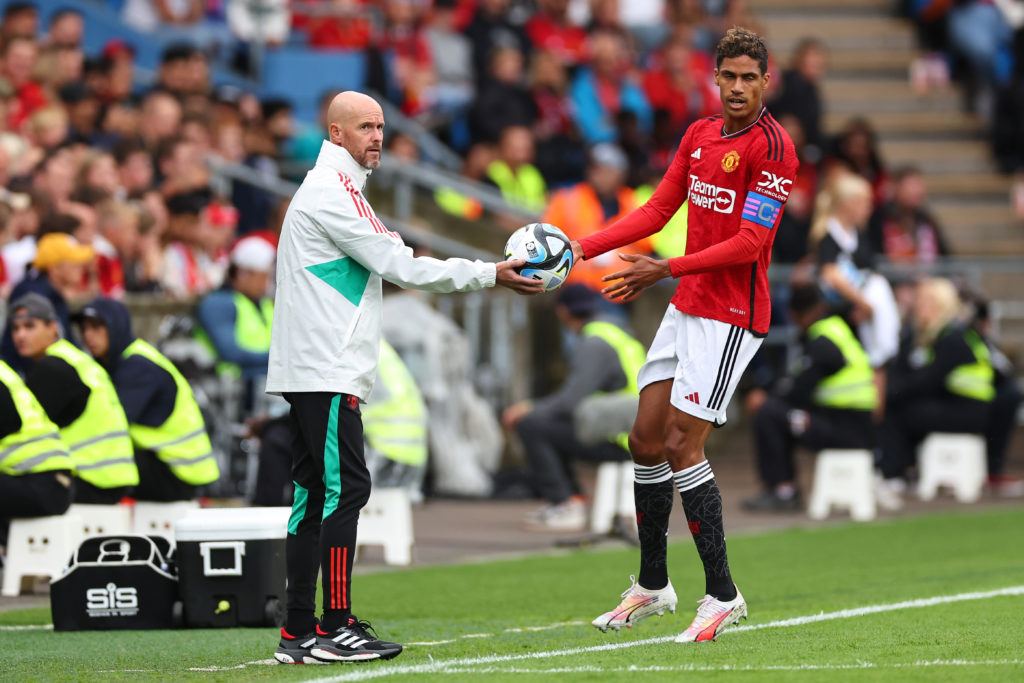 Varane still learning from 'extraordinary' Erik ten Hag
Last weekend – Erik ten Hag welcomed one of his former Bayern Munich reserve players, Matthias Strohmaier, who came for his coaching license.
Speaking with German media outlet Fußball Vorort, Strohmaier spoke about how much of an honour it was to receive his license from such a brilliant manager.
"Extraordinary and instructive discussions. The fact that I am only the second, after Robin van Persie, to whom he grants this privilege, shows how exceptional this opportunity was for me. I'm very grateful."
MORE UNITED STORIES
He also managed to chat with the former Real Madrid defender, Varane, in which he had a brief exchange. He told him:
"Raphael [Varane] is a world champion and a four-time Champions League winner and he told me he still learned a lot about football under Erik. It shows his extraordinary and sometimes innovative vision of football."
This is a massive credit to ten Hag and the work he must be putting in. To have someone with a career like Varane's still learning from you must be a great feeling.
It really does put faith in us as fans that ten Hag is undeniably the right man for the job. If a 21-time trophy winner backs him – so do we.
Let's see if we can put a few more trophies on Varane's tally before he departs Manchester.
Related Topics