Manchester United manager Erik ten Hag is set to be reunited with goalkeeper Andre Onana.
Andre Onana is expected to be unveiled as a Manchester United player shortly after his £43 million transfer from Inter Milan was agreed.
The Mail report the deal could rise to £47 million with add-ons, still making the deal a real bargain.
Onana will replace David de Gea, who was released earlier this month, giving Manchester United a new look in goal, and the difference should be substantial.
READ: Confirmed Manchester United transfers in, out, loans, releases, youth for 2023/24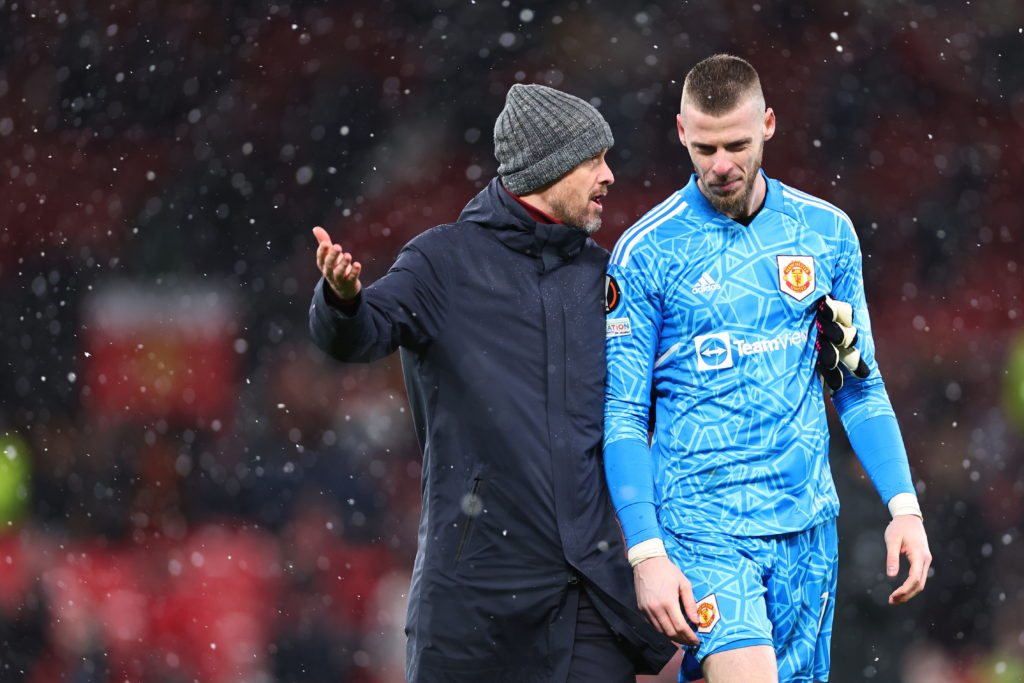 Erik ten Hag frustration with David de Gea
Erik ten Hag now has the goalkeeper he wanted, and a goalkeeper he has worked with before.
It was clear from even before Ten Hag took charge, that if he had a choice, then he would not have hand-picked David de Gea as his chosen option.
However, he inherited a basket-case of a squad, following Manchester United's worst ever Premier League campaign.
MORE UNITED STORIES
There was so much to fix, that axing the 'player of the year' was not a priority, and in any case, no team was willing to match De Gea's £375,000 per week wages.
Ten Hag instead tried to work with De Gea, to improve him. The Spaniard at least deserved that opportunity, while United invested funds into other positions.
There was always an exit route with De Gea, with his contract set to expire in 2023. Ten Hag just had to wait it out, and it wasn't easy.
From the second game of the season, when De Gea put in an awful performance against Brentford, it was clear the manager had his work cut out.
Ten Hag made do, but his frustration showed. After the home win over Real Betis, he blasted the goalkeeper's woeful kicking, commenting via Goal, "Today I can't ignore [it]."
The final straw was the FA Cup final, where De Gea's shot-stopping let him down in addition to his woeful kicking.
Andre Onana brings change
Andre Onana is Erik ten Hag's chosen one. He will enable the manager to get closer to implementing his style of football which enjoyed success, and dominance, at Ajax.
Last season Ten Hag was managing with one hand tied behind his back, due to De Gea's deficiencies.
Onana is a solid shot-stopper and one of the best passing goalkeepers in world football. He will help United control possession in matches, which was often impossible with De Gea.
Ten Hag could not do everything in his first season, nobody expected him to. It was always going to be a gradual implementation of his ideas.
Now with Onana in goal, we will get a lot closer to seeing the real Ten Hag. After one season, there is a lot to be excited about, which makes this move so highly anticipated.
Related Topics