Omari Forson has played a prominent role in pre-season for Manchester United from beginning to end.
Kobbie Mainoo was the headline-maker in early pre-season prior to his injury. But another young player has clearly caught the eye of manager Erik ten Hag.
Omari Forson has played a total of 270 first team minutes across pre-season, featuring in six out of eight matches.
One of the ones he missed was the Wrexham game, which featured an under-21 squad, which demonstrated how Erik ten Hag regarded him as more of a first team option.
READ: Confirmed Manchester United transfers in, out, loans, releases, youth for 2023/24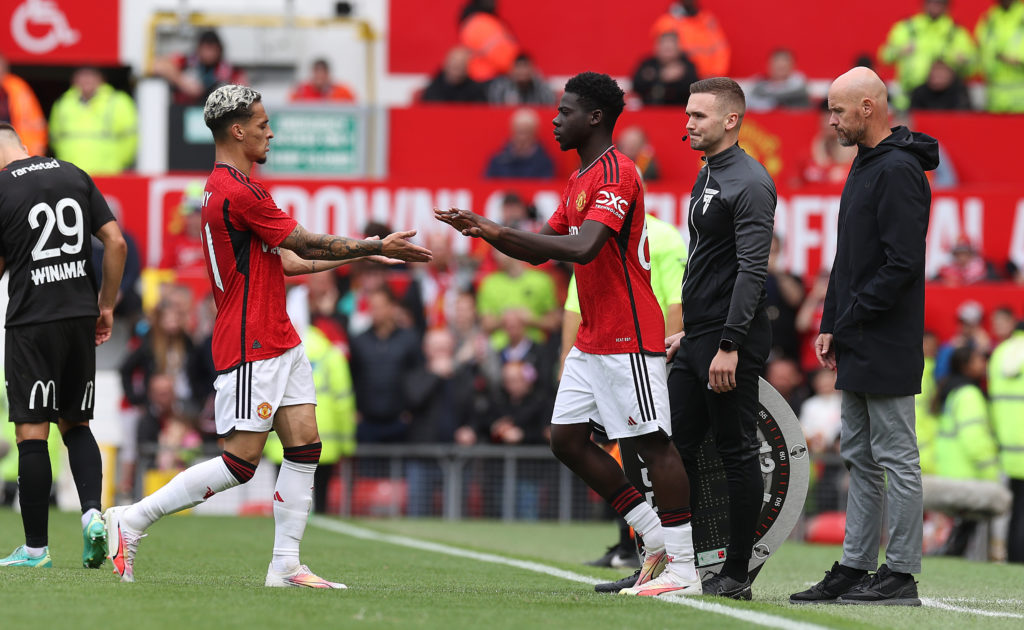 Omari Forson has impressed Erik ten Hag
Omari Forson might feel that he has not made the most of his chances, with no goals and no assists to his name. He also suffered the indignant moment of being substituted early against Borussia Dortmund after losing his cool.
Erik ten Hag has maintained his support, using the situation as a teachable moment for Forson, and he showed him his backing at the weekend.
Forson was one of just players brought on as substitutes at Old Trafford at the weekend against Lens, while the likes of Christian Eriksen and Donny van de Beek sat on the sidelines.
MORE UNITED STORIES
This was a big moment for the teenager to get a taste of playing in front of a big home crowd, and was followed up by a start in Dublin against Athletic Bilbao.
All these minutes are to help Forson adjust. The 19-year-old is capable of more than he showed during pre-season, where he demonstrated flashes of quality but not quite enough to suggest he is ready to take the leap immediately like Mainoo.
Nonetheless, Ten Hag has persisted. Forson is an England youth international with two goals in three games. Last season he scored nine goals in 25 games at under-21 level.
He is a creative player capable of big impact, he just needs the belief that he is ready for first team level, and to be more assertive. Ten Hag has been working to give that to him.
Whether this season ends up with a loan for Forson, or integration into United's first team, this pre-season spell has been invaluable for him.
Omari Forson happy for opportunity
Forson spoke to club media about his exciting pre-season and was thankful for the chances he has been afforded.
The teenager said: "I've learned so much – good habits on and off the pitch – and I've really enjoyed my time since the start of pre-season. There's a lot to learn – you've got to keep learning. The learning never stops, especially because I'm young.
"At United, you'll be given opportunities, and that's important, definitely. But I can't get complacent, I'll keep pushing and hopefully opportunities will come."
Related Topics