MUTV pundit Ben Thornley really wasn't a fan of Arsenal's new signing Kai Havertz as Manchester United beat Arsenal 2-0 in the USA.
It was a great night for the Red Devils in New York. Goals from Bruno Fernandes and Jadon Sancho were enough to brush aside Mikel Arteta's side in the packed Met Life Stadium.
The win made it three out of three so far for Erik ten Hag's side on tour, but the stat that really sticks out so far is the fact they haven't even conceded a goal – which is remarkable considering we haven't even started our first-choice keeper!
There have been some stand-out performers thus far. Kobbie Mainoo and Sancho have been right up there. However, there was one player on the opposition side last night that got absolutely slated by MUTV pundit Ben Thornley.
READ: Manchester United Pre-Season Tour 2023: Fixtures, How to Watch, Tickets & Everything Else You Need To Know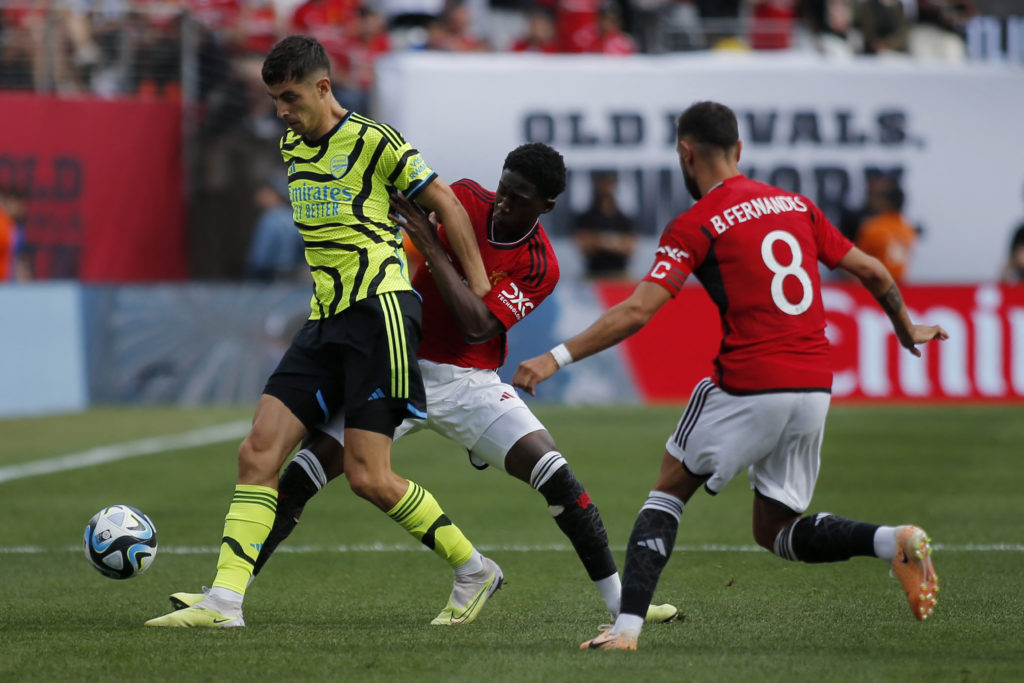 MUTV pundit slates Kai Havertz
MUTV pundit Ben Thornley really had it out for Kai Havertz, even going as far as to directly say 'he's rubbish'.
Following some substitutions from Arsenal, Ben Thornley responded with: "I'd have just taken Kai Havertz off because he's rubbish."
MORE UNITED STORIES
This came after a full first half slating the £65m pound man, stating that they haven't seen him whatsoever in the first half.
This prompted a response from his co-commentator – "What has Kai Havertz ever done to you?"
It made for a funny exchange between the pair and was refreshing to see some opinionated commentary. We can't say we disagree either.
The signing of Havertz came as a strange one to many and he'll have to perform a lot better than last night to justify his hefty price tag.
He didn't necessarily perform at Chelsea… so it's a huge risk for the Gunners. Only time will really tell as to whether it will pay off.
Related Topics