Manchester United supporters are more than annoyed with the last two results. Bruno Fernandes has said what we are all thinking.
Erik ten Hag has urged his Manchester United players to stand up and fight to secure a Champions League spot in the four remaining matches.
The team are coming off back to back defeats away at Brighton and West Ham, losing both games 1-0.
Errors have led to United's losses, but the core problem has been a failure to score goals, and Red Devils star Bruno Fernandes is as exasperated as all of us.
READ: Manchester United Pre-Season Tour 2023: Fixtures, How to Watch, Tickets & Everything Else You Need To Know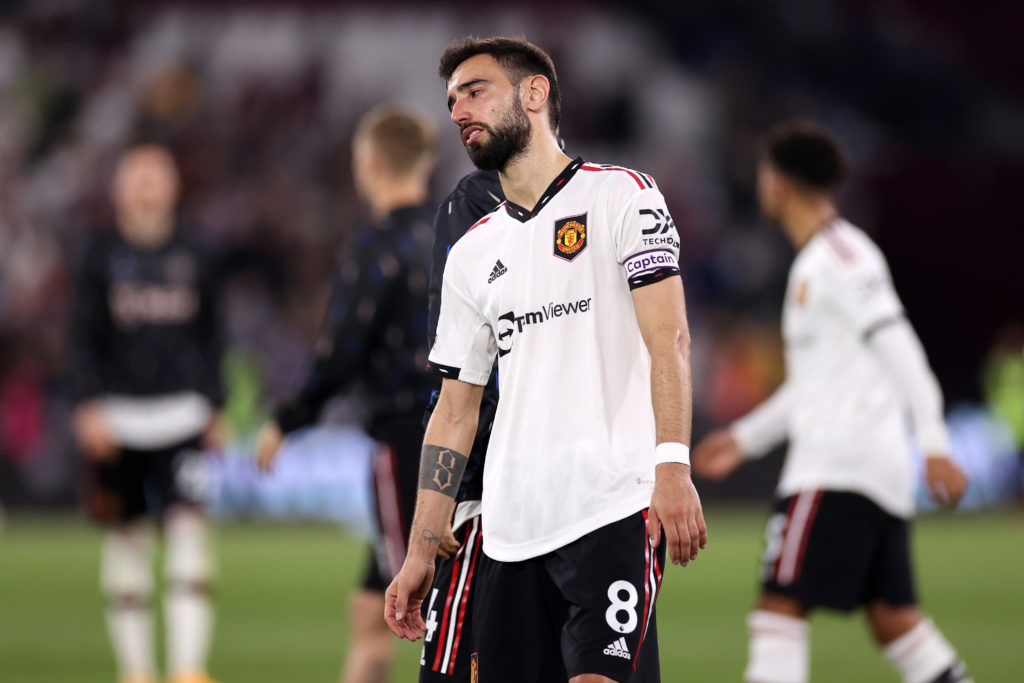 Bruno Fernandes annoyed with Manchester United failing to score
Bruno Fernandes has created 10 goalscoring chances in his last two games, five against Brighton and five against West Ham. It wasn't enough.
But the way United played in both matches, Fernandes could have created triple the amount and it probably wouldn't have made a difference.
Quoted by Goal, Fernandes said: "We are not capable of scoring a goal, we create so many chances but not ruthless enough. We conceded an unlucky goal and lost the game.
MORE UNITED STORIES
"It is probably one of our worst seasons on scoring goals. We have people capable of scoring goals but we are not taking our chances."
Fernandes was trying to deflect attention from David de Gea's mistake, but he raises a very valid point.
United have not scored more than three goals in a league game all season, and have netted just three in the past six games.
The team's goal difference is only +8 for the campaign, and Fernandes and Marcus Rashford are the only players to reach double figures in all competitions.
Fernandes went on to add: "We have to focus on ourselves, everything is in our hands. We know what we need until the end of the season. It is tough for us, we have to get our energy back."
Related Topics