On Saturday, Brighton will visit Old Trafford and could be the first team to be exposed to Manchester United's new 'really balanced' midfield.
One of the key issues Manchester United had in early weeks of the season was the midfield looking weak and un-balanced against teams who had better profiles in their engine room.
This particularly was seen against Tottenham Hotspur as Ange Postecoglou's new look midfield ran through United's in the second half, which saw United woefully exposed.
Casemiro who is teetering on the edge of being past his prime was left defenceless as Mason Mount and Bruno Fernandes marauded further up the field.
This led many to assume that this specific trio in midfield clearly wasn't functioning and something would have to change.
As seen below, the three in midfield of Mount, Bruno and Casemiro had some glaring issues, via datamb.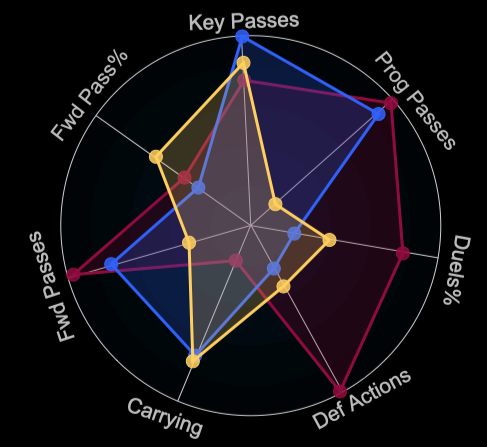 The biggest issue with this trio is that Mason Mount offers little in the way of solving the deficiencies that Bruno Fernandes and Casemiro have.
Assuming Fernandes will always find himself as the attacking midfielder, his stats show he is highly proficient in this role.
MORE UNITED STORIES
Mount doesn't offer much in the way of providing Casemiro with needed defensive reinforcement, while also lacking behind Bruno in various attacking departments.
This is what leads many to believe that the arrival of Sofyan Amrabat will give Manchester United a more 'balanced' midfield as recruitment analyst Archie Browne suggested to United in Focus.
Fitness permitting, this Saturday could see Erik ten Hag provided with his first opportunity to test out his newly created midfield, which has arrived just in time to face one of the league's most dangerous opponents in Brighton.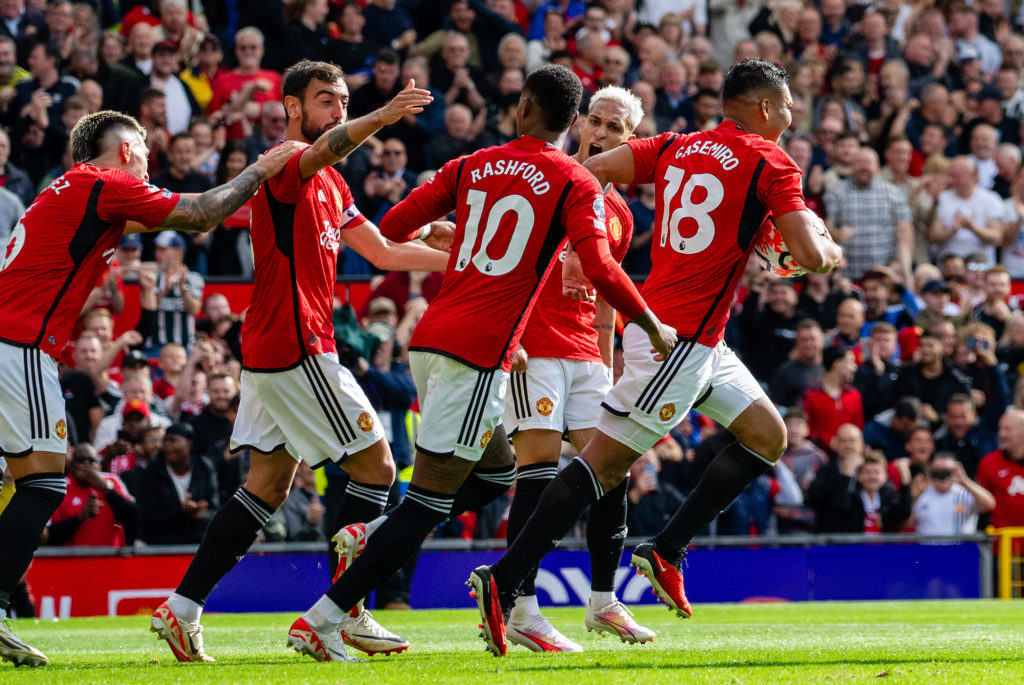 Sofyan Amrabat offers United a much more balanced trio
The arrival of the 'Moroccan Gattuso' comes as a much-needed reinforcement for Ten Hag's side who have been outplayed in almost every game so far this season.
Amrabat comes in and instantly gives United a more controlling presence in midfield, one which can initiate phases of play and also contribute in breaking up play.
As seen below, the radar graph is a lot more balanced with Amrabat's inclusion.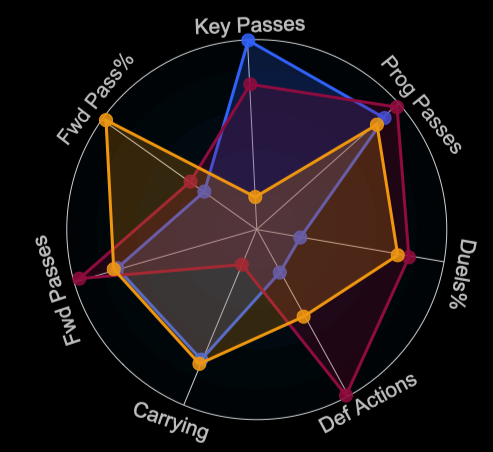 Archie Browne continuing his review of United's midfield trio explained that this trio is a solid group.
"Strengths-wise United have a really balanced build-up. They have ball carriers. Players who can split lines, and players who can create opportunities."
Amrabat despite not making key passes, is defined as a creative option, who will be adept at, "Breaking lines into the feet of Wingers or most likely Bruno across say 10-20 yards max."
The Moroccan will also be key in keeping possession, as he boasted a forward pass completion rate of 98%. This is a whopping 38% higher than Mount who had previously been touted as an option next to Casemiro.
This solves a huge issue which United have had long before this season, which was building play up from defence to attack.
Andre Onana's arrival has improved the first phase greatly, with the ball easily reaching the midfielder, where Casemiro is unable to effectively progress play.
Amrabat will solve this being almost faultless, which explains why Spanish media had referred to him as the new Busquets amid Barcelona links last season.
The defensive stability will be needed
As everyone knows, Brighton are one of the most deadly attacking forces in the league, so United will need to be at their most vigilant on Saturday.
Given the way Brighton are set-up under Roberto De Zerbi too, Browne added that United must look to sure up the midfield.
"Considering Brighton play a 4-2-3-1, there will definitely be a need for support centrally."
With Amrabat, Browne has insisted United will have two players in deep positions which should contain Brighton's midfield and stop it running riot.
He adds Amrabat won't be as effective as Casemiro but both bring different threats to the table.
"Amrabat will pick up deep positions, but is unlikely to be as effective as Casemiro."
This trio is probably the most complete midfield United have had in years, and we hope to see it in action against the Seagulls on Saturday.
Related Topics