Wout Weghorst has broken a six month streak without a goal and scored for the Netherlands.
He looks different with his bleached blonde hair, and he scores goals. You would think it is a different player.
Wout Weghorst netted his first goal of this season tonight for the Netherlands, his first since March 9 when he scored his one and only goal at Old Trafford in a 4-1 win over Real Betis in the Europa League.
That was one of only two goals he scored for United, following a Carabao Cup goal away at Nottingham Forest.
READ: Confirmed Manchester United transfers in, out, loans, releases, youth for 2023/24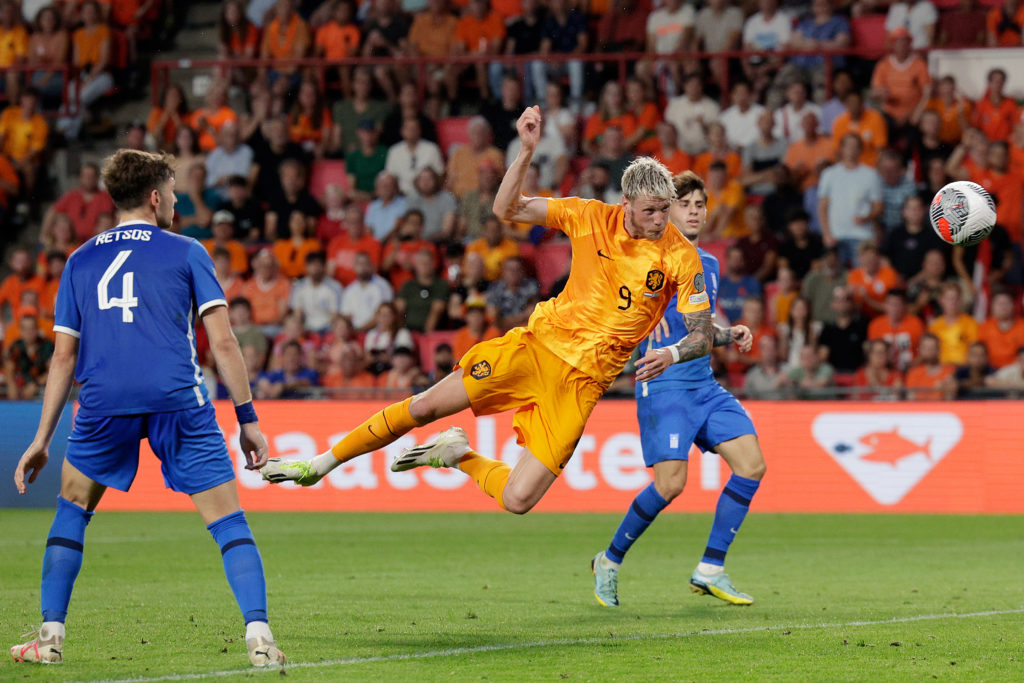 Wout Weghorst scores
Manchester United did not retain Wout Weghorst's services on loan, mainly due to lack of goals. He worked hard and offered the team something different – but it wasn't enough.
He is still a starting striker for the Netherlands, a topic which divides opinion in his homeland, and last night helped demonstrate why, scoring a header in a 2-0 win over Greece.
Yes, you read that right, a header. Weghorst was not an aerial threat at all for United despite his height. Now he's back to scoring again.
MORE UNITED STORIES
It led many Manchester United fans to the same conclusion. One wrote on social media: "Wout Weghorst can now score? Damn it's the United curse."
Another supporter added: "Weghorst scoring an ace diving header for Holland to finally prove that United are cursed with permanently bad juju."
A United fan account wrote: "Wout Weghorst scores? Judgement day must be upon us."
A fourth supporter wrote: "Is this the Wout Weghorst that played for Manchester United? There must be something that our club does to players."
Following the theme, another fan added: "Weghorst on target Man United was the problem."
Weghorst still looking for club goal
Weghorst's international goal was his first since the World Cup. That's one drought broken. Now he has to fix his scoreless streak at club level.
Burnley loaned him out to German side Hoffenheim. He had a good record in the Bundesliga previously.
Two games in, with 90 minutes completed in both, Weghorst is yet to score. This goal will lift his confidence, and it probably won't be long until he gets it right.