Jadon Sancho faces a fight for his Manchester United future. But it remains to be seen if he is bothered.
When Jadon Sancho hit out at Erik ten Hag on social media, you just knew there would be trouble. Aside from whipping up a media frenzy, he invited the wrath of a manager known for zero tolerance for nonsense.
Sancho clearly felt Ten Hag was out of order to criticise his approach to training, and has some personal pride. But as the saying goes, 'pride comes before a fall'.
The Athletic report Sancho has refused to apologise to Ten Hag, even though he eventually deleted his social media post. These are not the actions of a player who promised as part of said post, to 'fight for the badge'.
Sancho should be reconciling his differences with Ten Hag and moving forward. And at this point, Manchester United fans are totally fed up.
READ: Confirmed Manchester United transfers in, out, loans, releases, youth for 2023/24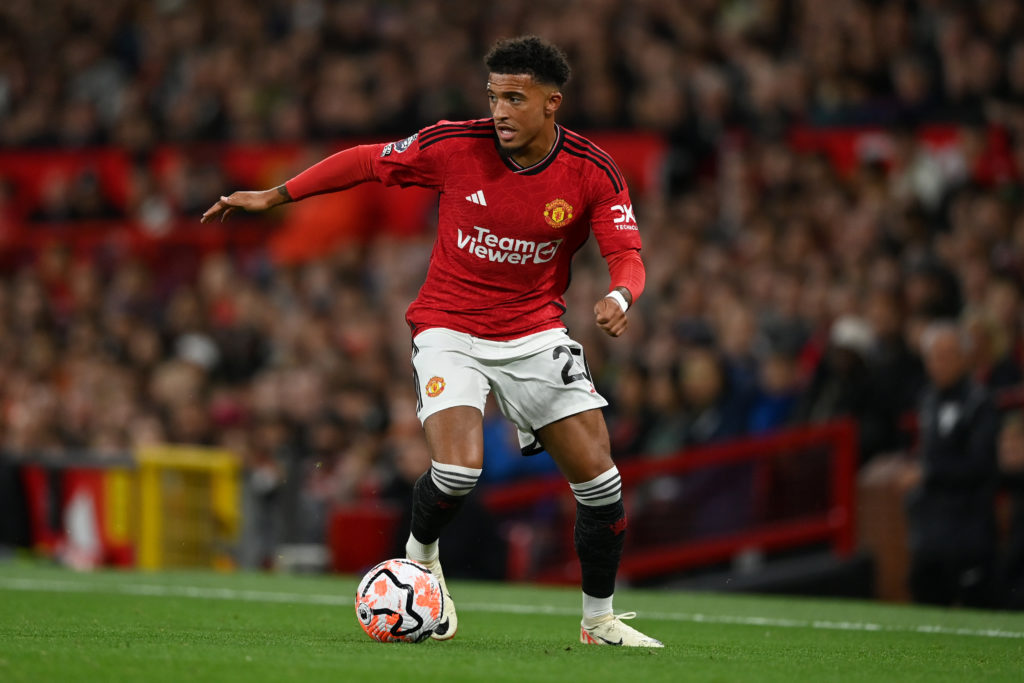 Jadon Sancho has avoided criticism until now
Manchester United issued a statement saying Jadon Sancho will now be training alone. This was disappointing to fans, hoping that differences could have been repaired after a near two-week break.
The Athletic's report pours gasoline on the fire and paints Sancho in a poor manner. It will be interesting to see if he responds.
MORE UNITED STORIES
But the mood among the fan base has rapidly soured towards the now on-off England international, who has lost his place in the international team, now 12 months without a cap.
Ever since Jadon Sancho signed for the club in 2021, Old Trafford has lurched from one disaster to another. And everybody has taken their share of the blame, except Jadon Sancho.
Ole Gunnar Solskjaer took the fall, three months into the 2021/22 season. Cristiano Ronaldo dominated the headlines and took his heavy share of criticism despite scoring 24 goals. Ralf Rangnick was a magnet for criticism too, while players like Paul Pogba, Edinson Cavani and Jesse Lingard were shipped out and released, with a desire to clean house at the end of 2022.
Harry Maguire, as captain, received plenty of criticism for his performances. Even Marcus Rashford was heavily scrutinised after a dismal 2021/22. He turned his form around, while Jadon Sancho did not.
But through all of this, the one player who was not blamed one single bit, was Jadon Sancho. Quite rightly, it seemed.
After all, how could you possibly blame a young player, on a high fee, playing Premier League football for the first time, for the disastrous 2021/22 season. Sancho got away scot-free, despite his own performances being majorly disappointing.
'It will get better next season', United fans hoped. Except any improvements have been only marginal.
A poor debut campaign was simply put down to Sancho's poor displays being a symptom of United's malaise, and not the winger's fault at all.
Last season Sancho was a side-character in Manchester United's revival. Erik ten Hag gave him game time, an extended break, and even a start in the FA Cup final. He tried him in multiple positions. But still, it didn't seem to click.
When United didn't perform, it was never seen as Sancho's fault. He was barely criticised, despite his heavy fee and lacklustre displays. Everybody hoped Sancho would turn it around, and still, those hopes maintain. But optimism is rapidly fading and returning to anger.
United fans are now wondering how much of the terrible 2021/22 season Sancho must take his share of the blame in. Cristiano Ronaldo is on record calling out younger players who he could not drag up to his standards.
In a recent interview with Sky Sports, former assistant boss Mike Phelan said: "He didn't want his standards to drop, he wanted other people's standards to come up. And sometimes you lose a few people along the way when that happens. I remember certain times when he pushed and pushed hard, and he didn't get much reaction or much response. And there was frustration."
United fans didn't want to believe this could include mega-money signing Sancho – but right now, it looks like there was a fair chance.
Sancho must fight for his future
Jadon Sancho's free ride at Manchester United is over. It is fair to question why he has failed to produce as a Premier League player. Is it simply beyond him?
Is the make-up of the team not right for him? Or is he just not working hard enough? These are all questions Manchester United fans want to know the answer to.
United fans have seen players come and go during the past few years, and the fact he cost £73 million is now immaterial.
There is a special talent in there, but United fans may never see it.
Let's not write him off just yet though. There is a long time until the transfer window in January. This situation could get resolved. And those who wrote him off might regret it.
Sancho can apologise to Erik ten Hag and start delivering on the pitch. There is a still a path for him. He just needs to put his pride to one side, and do what is right for his career, give everything to become a success at Old Trafford, and give it one last shot.
Right now, it looks from the outside that he doesn't want it. Sancho must prove these doubts wrong, or end up being written off as a major disappointment, who doesn't fight for it when the going gets tough.
One way or another, his free ride is over. Sancho will no longer be treated as a special case immune from criticism. He must earn the respect of Manchester United fans.
Related Topics