Gary Lineker appears to be siding with Jadon Sancho over Erik ten Hag as a dispute rumbles on behind the two Manchester United men in the aftermath of Sunday's defeat to Premier League rivals Arsenal.
Whoever you're backing, this is a situation Manchester United really could have done without.
A manager publicly criticising a player in the media, and said player responding with a strongly-worded social media retort. Erik ten Hag vs Jadon Sancho is merely the latest in a long line of unwanted, off-the-pitch distractions the straight-talking Dutchman has had to contend with since taking charge of a club less 'sporting institution' and more 'soap opera'.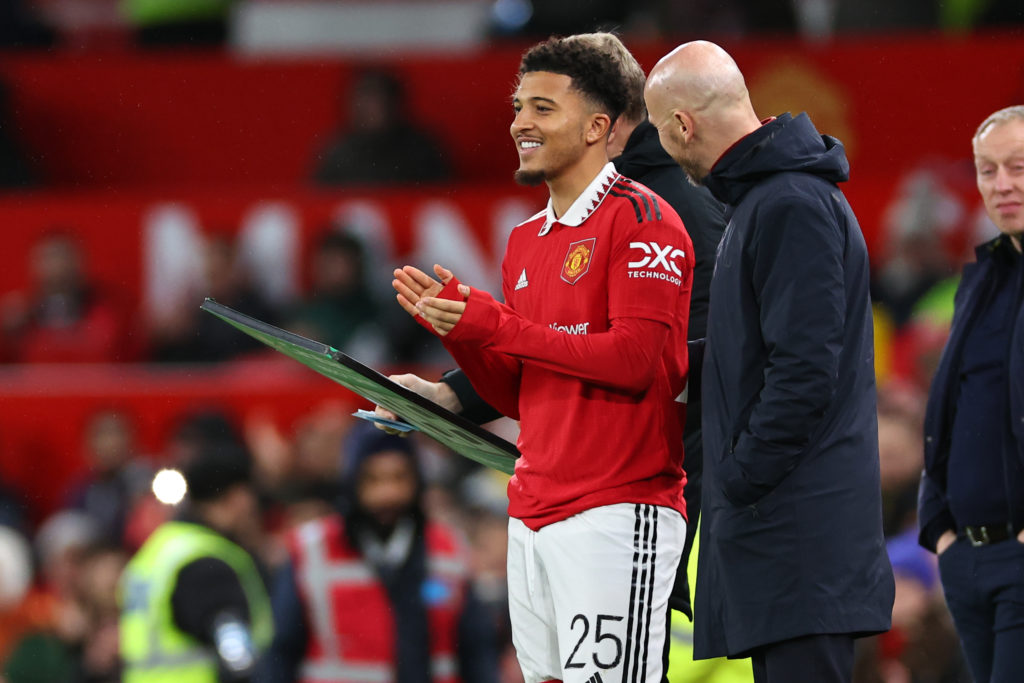 Ten Hag drops Jadon Sancho from Manchester United squad
"Jadon, on his performances in training, we did not select him," Ten Hag told Sky after that contentious and hard-fought Arsenal clash.
"You have to reach a level every day at Manchester United and we can make choices in the front line. So, for this game he was not selected."
Sancho, taking to social media, appeared to suggest that Ten Hag's reasoning was 'completely untrue', adding that he feels he has been made into a 'scapegoat' at Old Trafford.
According to The Guardian, Manchester United are siding with Ten Hag over their underperforming, £73 million winger, though Lineker is keen to argue that Sancho deserves his right to reply.
"So the manager can go public, but the player can't. Interesting," the former England striker writes on Twitter, indicating that Ten Hag could have handled the situation with a tad more sensitivity.
MORE UNITED STORIES
"I make the decisions" would've sufficed, and been wiser."
The dispute rumbles on
Now, we can see where Linekar is coming from. But, lest we forget, it was Ten Hag who allowed Sancho three months out of the first-team picture last season. It was he who offered a player others may have given up on the chance to kick-start his Manchester United career again.
And can even Sancho's biggest fan argue that the former Dortmund forward has done anything really to justify his manager's patience? A lack of goals and assists is an issue, true. But even that pales in comparison to the lack of hunger and desire Sancho seems to display whenever he takes to the pitch.
If this was Marcus Rashford – scorer of 30 goals last season – we might be tempted to wonder if Ten Hag should cut him some slack. Sancho, however, is beginning to feel like a distraction Manchester United do not need.

Related Topics