Dermot Gallagher believes Alejandro Garnacho's goal for Manchester United was correctly chalked off during Arsenal's 3-1 win at the Emirates Stadium.
The Argentine thought he had won the game late on when he cooly slotted the ball past Aaron Ramsdale but the goal was ruled out as the winger had gone early.
Gallagher, a former referee, spoke on Sky Sports' Ref Watch about the decision and, unsurprisingly, agreed with Anthony Taylor and VAR's decision to rule out the goal.
"It's calibrated from a number of positions," the former referee said. "If it's really tight they put the lines on and these decisions are what VAR is for.
"If VAR put the lines up and he's offside, then he's offside. Gabriel hasn't tilted forward quite as much as Garnacho has, it's a clear offside."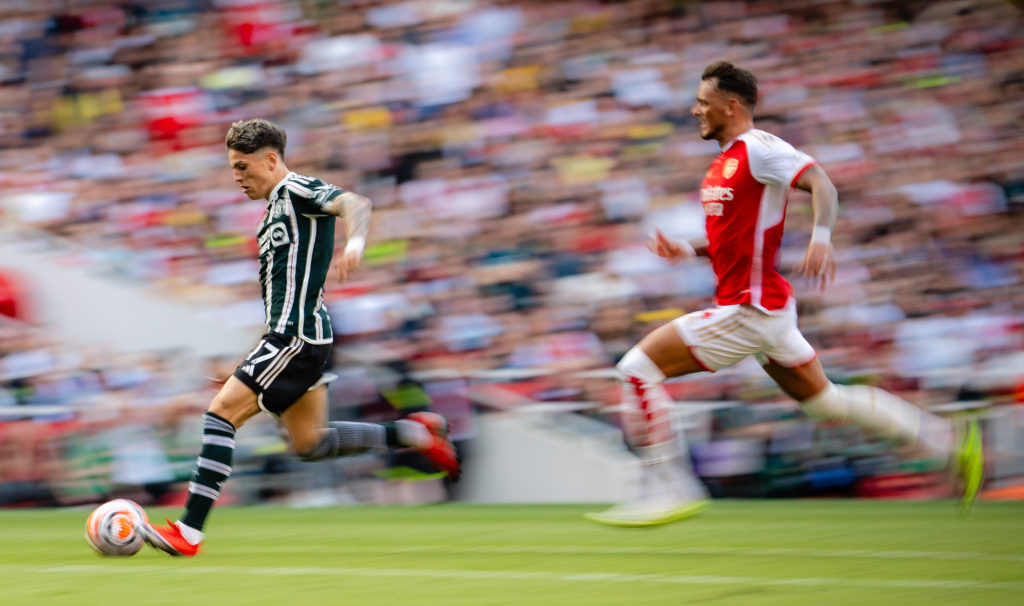 Mike Dean's verdict
Mike Dean, another former referee also gave his verdict on the offside decision which stopped United from picking up all three points and he, too, believes it was the right call.
"It's obviously very tight, there are one or two angles which makes it look off, but another one which makes it look onside," Dean said on Sky Sports.
"When they put the lines up, you can't fault the technology, they put the lines in the correct place, they wouldn't have put them in the wrong place. His shoulder's offside and that's what they've given."
MORE UNITED STORIES
United need to move on
As frustrating as it was for United to concede and the manner in which there goal was disallowed, complaining about the decision won't change the outcome.
United certainly showed some positive signs during the game at the Emirates but ultimately it wasn't enough.
With the referees decisions, there's always an element of luck and you can bet United will benefit further down the line from a referee's decision like Arsenal did Yesterday.
The bottom line is that there are certainly positives for Erik ten Hag to take from the defeat.