Manchester United manager Erik ten Hag has written a personal note of thanks to the club's fans for the help in achieving the Carabao Cup victory.
United beat Newcastle 2-0 in the Carabao Cup final, with Ten Hag lifting his first piece of silverware at the club.
In doing so he broke a six-year trophyless drought, ending a very difficult spell for the club's fans, offering hope of a new dawn.
The United boss praised the support at Wembley as 'incredible' and has pledged not to let up in pursuit of more silverware.
Ten Hag's open letter in full
To all Manchester United supporters,

I wanted to take the time to address you directly this morning. When I arrived at the club, we spoke about the challenge and importance of reuniting this group of players with our amazing fans.

Believe me, this squad knows exactly how important you are. The bond between the supporters and the team is there for everyone to see and what we experienced together yesterday will only further strengthen that bond.

The atmosphere generated by those of you at Wembley was incredible. From the first minute until the last you were there with us, driving the team on, supporting and encouraging them to get over the line to bring the trophy back to Manchester.

For those of you who couldn't be there, we felt your support before, during and after the game. Know that each and every one of you will always play your part in this team being successful.

I am proud of my players and staff for their preparation and performances. Yesterday, we saw the required desire, spirit and determination that we must demand of everyone who represents Manchester United.

We set ourselves high standards every day. At Wembley we met those demands and got the reward of our first trophy together.We know the importance of silverware throughout the history of this great club. We are so happy to bring the trophy back to Old Trafford but we are by no means satisfied and we will not stop here.

Together we have experienced the feeling of what it means to win together for Manchester United. It is truly magnificent and will only make each of us hungrier for more success.

This group has made great strides in the last few months but there is still a lot more to come. I can assure you that everyone at Carrington will be working constantly because we know that this club and you, our supporters, deserve more great days like this.

We will go back to work today, with full focus now on preparing to face West Ham in the FA Cup on Wednesday evening. There will be no complacency in our desire to return this club back to where we want to be.

Please know that you are vital to what we want to achieve and take yesterday as proof of what can happen when we are all United together.

Thank you for your support and dedication, Erik ten Hag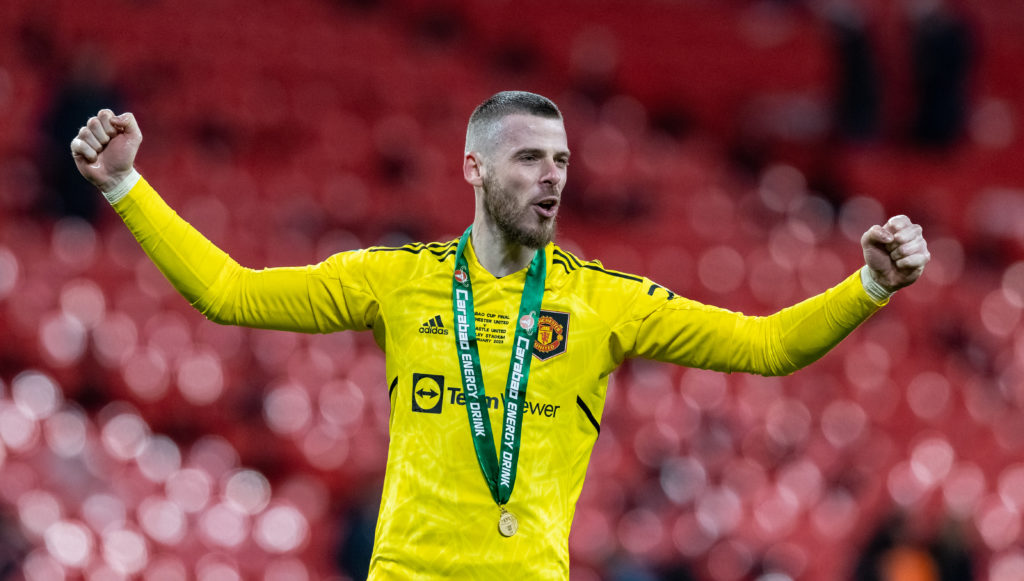 David de Gea sets record
The 2-0 win was a special night for goalkeeper David de Gea, who set a Manchester United club record in the victory.
He kept his 181st clean sheet, having equalled Peter Schmeichel's record a week earlier in the Premier League win over Leicester.
De Gea was presented with a special commemorative shirt on the plane home to Manchester, and posed with his teammates.
Fernandes shares his medal
Bruno Fernandes led the team out at Wembley and the Portugal international lifted the trophy jointly with Harry Maguire.
Sharing his success is a theme for the playmaker, who posed for a picture this morning with his son and daughter, all wearing his Carabao Cup medal.
With a bit of luck, Fernandes will win a few more medals, and they can all have at least one each.
Have something to tell us about this article?
Let us know