Cristiano Ronaldo is now serving a one-match international suspension – after an accidental clash with a former Manchester United teammate.
Cristiano Ronaldo and former Manchester United goalkeeper Martin Dubravka faced off when Portugal took on Slovakia at the weekend.
Ronaldo stretched for the ball inside the penalty box in the 62nd minute, and his boot collided with Dubravka's face.
The 38-year-old striker received a yellow card. It is his third of the Euro 2024 qualifiers and he will now serve a one-game suspension, missing Portugal's game tonight against Luxembourg, a team he would have hoped to score against and add to his incredible tally of 123 international goals.
READ MORE: Manchester United transfer history 2013 to present day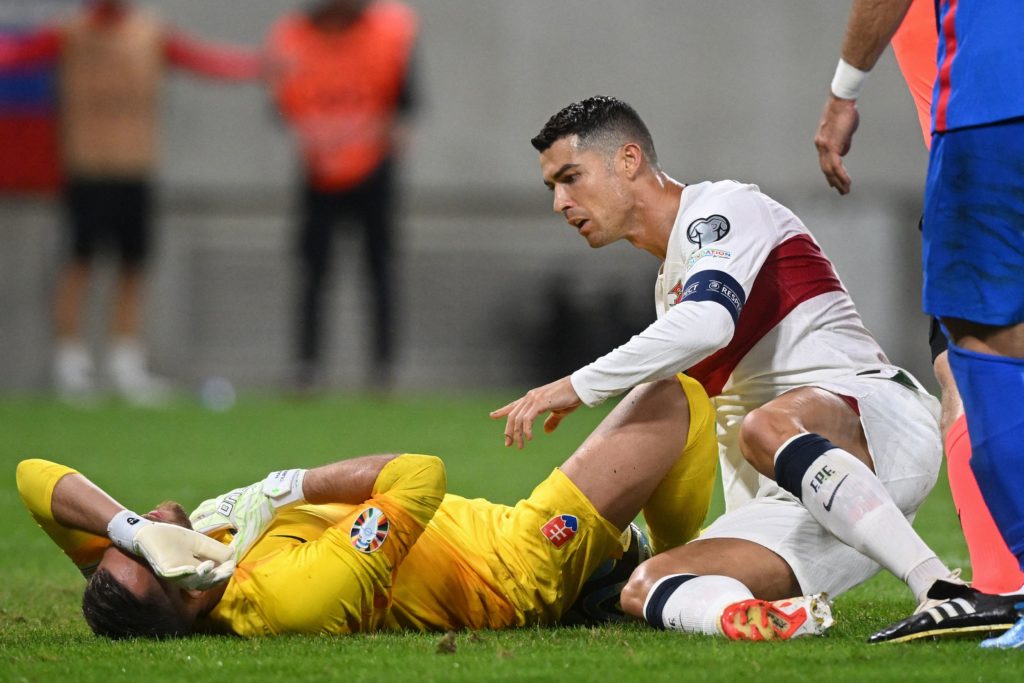 Ronaldo and Dubravka never actually played together
Cristiano Ronaldo and Martin Dubravka lined up together in the first half of the 2022/23 season, when the Slovakian was signed on loan from Newcastle.
The pair shared several matchday squads together, including Ronaldo's final Manchester United match at home to Aston Villa last November, where Dubravka was an unused substitute.
However, they did not actually share a minute on the pitch in the same team for Manchester United.
MORE UNITED STORIES
Dubravka made only two appearances for Manchester United, in the Carabao Cup – Ronaldo was not in the squads for either, and had left the club by mutual consent, by time Dubravka made his second, and final appearance.
There was no hard feelings after the game. Dubravka was quoted by the Chronicle: "He hit me in the shoulder, neck and chest. I just closed my eyes and prayed that he wouldn't hit me in the face.
"These are situations where the goalkeeper closes his eyes and just tries to block the shot, and he, as a striker, has to go after that ball. It's sport. It's football. Situations like this are normal. Of course, he understood that I hit and asked me if I was okay. I take it in a sporting way."
Bruno Fernandes has his say
Manchester United midfielder Bruno Fernandes is confident his team will step up amid Ronaldo's absence.
Fernandes, who scored the winner against Slovakia, told Record: "We already know what Cristiano brings to us in creating spaces for other players. He is a player who attracts a lot of attention, but we have a full squad and we have to be prepared to show our quality."
Related Topics