Cristiano Ronaldo quit Manchester United late last year and yet still retains a lot of admiration and respect for the Premier League.
A year ago Manchester United's plans for the club's pre-season tour were overshadowed by reports Cristiano Ronaldo wanted to leave the club.
The bombshell news arrived on the even of pre-season, and left United reeling. Had it been communicated to the club at the end of the season in May, perhaps there could have been some discussion.
As it was, United dug in, made Ronaldo return, who then went onto have the unhappiest few months imaginable before effectively forcing an exit at the end of 2022, with the club cancelling his contract by mutual consent.
READ MORE: Manchester United transfer history 2013 to present day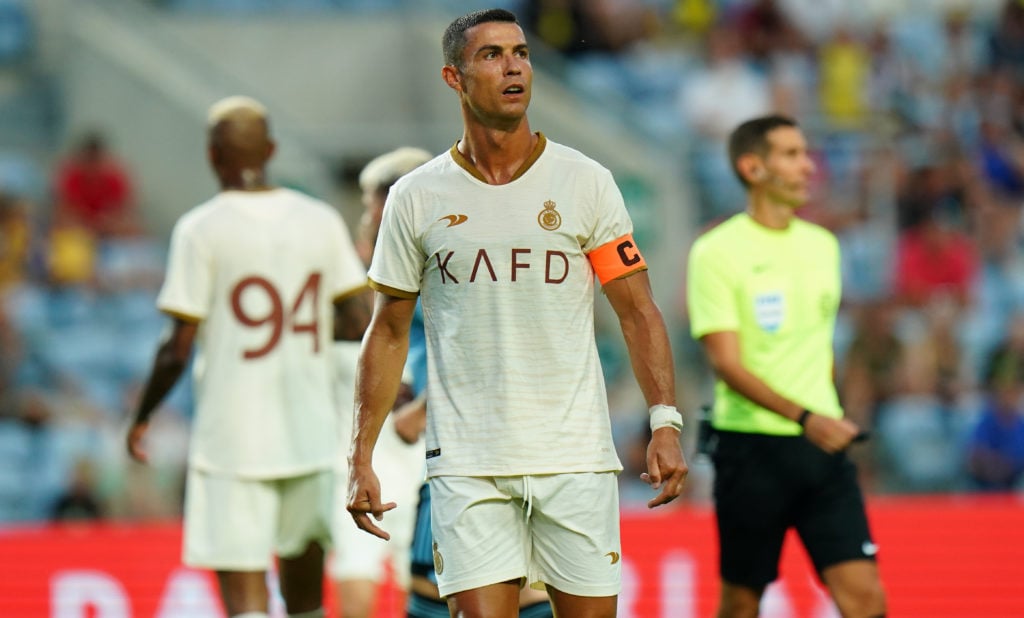 Cristiano Ronaldo happy in Saudi Arabia
A lack of avenues for Cristiano Ronaldo ended up with him taking the money-spinning option, choosing to sign with Saudi Arabian side Al Nassr.
It was a major disappointment to many fans, who wanted to see Ronaldo continue in Europe and try and extend his goalscoring records at the top level.
And while the first few months in Saudi Arabia were not great, Ronaldo's manager was sacked and he was overshadowed in a head to head match by Odion Ighalo, the league is picking up.
MORE UNITED STORIES
Ronaldo's arrival has sparked a deluge of investment and players from across Europe have been packing their bags to join him, from ageing stars like Karim Benzema, to those in their prime like Ruben Neves.
'No to European return'
Ronaldo says he is happy in Saudi Arabia and will never return to European football, because he believes only the Premier League plays at a higher standard than what is being created in the country.
He is quoted via Fabrizio Romano, "I won't return to European football, the door is completely closed".
"I'm 38 years old, also European football has lost lot of quality… only valid one is Premier League, they're way ahead of all the other leagues."
He added: "I'm 100% sure I won't return to any European club. I opened the way to Saudi league… and now all the players are coming here."
READ: Confirmed Manchester United transfers in, out, loans, releases, youth for 2023/24
Reaction to Ronaldo comments
It is a shame to consider we may never see Ronaldo in European football again. It was viewed at the time by some that Ronaldo's move to Al Nassr was a temporary move, a staging post before picking his spot to return, amid difficulty finding a club mid-season and how badly it ended at United.
Instead, he is part of something bigger in Saudi Arabia, who are heading new football investment which is sending shockwaves around Europe.
And while the Italian and Spanish leagues have taken somewhat of a hit in terms of player departures, and not being able to throw around the cash as they once did, Ronaldo's comments come across as sour grapes a little.
It was only a year ago he was trying to land himself a spot at clubs around Europe, with Bayern Munich one potential landing spot who ruled him out, while he priced himself out of moves to other clubs.
Ronaldo's respect for the Premier League shows how tough and competitive he found it, and it is to his credit he scored 24 goals in the division at the age of 37, including back to back hat-tricks.
His comments have caused a stir especially among fans of La Liga clubs on social media, many of who pointed out Al Nassr lost 5-0 to Celta Vigo in a friendly match just earlier tonight, with Ronaldo starting.
The Saudi sides may have the money, and some big names, but they are yet to prove they can match up to Europe's middleweights, let alone the heavyweights.
Related Topics