Manchester United are planning a medal presentation this weekend at Old Trafford ahead of Saturday's fixture with Nottingham Forest.
Up to 17 former Manchester United players will receive title winners medals this weekend. Sadly 12 of them have passed away, and their surviving family members will be invited to receive the medals in their honour.
Under old Football League rules, players had to play a minimum of 14 league matches in a title-winning campaign to qualify for a medal. This saw many who fell under the threshold miss out.
EFL rules changed to permit players with five appearances or more to receive medals, which could be applied for retrospectively, which Manchester United have done for 19 players who won titles between 1952 and 1975.
Two players have received their medals already, with former goalkeeper David Gaskell receiving his in June, while 1968 European Cup winner David Sadler received his in early August.
Manchester United confirmed earlier this month: "To complete the awarding of the historic medals, the remaining eligible players or their surviving relatives have been invited to Old Trafford for an on-pitch presentation during United's Premier League clash with Nottingham Forest on 26 August."
All 17 players set to receive or be honoured with medals
Here is a look at all 17 players who are set to be honoured at Old Trafford ahead of kick-off this weekend.
Harry McShane: 57 appearances between 1950 and 1954. The father of famous actor Ian McShane, Harry McShane passed away in 2012. He was a winger who scored eight goals for the club under Sir Matt Busby. His career was impacted by injury, and he later worked by Manchester United as both a stadium announcer in the 1960s, and a scout. The Sun report his Hollywood star son has been invited to the ceremony.
Frank Clempson: 15 appearances between 1950 and 1953. Clempson made eight appearances in Manchester United's title winning season in 1951/52. He went on to play almost 250 games for Stockport County. He died in 1970 at just 40.
MORE UNITED STORIES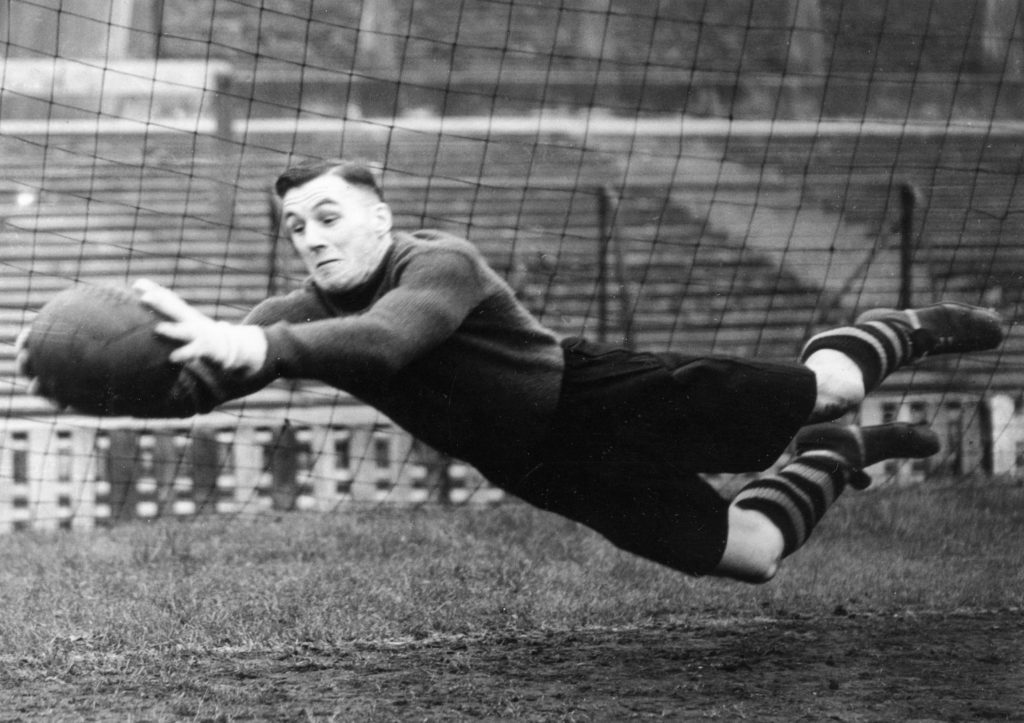 Jack Crompton: 212 appearances between 1945 and 1956. Former goalkeeper Crompton (above) was part of Manchester United's FA Cup winning side in 1948 and was a one-club man, signing as a trainee through to his retirement. Crompton had spells in management including coaching United's reserve team, and passed away in 2013.
Fred Goodwin: 107 appearances between 1954 and 1960. Alternately known as Frederick or Freddie, Goodwin was a wing-half who was not picked to travel to face Red Star Belgrade in 1958 and avoided being on the plane which claimed the lives of his teammates in Munich. Goodwin played a key role in helping United attempt to rebuild, playing every single game in the 1958/59 season in which Sir Matt Busby's side incredibly managed to finish second in the league. He passed away in 2016.
Albert Scanlon: 127 appearances between 1954 and 1961. Former striker Scanlon scored 35 goals for the club. He qualified for a medal after playing five games in the title winning 1956/57 season, in which he netted twice. Scanlon passed away in 2009.
Geoff Bent: 12 appearances between 1954 and 1958. Bent died of injuries sustained in the Munich disaster in 1958 when he was only 25. He was one of the Busby Babes, who had made six appearances at full-back in the club's title winning season in 1956/57.
Shay Brennan: 359 appearances between 1958 and 1970. Brennan made his debut for Manchester United in the FA Cup which was the first match since the Munich disaster, and scored twice. He only scored four more goals for the club in his remaining 358 appearances. The former Ireland international was part of the European Cup winning squad in 1968. Brennan passed away in 2000.
John Connelly: 113 appearances between 1964 and 1967. Former striker Connelly was capped 20 times by England, scoring seven times. He also had lengthy spells at Burnley, Blackburn and Bury, played for each club more than 100 times. He passed away in 2012.
Jimmy Ryan: 27 appearances between 1965 and 1970. Ryan is better known among younger fans as a former assistant to Sir Alex Ferguson, succeeding Steve McClaren, before Carlos Queiroz. He also worked as reserve team manager, and in 2002, became United's director of youth football. Ryan retired in 2012 and is still alive today.
Jim Holton: 69 appearances between 1972 and 1975. Former Scotland international Holton was a formidable centre-back who became a fan favourite for his uncompromising tackling style. His career at United was cut short by a broken leg. He passed away in 1993 at just 42.
Arnie Sidebottom: 20 appearances between 1970 and 1975. Sidebottom had a distinguished career as he represented England at cricket after his football career came to an end. He played a role as United won the old Second Division title in 1974/75 but was sold months afterwards. In the 1980s he pushed on with his cricket career. He was a bowler who featured for England in The Ashes in 1985. He is still alive today.
Mick Martin: 43 appearances between 1972 and 1975. Martin made more than 50 appearances at international level for Republic of Ireland. The midfielder left United to sign with West Brom, before going on to sign with Newcastle, where he spent eight seasons. He is still alive today.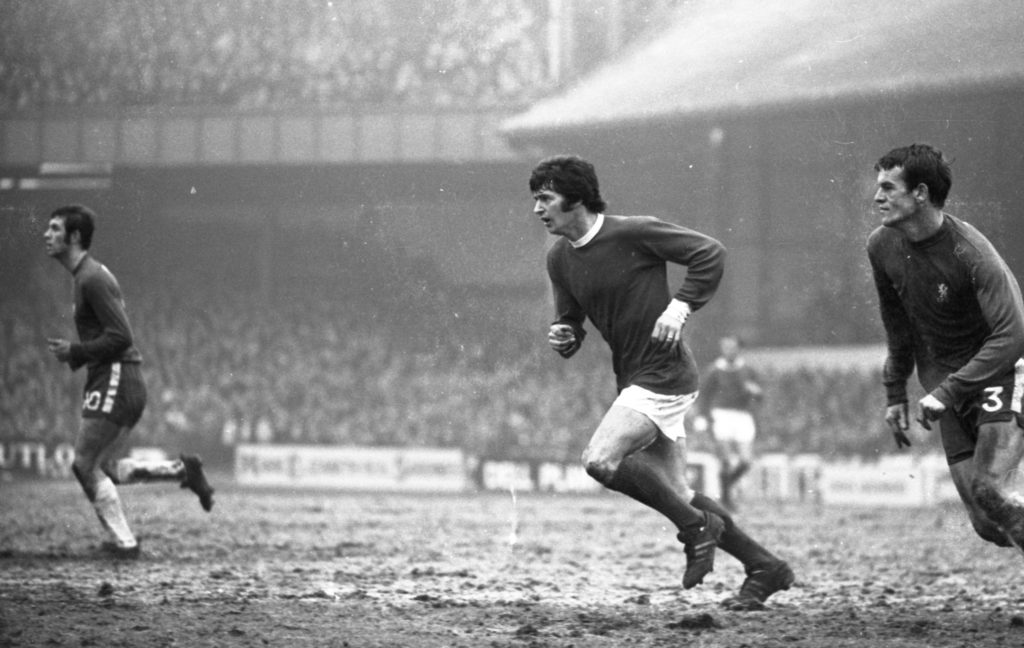 Willie Morgan: 296 appearances between 1968 and 1975. A former record signing for Manchester United in 1968 at £117,000. Morgan (above) was a fan favourite who played a key role in the Second Division title win in 1975 and even captained the club. He was awarded a MBE for charity work. Morgan's Twitter account confirmed he will be in attendance at Old Trafford on Saturday.
Maurice Setters: 194 appearances between 1959 and 1965. Setters played more than 400 professional games in his career, with his longest spell at Manchester United. He was a tough tackler who signed for United for £30,000. Setters was named as Sir Bobby Charlton's best man at his wedding in 1961. Setters is pictured top wearing the number six shirt, celebrating the team's 1963 FA Cup win. He passed away in 2020.
Tony Young: 97 appearances between 1970 and 1977. Former full-back Young came through United's youth system. He later played for Charlton Athletic and York City. He found opportunities limited at United due to competition for places but still almost racked up triple-figure appearances for the club. He is still alive.
Ron Davies: 10 appearances between 1974 and 1975. Former striker Davies had a brief spell at Manchester United at the end of his career. He scored four goals against United for Southampton in 1969, leading Sir Matt Busby to hail him as 'the finest centre-forward in Europe', per The Guardian. He passed away in 2013.
Colin Webster: 79 appearances between 1953 and 1959. Webster had a strong scoring record, netting 31 goals in his spell for the club. He missed the flight to Munich in 1958 due to illness. Webster also featured for Wales in their only World Cup appearance of the previous century. He passed away in 2001.
Manchester United made an appeal earlier this month for relatives of Young, Davies, and Webster to get in touch regarding the ceremony.