It has just passed the 25 year anniversary of Manchester United signing Dwight Yorke from Aston Villa.
The summer of 1998 saw Sir Alex Ferguson make the move to sign Dwight Yorke. It was an instant success.
Back in the late 90s, Sir Alex had a tried and tested method when it came to making signings. He invariably looked for Premier League experience to add to his side.
The 1995 move for Andy Cole set the tone. He followed this up with a move for Teddy Sheringham in 1997. Dwight Yorke was the most expensive of the trio, signing after a proven spell with Aston Villa.
Yorke's time with Villa was impressive, having scored a total of 98 goals for the club after impressing on a trial in the late 80s. But his final season at Villa wasn't his best, netting just 16, compared to 25 two years before.
At Manchester United he exploded into life. He struck a personal best 29 goals in the 1998/99 season, and wrote his name into the history books.
READ MORE: Manchester United transfer history 2013 to present day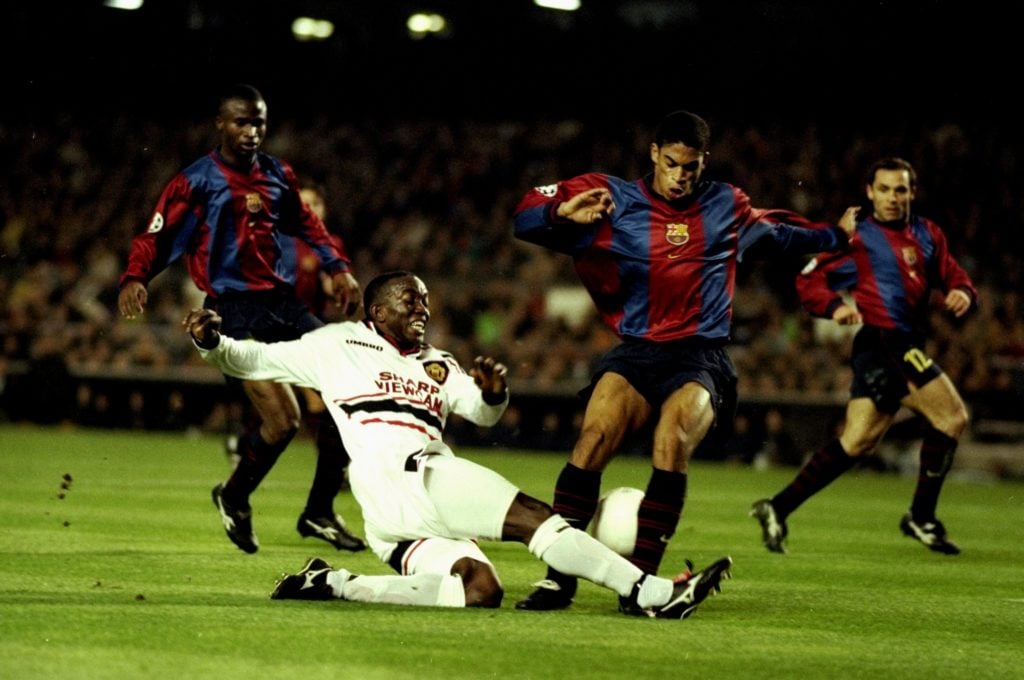 Dwight Yorke's incredible Manchester United spell
Within one season, Dwight Yorke was a Treble-winner. His goals led United towards reclaiming the Premier Leagule title which had been lost to Arsenal a year earlier.
MORE UNITED STORIES
His goals helped fire United towards the Champions League too, including goals in the quarter-finals and semi-finals.
But it was his brace in the Nou Camp in the group stages which first saw him announce himself on the big stage, and demonstrated how devastating his partnership with Andy Cole could be.
Yorke as an individual was a fantastic player. As a partnership, Yorke and Cole were true greats, a combination which rank up there as the benchmark, in an era when playing two strikers together was not yet outdated.
They hit it off like they had been playing together for years, and within the one season, Yorke had more than paid off his club-record transfer fee.
Yorke's 1999/2000 season was almost as impressive. While his total output (23 goals) was fewer, he struck more in the Premier League, 20 to 18 in 1998/99.
One of the highlights of his spell came the following season, when he bagged a hat-trick in a 6-1 demolition of Arsenal at Old Trafford. It was Yorke at his best, lively, impossible to contain, and absolutely clinical.
Premier League experience
The move for Dwight Yorke was a move very reflective of the era, where transfer fees were far more modest, even at the top end.
If Manchester United wanted to sign Aston Villa's top forward today, Ollie Watkins, he would cost towards £50 million. The value just isn't there.
However, there is something perhaps to be said about targeting strikers with Premier League experience. It worked with Robin van Persie, spectacularly so, in 2013.
It was not such a successful approach in 2017, when United signed Romelu Lukaku. But for a few months, it looked like it might work.
There are a few strikers out there who could prove useful to United, the aforementioned Watkins included, despite the price. Aleksandar Mitrovic would have been interesting, but he has signed for Al-Hilal. One who has caught the eye previously is Ivan Toney, however, a ban from the FA has removed this possibility for now.
The problem is nowadays, Premier League sides have the financial power to resist United, in a way Aston Villa could not in 1998.
It makes you really appreciate what a special time it was when Sir Alex struck gold with Dwight Yorke. But even at a price of £100 million, he still would have been the greatest transfer of his era, delivering the Treble to Manchester United.
Imagine what he would be worth in 2023…
Related Topics