A young Manchester United side lost 3-1 away at Wrexham in San Diego. Let's take a look at what happened and what we learned…
Learning curve for young players
When this fixture was announced, Manchester United were clear this was going to be a young team. And if we have learned anything from watching the under-21s in the EFL Trophy over the last couple of years, it is that results can be unpredictable, when putting a young side up against senior professionals.
Wrexham lined up with former United star Ben Foster in goal. United had veteran Jonny Evans in defence. Aside from that, it was an inexperienced side.
Bishop (Vitek 45); Jurado, Fish, Evans (Kambwala 74), Fernandez; Collyer (Aljofree 59), Gore; Shoretire (Mejia 68), Hannibal, Hansen-Aaroen (Oyedele 59); Hugill (McNeill 68).
It said a lot that Kobbie Mainoo was not part of it. He is with the senior squad, such is his rapid progression. United were 2-1 down at half-time before conceding a third in the second half and being reduced to 10 men.
Wrexham played well and took advantage of a lack of control in the midfield from United. Several of these young players had shone in earlier pre-season matches, but this performance was not the follow-up they were hoping for in front of a watching Erik ten Hag. Instead it was a lesson learned, with many of these players expected to be sent out on loan to gain further experience.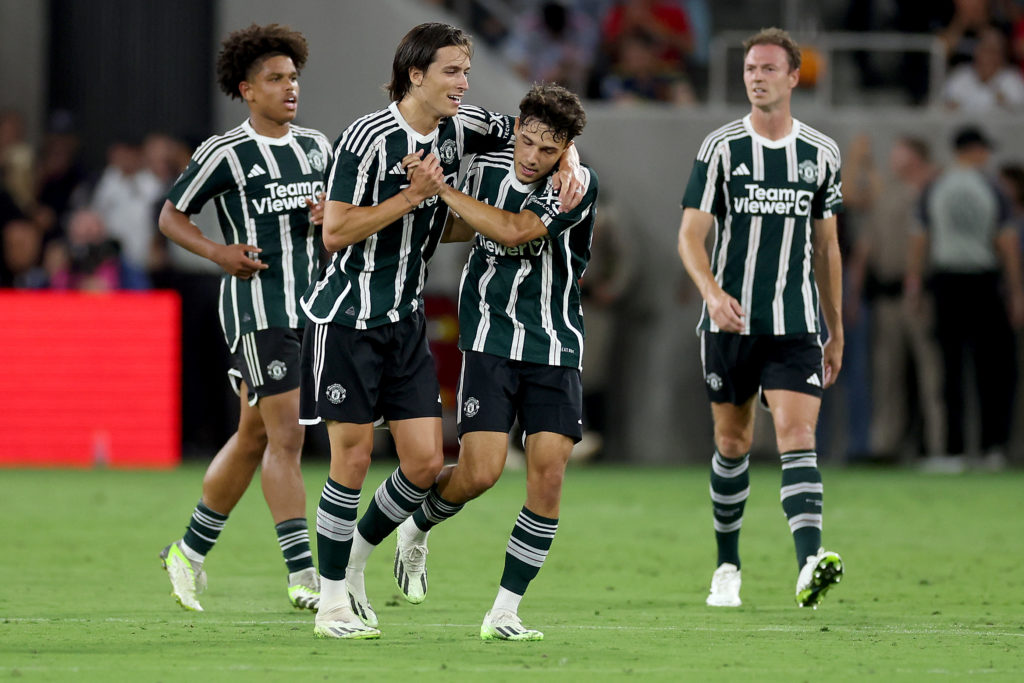 Superb Spanish combination for United goal
Manchester United's goal was a well-worked effort made from two Spanish defenders. Alvaro Fernandez sent in a deep cross, for Marc Jurado to hit it first time low past Foster.
It was a superbly taken effort, and gave United something to cling onto going into the second half. Both full-backs are on the fringes of the first team, and this strike demonstrated their attacking capabilities.
MORE UNITED STORIES
The goal was a bright spot for the young players in this tough encounter, and gives the pair a positive memory of the experience.
Gore enthusiasm leads to red
Dan Gore received plenty of praise after a lively display in Manchester United's win over Lyon. He was one of the players to drop down from the senior squad for this game.
His determination got the better of him in this game when he received a red card early in the second half for a late challenge on Andy Cannon. It was a little harsh, especially in a friendly, but the challenge caused the referee to have to make a decision.
It was a straight red at an important time in the game, with United 2-1 down. Playing with 10 against a senior side made the challenge even tougher for the youngsters.
The 18-year-old has never been sent off in 60 games of United academy football, so this was out of character, more symptomatic of a desire to impress. He had been playing well and United missed his tenacity in his absence.
Related Topics