Erik ten Hag was not happy to say at the least with his players following their 3-2 loss to Dortmund in the final game of the US tour.
A game with some incredibly sloppy defending led to Dortmund emerging 3-2 victors in Las Vegas, despite United having the initial lead and dominating the entirety of the first half, up until the very end when they conceded two in quick succession.
It was a heated affair, which saw many United players lose their cool. This is a worrying sign at this stage in the tour, with the Premier League season as little as two weeks away.
This is why ten Hag was visibly fuming with his side at full time.
READ: Manchester United Pre-Season Tour 2023: Fixtures, How to Watch, Tickets & Everything Else You Need To Know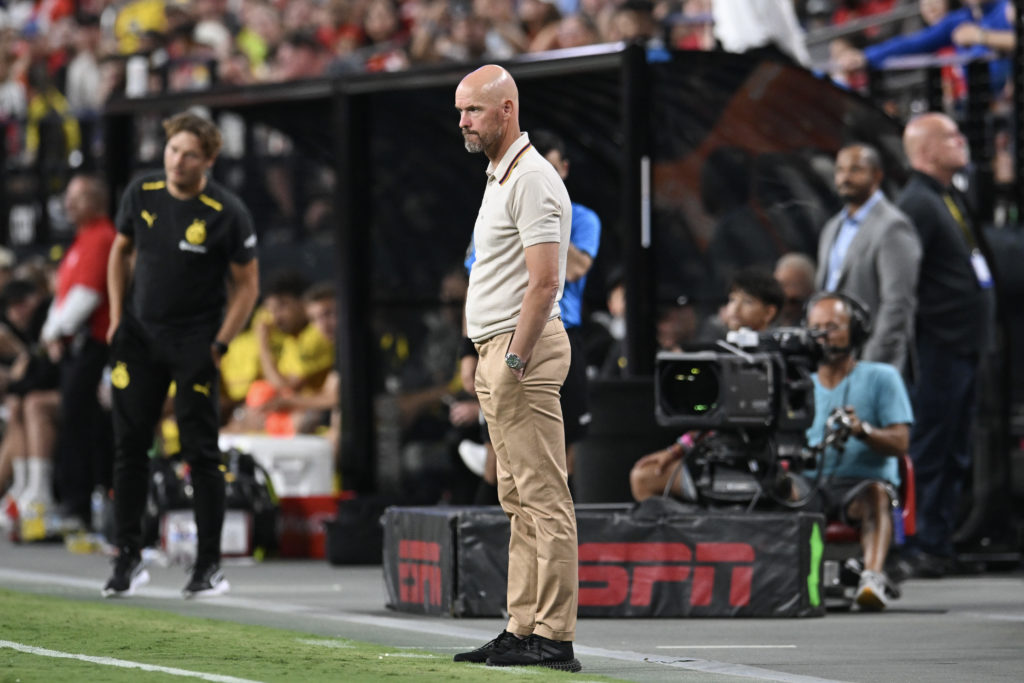 Ten Hag not happy v Dortmund
The boss spoke with MUTV after the game, where he expressed his annoyance with how the final game of the US tour panned out.
"Yeah, [the game was] two parts, the first hour was good, playing as a team, lot of dynamic, good pressing," Ten Hag told MUTV.
"So it was really enjoyable to see and that's what I wanted to say at half-time, but all of a sudden, they give two goals away.
MORE UNITED STORIES
"They were giveaways and that was annoying. But the last half an hour, it was bad, a poor performance. They didn't follow the rules at all, not in pressing, not in building up or when attacking. They were 11 individuals on the pitch.
"That wasn't good at all. I said to the team, I think it was a good tour, but you want to finish with a good performance and there was only 60 minutes that I was pleased with, but not with the goals we conceded because the first one was poor defending and the second one was poor in the build-up.
"That's not us, we have to keep control, keep responsibility on the ball and it was the same for the 3-2. That can't happen and it's unforgivable, even if it's a friendly."
READ: Man Utd Fixture List 23/24: Next Game, Key Dates and More
Erik has a point, we let ourselves down in Vegas
The boss is completely right. A lot of it came down to a lack of concentration against Dortmund. We didn't have control of the game like we should've done.
We showed we could dominate in the first 40 minutes, but then everything seemed to slowly implode. United clearly have the ability and the talent to turn teams over, but in Vegas we let our emotions get the better of us.
Ten Hag's men face Wolves on Monday the 7th of August. If we want to be taken as a serious club this season, we need to deter from some of the bad habits showcased against Dortmund in the States.
Related Topics